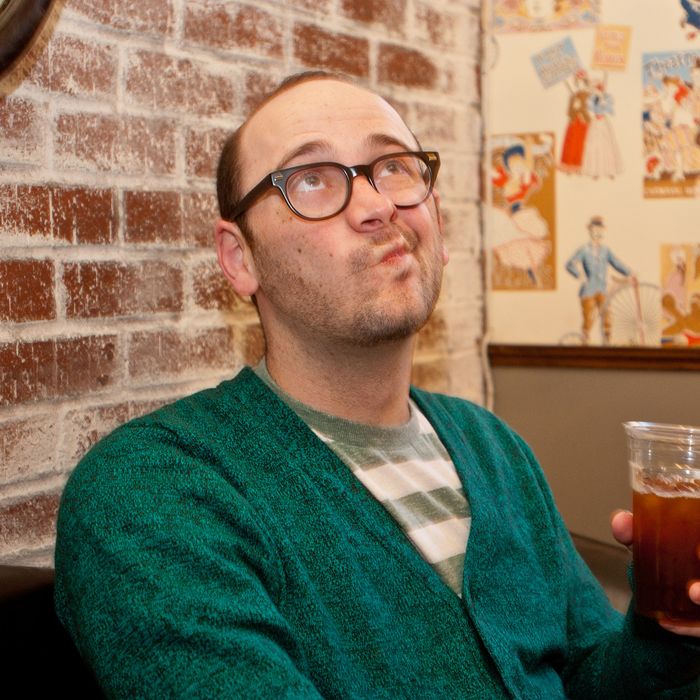 "Instead of dinner, I had coffee, so I'd be awake enough to drink beer."
Photo: Jed Egan
Writer and comedian (and co-author of @SeinfeldToday) Josh Gondelman has a new job as the web producer for John Oliver's Last Week Tonight, which premieres on HBO this Sunday. (He's also starred in two great promo videos as a "hipster Republican.") The days leading up to the first show have been predictably busy, so he's had to make some dietary sacrifices, like drinking coffee in lieu of dinner, ordering big brisket sandwiches at weird hours of the day, and attempting to negate unhealthy eating habits with lots of giant salads. But despite his crazy schedule, Gondelman did find time to hit up Calexico, Harlem Public, and Milk Bar — read it all in this week's Grub Street Diet.
Friday, April 18
On my way to work, I picked up a venti Starbucks iced coffee, but I had them put it in a trenta-size cup so I could get extra ice. Ice is my thing. I'm very exciting.
At 11 a.m., I grabbed an apple from the office pantry. Fresh fruit. Starting this Grub Diet off right. I think I actually confused my body.
For lunch, I had a turkey Cuban sandwich from Europa Cafe (we ordered for a meeting), but I picked off the tomatoes. Tomatoes are non-standard in a Cuban sandwich, and I do not care for them. They're like apples that live with their parents.
Instead of dinner, I had coffee, so I'd be awake enough to drink beer with friends at the Brooklyn Inn. Then I drank two Old Speckled Hen drafts and went over to Freddy's Backroom for a stand-up show, where I had a whole bunch of tater tots, a fried-chicken sandwich, and whiskey.
My stomach, remarkably, took it all in like a champion.
Saturday, April 19
I started with an iced coffee and a whole-wheat croissant from The Chipped Cup in my neighborhood in Harlem. I consumed both while I drove to a charity soccer tournament for work. I am a liability on the field, so I cheered the Last Week Tonight team on from the sidelines and drank more coffee.
Back in Harlem, I assembled a makeshift Cobb salad at the salad bar at my local deli (Nadal One). A Cobb salad is fun because it's like an omelette with lettuce. I try to eat one to two giant salads every week. I imagine they keep me from dying.
For dinner, I had a pollo adobo burrito at Calexico in Greenpoint, and washed it down with an Abita root beer.
Sunday, April 20
Sunday began with yet another Chipped Cup iced coffee, and then brunch with my friend Ella at Harlem Public, where I had #EggsDeb, a pretty solid eggs Benedict that I almost didn't order because of the hashtag in its name.
The rest of the day, I mostly ate while walking around. More iced coffee (from Dunkin' Donuts, where I am brand-loyal as a native New Englander), a slice of crab pizza from Artichoke, and a piece of crack pie from the Momofuku Milk Bar in the East Village with my friends.
Then, whiskey at Union Hall, where I went to a comedy show. (Mara Wilson's What Are You Afraid Of, which is very much worth attending!)
Monday, April 21
By Monday, the pretense of eating healthfully had completely dissolved. I had a bacon, egg, and cheese sandwich on a hero from Nadal. It was my first real day off, so I didn't eat until 11:30 a.m., but I followed it up with a 4:30 "lupper" from Dinosaur Bar-B-Que. A "classic" chopped-brisket sandwich with simmered greens (so as to not die) and macaroni and cheese. Also, orange juice, because our show premieres this week, so I anticipated the need for vitamin C.
Then, of course, more Dunkin' Donuts coffee to stay up through an evening recording of Andy Beckerman's "Beginnings" podcast.
Tuesday, April 22
I brought a (Dunkin' Donuts) bagel with cream cheese in the morning along with, you guessed it, iced coffee. (Always with skim milk. I really hope these minor concessions add up.) Then, for lunch, I Seamless-ed an enormous actual Cobb salad to my office to gear up for the week.
For dinner, I went to Terakawa Ramen on a date, and it was delicious. Then I drank some Jameson at the People's Improv Theater, where I was seeing my friend Chiara Atik's play, Women.
Wednesday, April 23
I had an iced coffee — regular-size cup — and a croissant on the way to work.
For lunch, we were celebrating a birthday in the office, and I ate a celebratory lobster roll from Luke's. I need to keep seafood a special occasion in my mind, or else I will bankrupt myself on shellfish. That's a sad and somewhat ironic Behind the Music arc for a Jewish person. Also, there was cole slaw, which, I don't mean to brag, but I can afford pretty much any day.
For dinner, I met a friend visiting from out of town, and I ate a classy-sounding steak sandwich with peppers. It was a little dry, but I'd rather not incriminate the place I got it.
All things considered, my week was high in deliciousness and moderate in vitamins. Overall healthiness was very low, despite the two human-head-sized salads, and I didn't cook a single meal. I'd like to say I usually do better, but I'd like to say a lot of things.