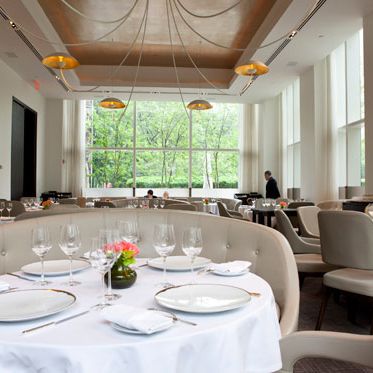 Still killing it.
Photo: Nicole Franzen
This week, Adam Platt filed a two-star review of Narcissa — a restaurant that Daniel S. Meyer also enjoyed (if anything, even more than Platt). Meanwhile, Pete Wells re-affirmed Jean Georges' four-star status and Steve Cuozzo got nostalgic about Gallaghers Steakhouse. Read it all, straight ahead.

Pete Wells revisited Jean Georges and loved it, giving the restaurant four stars for the third time in its history. He enjoyed the risks the restaurant is still taking, like the hot sauce splashed on charred squab made from lime, fresh red chiles, and nasturtium flower petals. Not all of the restaurant's new dishes are firing correctly, especially when Vongerichten isn't in the kitchen, but desserts like molten chocolate cake and a citrus tasting are both "an answered prayer." Overall, "Jean-Georges glides like a Mercedes sedan, but Mr. Vongerichten takes the curves like a Formula One driver."
For his last-ever Time Out review, Daniel S. Meyer dropped four stars on Narcissa. He praised its vegetable-heavy menu and thought that chef John Fraser's carrots were as heavenly as they've been hyped. Though he criticized Narcissa's "less than transcendent" space, Meyer loved most everything else, including the steaklike beets and jerk-spiced sweet potatoes. Don't avoid protein, though, as the critic particularly enjoyed Fraser's "Midas touch with meat" on dishes like lamb two ways and a charred rotisserie rib eye. If you're feeling like drinks, "the cocktails are as sharply executed as the food," especially the Frisky Cow.
Steve Cuozzo filed a two-star review on the newly redone Gallaghers Steakhouse, "as stirring a resurrection of a classic beefery as Keith McNally's Minetta Tavern transformation in 2009." Cuozzo thought the food was much better this time around in the now-smaller dining room. He liked the prices, too, like the $98 porterhouse for two ($122 at Costata), but wanted muskier flavor depth from the dry-aged cuts. Skip the dull steak sauce and turn instead to the surprisingly nice grilled salmon and lemon sole.
Ariel Levy visited the Meatpacking District's Willow Road for The New Yorker. She found herself transported to Brooklyn upon walking in ("old Brillo boxes, a basket of out-of-date, sample-size soaps"), but thought the disorienting menu evoked another scene entirely. The Caesar salad popped thanks to some unexpected black garlic, but the market salad fell flat on both looks and taste. Ask for the burger without its bland bun, and enjoy some off-kilter toppings like pimento cheese and Russian dressing. Her advice: Go when Willow Road is hosting a party and stuff your bag with short-rib meatballs.
Stan Sagner enjoyed the modernized bistro vibe at French Louie, giving it three out of five stars. The French, Creole, and American fusion menu soars with offerings like smoked sardines, "so creamy in texture that the accompanying seaweed-flecked butter feels like gilt on a lily." He also recommends the cornichon-encrusted pork and rabbit rillettes, and says to avoid the soggy chicken. Dessert seals the meal with a bow, especially the profiteroles with a fennel-pollen ice cream.