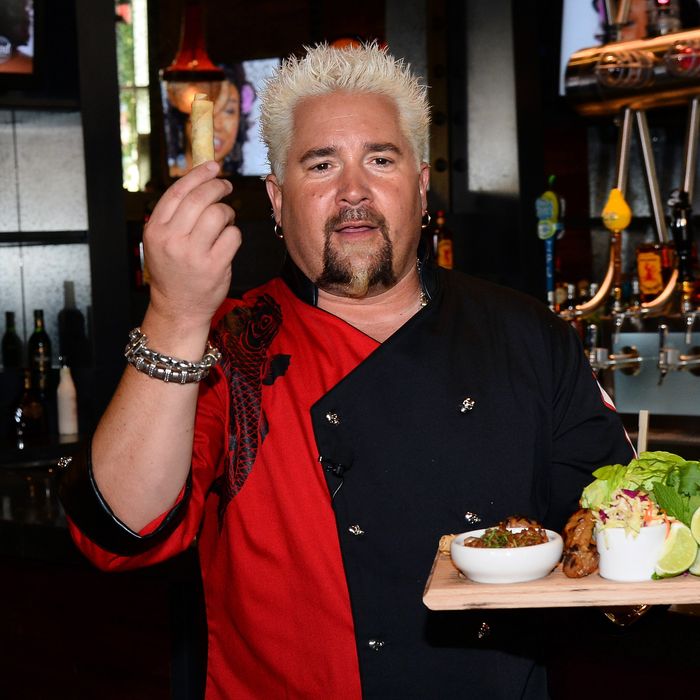 Stand and taquito, my man. Stand and taquito.
Photo: Ethan Miller/Getty Images
Guy Fieri's got himself a brand-new restaurant in Las Vegas, where the General Tso's chicken arrives in lollipop form, fried onion rings are served threaded on lead pipe, and there's a separate bar that serves 20 kinds of chilled shots, no ice. Though Guy Fieri's Vegas Kitchen & Bar, which opens today, marks the beginning of a new chapter for the celebrity chef, the spike-headed Fieri is still seeming a little bristled by Pete Wells's brutal 2012 takedown of Guy's American Kitchen & Bar, his Times Square opus. The interesting thing now, however, is that as he maintains there was "nothing realistic about what was being said" in the paper's review, Fieri seems to have moved on and thrown that restaurant's cooks under the dragon-chili-cheese-fry-themed bus in the process.
When asked by Las Vegas Weekly if the now-famous negative review changed the way he approached the new project, Fieri said:
I only do things the best I can do them in the moment that I'm doing them. Have I learned from that experience? Yes. But I was doing the best I could do. Also, remember it's a licensing deal. I'm the chef, I make the recipes, I make the idea and I give it to a group. Let's be realistic about what this was. But there was nothing realistic about what was being said. You know, you take it; it hurts; it's a bummer. But whatever doesn't kill you makes you stronger.
It's funny that Fieri, who has now licensed his name to everything from sugary barbecue sauces to brownie-themed K-cups, is now asking fans to "be realistic." By saying he's just the chef who writes recipes and has no command over the actual cooks in the kitchen — the ones presumably responsible for all that bad food — Fieri's adding a rare, party-pooper note to his perpetually festive enterprise. It's kind of strange.

While no one's likely to be shocked by Fieri's latest musings, it's an abrupt shift in tone from November 2012, when the chef jumped on a jet and flew all night so he could be interviewed about the situation on Today in a near-perfect, made-for-TV moment. Fieri sat in the partially dimmed 500-seat dining room with Savannah Guthrie and called it "the real deal," detailing the "painstaking" hours of hands-on training and in-person work that went into the opening. "This is more heart and soul," he said at the time. "This is not just a name stamp."
Talking big flavors and big Vegas openings with Guy Fieri [Las Vegas Weekly]
Related: Guy Fieri Really Outdoes Himself With New Vegas Menu