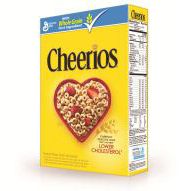 Now 100 precent lawsuit-free.
Photo: General Mills
General Mills has "quietly" updated its legal terms so that any consumer who has redeemed an online coupon for a bake mix or cereal, liked any of its Facebook pages, entered a back-of-the-cereal-box contest, or has otherwise gotten some kind of "benefit" from the company has by extension also relinquished his or her right to sue. Instead, the Times reports, those people have to go through the murky process of "forced arbitration."
Considering the number of customers suing companies in general over false claims, or mislabeling — the complete lack of strawberries in Strawberry Fruit Roll-Ups, say, or anything billed as "natural" — this seems to be where we're all headed. After all, it's legal for companies to amend terms to bring consumers who've interacted with them online into some nebulous kind of bind.
Experts note that under the new rules, which are designed to stave off expensive class-action lawsuits, any company will probably have to prove a customer knowingly agreed to such terms. The Times reports, for example, that last year General Mills paid $8.5 million in damages stemming from claims that the packaging of its Yoplait Yoplus were misleading. An arbitration expert at the American Association for Justice tells the paper, "Although this is the first case I've seen of a food company moving in this direction, others will follow," she says. "Why wouldn't you?"