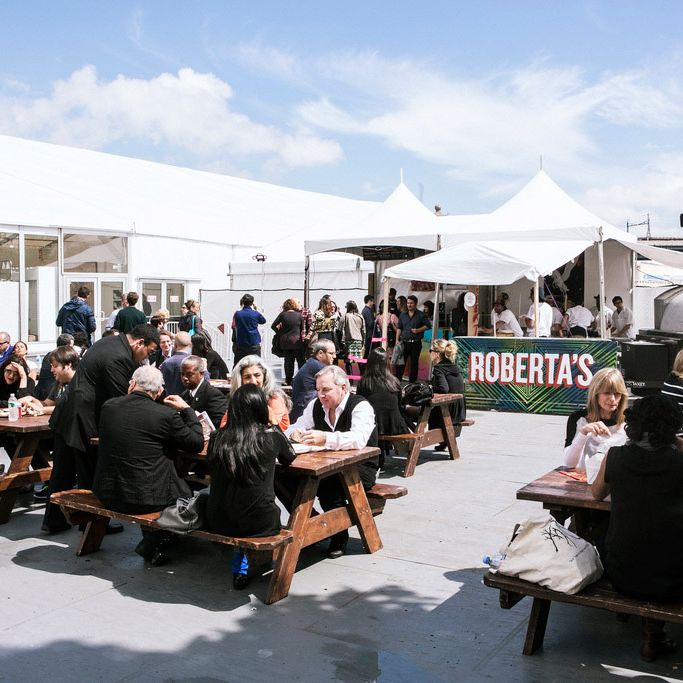 It's going to be, um, really good.
Photo: Courtesy of Jonathan Hökklo/ Frieze
This year's Frieze Art Fair will take place in Randall's Island Park between May 9 and 12, and it once again means a ton of great eating options. Here's what you need to know: There will be wings and burritos from Danny Bowien's Mission Cantina, sandwiches from Court Street Grocers, a beer garden with Prime Meats sausages and burgers, plus a full-service restaurant from Frankies Spuntino, wood-fired pizza from Roberta's, a full Marlow & Sons from Andrew Tarlow , and lots more. Check out the full official release, straight ahead, and check out more info on the fair itself at the official site.
Frieze New York 2014: Restaurant Partners Announced

Frieze is pleased to announce the restaurants participating at Frieze New York 2014. The New York fair will take place in Randall's Island Park, Manhattan from May 9 to 12, 2014.

This year brings together some of New York's most exciting eateries with an emphasis on locally-sourced and seasonal food. Blue Bottle Coffee, Court Street Grocers, Furanku, Frankies Spuntino, Marlow & Sons, Mission Cantina, Momofuku Milk Bar, Roberta's and The Fat Radish will all take part in Frieze New York 2014.

Frankies Spuntino will provide a full-service restaurant at the fair that is available for bookings. The menu features classic Italian recipes, sourcing organic products from local providers, plus a wine list featuring small producers from Italy and beyond. Frankies will also host a beer garden and grill outside the restaurant, serving Prime Meats' speciality sausages and burgers with draft beer and wine.

Returning for a second year after a successful run in 2013, Andrew Tarlow's Marlow and Sons will host the VIP Room Restaurant and Café. The pioneering Brooklyn-based restaurant will offer its sustainable, seasonal and locally-sourced dishes in the new waterfront dining area. Advance bookings are open to all fair visitors.

Danny Bowien's new restaurant Mission Cantina will serve up New York's finest Mexican dishes including chicken wings and burritos. Frankie Spuntino will introduce Furanku to the fair, a new concept offering sushi, saki and juice at a 50 seat omakase bar. Also taking part in Frieze for the first time, Momofuku Milk Bar will bring its playful spin on American homestyle desserts including crack pie and cornflake-marshmallow chocolate chip cookies.

Once again, Roberta's will bring two wood-fired ovens serving up its much loved classic pizzas and a few fresh recipes. Located on the café deck over- looking the East River, Roberta's will also host a satellite bar offering a range of wines and craft beers.

Another favourite from last year, Blue Bottle Coffee will provide its freshly- roasted coffee and exceptional desserts plus Court Street Grocers will be offering their renowned sandwiches and salads. Finally, The Fat Radish brings its simple, elegant dishes using ingredients mainly sourced from the state of New York.

Frieze New York 2014 presents over 190 of the world's leading galleries, as well as a curated program of artist projects, talks and education activities. Frieze New York is sponsored by Deutsche Bank.