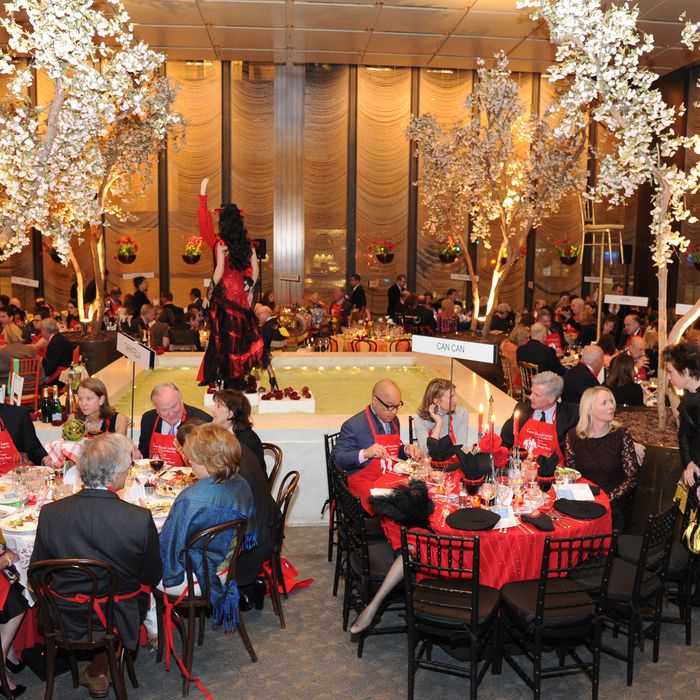 The real hip-hop is certainly not over here.
Photo: Owen Hoffmann/ PatrickMcMullan.com
"Celebrating the Art of Dance" was the festive-enough theme at this year's Cancer Research Institute benefit gala, held last week at the Four Seasons Restaurant. Folks like Michael Bloomberg, Ronald Lauder, and Charles Bronfman turned out for the event, and in addition to Mexican-hat-dance and Irish-step stations, the organizers really outdid themselves with two particularly noteworthy additions: Hip-hop- and Breakdancing-themed tables. "Page Six" reports that diners were "horrified," however, to discover Flavor Flav–esque gold clocks, plastic-tipped cigars, stacks of cash, a jumbo-red-lipped rapper "doll," and some "Sticky Icky" imitation marijuana.
An event rep has already "deeply" apologized, explaining: "This is a festive party known for its tongue-in-cheek humor aimed at all aspects of culture, history and New York life … nothing is intended to be offensive. If anyone took offense, we are deeply, deeply sorry." Then, as if to make things worse, the rep expounded on some of the deep thoughts that went into some of the more subtle design cues.
"The designers found an overwhelming association — propagated by the hip-hop artists themselves though their lyrics — between hip-hop and marijuana," "Page Six" reports he said. "The doll chosen for the table is marketed as a hip-hop performer and can be purchased online. That he is ostensibly African-American is beside the point. I wonder if any offense would have been taken if the doll depicted a Caucasian performer."
The Wall Street Journal reports the event raised $1.2 million for cancer research, thanks in part to packages like a reservation at Rao's, which went for $14,000, and three Bloomberg internships, which sold for $45,000.
'Hip-hop themed' table offends cancer benefit guests [Page Six]