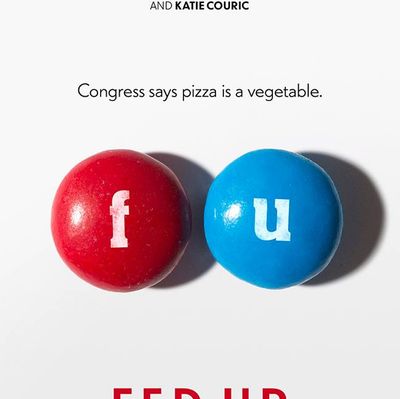 Take the blue one, or the red one. Doesn't really matter.
Photo: Courtesy of Fed Up.
The often-controversial trade association tasked with deciding what you will and will not see onscreen was bothered by the "offensive language" implied in key art for the upcoming food documentary Fed Up, but now it seems like things have cooled off. Specifically, the MPAA didn't like the letters F and U stamped on these juxtaposed red and blue M&Ms;, which seemed a little too much like a directive. The Laurie David–produced and Katie Couric–narrated documentary is all about how food manufacturers — "aided by the U.S. government" — allegedly worked for decades to profit at the expense of everyone's health.
After the MPAA's rejection last night, the co-presidents of distributor Radius-TWC protested in a statement, writing, "If only Congress and the FDA cared as much about protecting Americans' lives as the MPAA cares about suppressing our poster, we wouldn't be facing the greatest health epidemic of our time." Perhaps not wanting to get dragged into a PR battle, the association swiftly reversed its decision, Deadline reports, and will now allow the art to be used "without any alterations." Sometimes, after all, a sugary M&M; is just a sugary M&M;, right?
UPDATE: MPAA Approves 'Fed Up' Key Art After "Reconsideration" [Deadline]