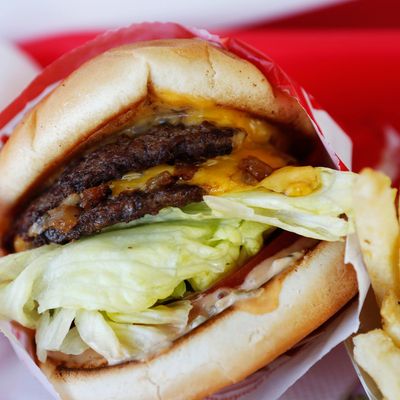 Would anyone say no to this?
Photo: Patrick T. Fallon/Bloomberg via Getty Images
Grub Street isn't opposed to fast food, but this week's announcement that Chick-fil-A would spend 2014 making a big push into New York — beyond its lone NYU location — made us wonder: Does anyone actually want any more Chick-fil-As in New York? That question will be answered when the new outposts open, but there are plenty of chains that have yet to penetrate the Manhattan market that we know city-dwellers would welcome with open arms. In fact, here are 11 chains Grub would enjoy seeing in New York, ranked in order of just how bad we want them here.
11. Del Taco
How many good taco joints does a city need? The answer is: enough to offset all the Taco Bells. Del Taco offers a formidable arsenal of tacos, burritos, quesadillas, and nachos alongside more traditional fast-food offerings like burgers and chili-cheddar fries. And for dessert: cinnamon churros and caramel-cheesecake bites. There are worse things you could eat when you're drunk.
10. Ted's Hot Dogs
We've lost some beloved hot-dog spots in the past few years, and sometimes street dogs just don't cut it. Enter Ted's Hot Dogs, an upstate chain that also has one inexplicable franchise in Tempe, Arizona. There are broiled hot dogs, housemade hot sauce, and loganberry-flavored milkshakes — and we want some of that action in our part of the state.
9. Nando's
Nando's is an international South African casual-dining phenomenon, which is perhaps why its 14 U.S. franchises hover strictly in and around the nation's capital, in Maryland, Virginia, and Washington, D.C. There's a reason the flame-grilled peri-peri chicken has a cult following: It's damn good. ("Nando's New York" even has a nice ring to it.)
8. Jack in the Box
Originally conceived as a "modern food machine," the restaurant serves a variety of Americanized Mexican foods alongside Philly cheesesteaks, salads crammed with toppings, traditional burgers, chicken sandwiches, and breakfast options that span from pancakes to blueberry-muffin oatmeal. The arrangement is sort of "WTF" for the uninitiated (and people still associate the name with an early-'90s E. coli outbreak), but West Coasters know that the restaurants (and the bizarro ads) are not without their charm.
7. Krystal Burger
Krystal is best known as the southern nemesis of White Castle, and the two have been engaged in an unofficial ongoing feud. People have to pick their allegiance, and White Castle has an obvious foothold in New York. But as the oldest hamburger chain in the South, Krystal still has its place — especially if it stuck to opening late-night locations next to the city's many bars.
6. A&W; Restaurant
This franchise focuses on America's favorite foods: hamburgers and hot dogs, obviously, but also, more specifically, the food of New York's own Coney Island boardwalk. That means Coney dogs (all-beef hot dogs topped with meaty chili sauce and sweet onions), Coney cheese dogs, and corn-dog nuggets. It's actually harder to imagine A&W; not being in New York. Plus, who doesn't love a root-beer float? Exactly.
5. Taco Cabana
Taco Cabana is the closest thing to the real deal among Mexican fast-food joints. Menu highlights — steak and brisket tacos, sopapillas, and flan — are prepared daily in-house (some on an open grill flame) and ready to be consumed among estrella lights, papel picado accents, and street-life photos. Obvious selling points include $3 happy hours and the fact that Taco Cabana is open 24/7.
4. Whataburger
"We build a bigger, better burger," claims this Corpus Christi–based southern hamburger chain, which offers jalapeño-cheddar breakfast biscuits and Monterey melts drooping with various glazed peppers, cheeses, and onions. At the very least, the 'better' claim checks out — at least compared to most other fast-food chains.
3. Culver's
This Wisconsin-based favorite is sort of like a McDonald's/Wendy's/DQ/KFC fusion — bowls of chili, chicken platters with the works, frozen desserts richly muddied with chocolate, caramel, and candy pieces, and a boggling array of burgers and chicken sandwiches with crinkle-cut fries on the side. But it's the subtle touches — the butter-soaked buns flanking the ButterBurgers, the creamy confections made from custard rather than ice cream — that would make it stand out in New York.
2. Waffle House
IHOP has marked its territory as New York's greasy-spoon pancake house, but was anyone asking for Rooty Tooty Fresh 'N Fruity breakfasts in New York? What we really want, as far as greasy spoons go, is this southern staple. Everyone loves Waffle House. Everyone.
1. In-N-Out Burger
New York's great white whale: We may never never get a location here, but that doesn't mean we'll stop chasing the dream. In-N-Out Burger is a go-to-favorite for food writers and chefs for a reason: Its burgers are fantastic. (The fries could use some help, but that's why Animal-Style was invented.) There are locations all over the southewestern U.S., and any East Coast location would present a ton of logistical headaches, but we honestly just don't care. Come on, In-N-Out. Make it happen.