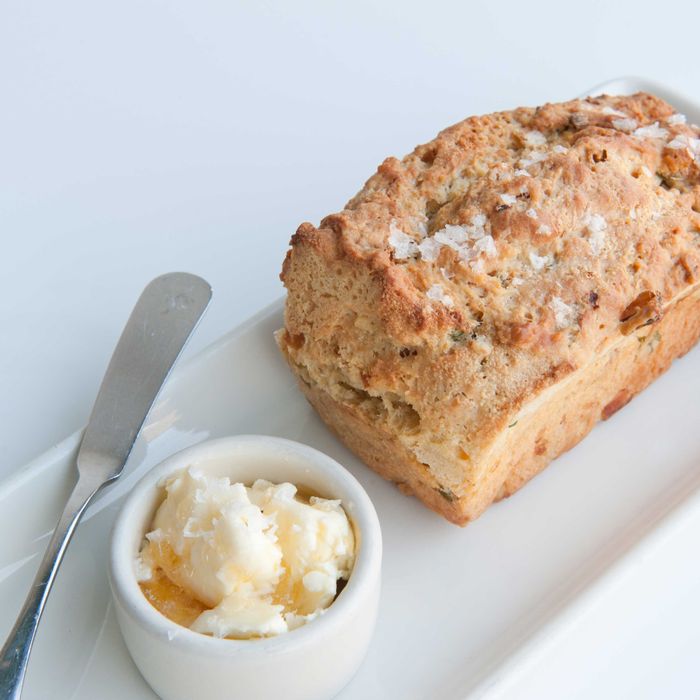 606 R&D's three-onion buttermilk bread costs $8 — and it's worth every penny.
Photo: Liz Clayman
Last week, the Times "Dining" section discovered that this is a pretty good time to be alive if you love eating great bread. Pete Wells, however, took a more pessimistic view of the restaurant-bread situation. In a "Critic's Notebook" story, he bemoaned the endangered-species status of the restaurant bread basket and the quaint gesture of hospitality it represents. He also had nothing nice to say about the increasing number of restaurants that dare to put a price tag on it: "… when they charge for bread they've stopped seeing this simple civility as a way to make us happy and started seeing it as a line item," he wrote. In short, according to Wells, it's a terrible time to be alive if you love eating restaurant bread. We beg to differ. In fact, we might say that our happiest moments in recent memory were spent munching on spectacular restaurant bread, for which we paid extra and would happily do so again and again.
We're thinking of the compulsively edible pumpernickel pita served warm with a lentil-pistachio hummus of sorts at the Cleveland, and the terrific wood-smoke-imbued, olive-oil-rubbed bread at Marco's. We're talking about the homey breads and "parkerhaus" rolls at Grindhaus in Red Hook, the three-onion buttermilk quick bread at 606 R&D;, Glasserie's za'atar-spiced flatbread, the dark and dense Danish rye at Tørst, and Contra's rustic chicken-fat-basted loaves (of which even Pete Wells is an admirer). All these breads (with the exception of Marco's, which gets its loaves from the estimable Bien Cuit) are baked in-house, often come with good butter or some other tasty condiment, cost extra (from $3 to $8), and are eminently worth it.
Conversely, there's nothing like being presented with free but lackluster bread at the beginning of a meal to kill the mood. In a perfect world, all restaurant bread would be fresh and delicious and also free. Which is not to say that fresh, delicious, free bread doesn't exist: It can be found at places like Per Se and Del Posto and Daniel, where the cost of the bread is built into the price of the entire fixed-price meal, and at newer à la carte establishments like Dover and Carbone, where the expense associated with baking and serving amazing garlic and grandma breads presumably is reflected in other parts of the menu, like the $55 veal Parmesan.
While upscale restaurants can afford to hire a dedicated person or persons to bake great bread, more moderately priced neighborhood joints with small-scale baking operations usually can't. So charging for bread makes sense for them, even if it goes against everything the general dining public has come to expect from a neighborhood restaurant. But this is a cultural issue. Indian restaurants, for instance, have always charged for their made-to-order breads, and no one we know has ever complained about paying for piping-hot naan.
The argument in favor of the bread charge is not new, of course. And it's interesting to note that five years ago, when Jim Lahey's Co. pizzeria opened with a menu that listed bread and butter and olive oil for a fee, then-critic Frank Bruni defended the practice in a "Diner's Journal" blog post. His take, in a nutshell: Charging for bread is okay because (1) it leads to better bread; (2) non-bread-eaters don't have to subsidize bread gluttons' habits; and (3) there's a lot less wasted bread. Back then, this was received as outrageous and controversial, like someone coming out in support of teenagers who drink and drive. "Insanity: Bruni Asks More Restaurants to Charge for Bread" was Eater's headline at the time.
But Bruni was right. Charging for bread accomplishes everything he said it would, as proven by the recent rise in quality at even modest neighborhood spots. In certain instances, the economics of running a moderately priced restaurant demand it. It's as natural an evolution in the restaurant world as doing away with tablecloths or taking reservations online. Jim Lahey, by the way, still charges for bread and accompaniments at Co., and says he never hears a peep about it from customers. And at 606 R&D; in Prospect Heights, chef-owner Ilene Rosen says that 75 percent of her customers order a three-onion buttermilk loaf for the table. It's a big, eclectic culinary world, one where both bread models — "free" or not — can coexist. And if the result is better bread at more restaurants, that's fine by us.