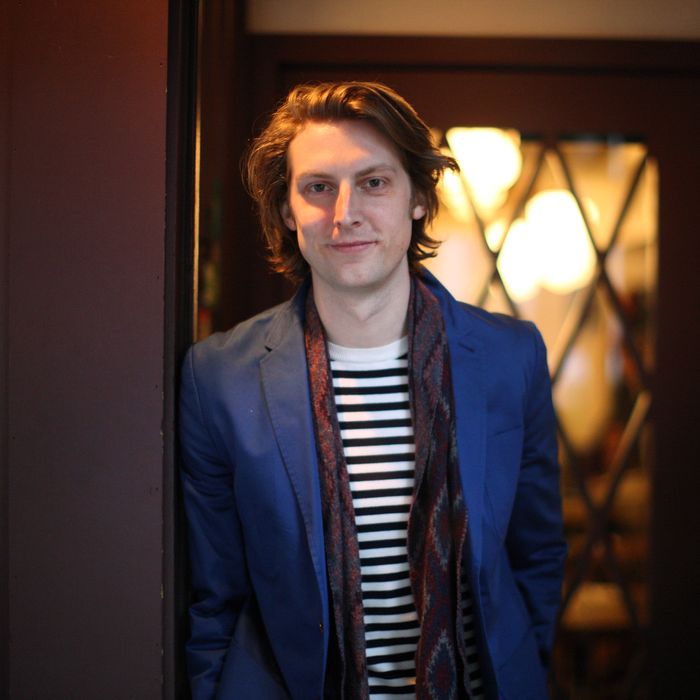 Hutchinson at Café Mogador, one of his favorite restaurants in the city.
Photo: Melissa Hom
This week was Eric Hutchinson's last hurrah in New York for quite some time: He released his third album on Tuesday, and leaves town today to embark on a nationwide tour. Hutchinson made the most of his final few days in the city with takeout from Katz's Deli, an eating tour through Chinatown, a feast at Maialino, and a party at the Library at the Public Theater. "I tend to eat whatever's in front of me," he says, and that includes hot Italian sausages, "all the cheese," and late-night cookies and brownies. Read it all in this week's Grub Street Diet.
Friday, April 4
I woke up at 5:30 a.m. in Omaha, my fifth city in three days. I just completed five weeks of radio-station visits before my new album comes out, and it was time to fly home. This is my last week in New York before I take off for my seven-week headlining tour, so I am eating with purpose.
I got home and the city was really gray, and I was feeling run down from all the traveling. I decided to make it a horizontal day on the couch: I found some leftover quinoa-and-chickpea salad in my fridge and put some Sriracha sauce on it. There are days like that when I'm writing, and I get so hungry that I forget to stop, and I eat a whole bunch of whatever's around. It was that sort of day.
For dinner, I had Katz's Deli delivered: matzo-ball soup and lean corned beef on rye. (Lean corned beef is like getting light butter on your popcorn at the movies.) And, of course, pickles. Delivery is a nice way to beat the crowd over there.
I rewatched the last few episodes of Mad Men season six to get back up to speed, and I ate some frozen blueberries that I found in the freezer. My wife found these Leckerlee lebkuchen cookies online. They're really good. I ate the last one.
Saturday, April 5
I woke up and made a smoothie with banana, blueberries, strawberries, and almond milk. I've been cooking a lot when I'm home, and I had my blender explode on me earlier this year while I was making hot soup. I still don't trust it. Post-traumatic blender stress.
I went to my uncle's house and hung out with him and his 5- and 7-year-old kids. I ate a 5-year-old's meal: a Muenster-cheese sandwich on potato bread and a couple of handfuls of Pirate's Booty. My cousin wanted to decorate ginger-snap cookies with frosting, sprinkles, and marshmallows. I ate a bunch of those and felt like I was getting diabetes or something. It was a very sweet lunch.
I went on a Chinatown walking tour — something I try to do with friends. We get together and we call it "Man Food Night." We just eat stuff that our wives won't eat with us. We started at Prosperity Dumpling on Eldridge, with fried chive-and-pork dumplings and sesame pancakes. Then, Sheng Wang for beef-fried hand-pulled noodles, vegetable-and-egg-fried noodles, and noodles with peanut butter. And this awesome homemade sweet and spicy hot-sauce sludge, which makes everything taste good. Finally, Xi'an Famous Foods on Bayard for spicy cumin lamb burgers.
I ended up drinking vodka for a while at Pravda. It didn't necessarily help, or mix that well with the Chinese food, but it was good. I've learned from my vocal coach that the lighter alcohols are easier on your voice. I love scotch, but it's the worst thing for my voice.
Sunday, April 6
I went to Nitehawk Cinema, which I'm pretty obsessed with, to see A League of Their Own and eat brunch. It was amazing! I laughed, I cried. I drank English breakfast tea. I ate an egg-white sandwich with cheddar and spicy avocado on an English muffin.
Then I went shopping for some tour clothes and stopped at Juice Press on Rivington. It's like getting addicted to drugs, but drugs are cheaper. I had the Fountain of Youth smoothie.
For dinner, I went to Maialino. It was supposed to be a triple date, but it turned into me and four women. Maybe the guys weren't even supposed to come in the first place, and I misunderstood? I can get into girl talk. I tend to eat whatever's in front of me, so I had to tell them to stop bringing the bread over. I had a gin martini, fried artichokes, a chicory salad, and cavatelli with lamb sausage, spinach, and peppers in an olive-oil sauce. Plus olive-oil cake, bread pudding, and ice cream.
After that, I went to Rose Bar and had some Fernet Branca, which is not a light alcohol, but still good stuff.
Monday, April 7
I had another Fountain of Youth smoothie from Juice Press, and some almonds.
I went and did a video shoot in Skype's studio, and they had some lovely cheese that was aged in Syrah. I asked the woman who was working there about what kind of cheese it was, and she said I could go through the trash. And I actually lifted the lid of the trash can, but I couldn't make myself go through the junk! I ate all the cheese. This is why I can't have nice things at home or on my backstage rider. I'll just sit there and compulsively finish it.
I went to lunch at Westville on Hudson, next to the studio. I had an egg-white sandwich on a baguette with fresh herbs, goat cheese, and avocado. Plus the marketplace of seitan, chickpeas, broccolini, and sweet-potato mash.
Then, I met my publicist at Café Mogador for a pot of Moroccan mint tea. It's probably my favorite restaurant in city.
I went to this new restaurant for dinner, Antonioni's. I loved the vibe in there, and the rigatoni with ricotta salata was amazing. We also had pizza with mozzarella, herbs, and mushrooms. And a perfect martini and tiramisu.
Tuesday, April 8
The album came out! That was exciting. I tried to stay off the internet and had a banana-and-coconut smoothie.
I'm a big Orioles fan, and they were in town to play the Yankees, so I went to the game. I ate a hot Italian sausage with peppers and onions. You can't go to a baseball game without getting French fries. You have to eat that stuff at the ballpark.
That night, I had a small album-release party that I threw for myself at the Library at the Public Theater. I really love that spot; it's almost like a speakeasy. We had dinner there beforehand. I had a great kale salad with acorn squash, and these great pumpkin-and-sweet-potato perogies, which I could have eaten about 50 of. There was a spread for the party, and I ate a whole bunch of late-night cookies and brownies. There was an ice cream cake with my face on it, so I ate some of that, too. You only get an ice cream cake with your face on it every now and then. And I had a lot of gin martinis.
Wednesday, April 9
I woke up and had some tea because I had a whole bunch of press stuff today. I haven't eaten anything yet, but I'm going to make a smoothie.
Tonight, I'm doing Babbo's pasta-tasting menu, which is my favorite thing to do. I've been waiting for an excuse to do it, and an album release sounded like a good one. I plan on eating everything.