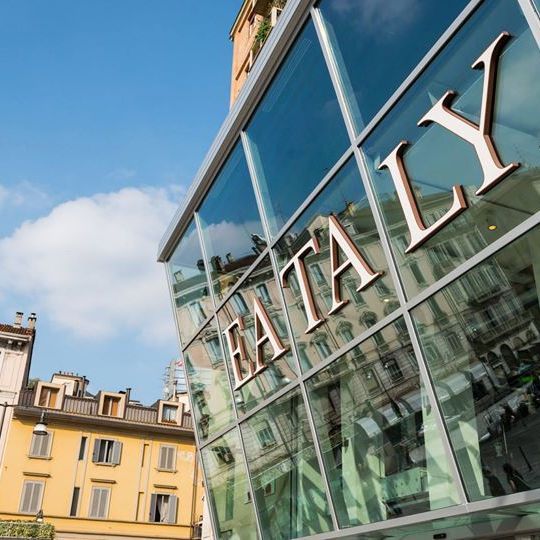 Don't forget about "Fico Eataly World," the food theme park opening in Bologna, in 2015.
Photo: Eataly/Facebook
Speaking at an event held last night at La Scuola Grande, Eataly founder Oscar Farinetti outlined basic plans for the the Slow Food–inspired store's continuing world-domination plans, and, well, you may want to grab a chair for this one: In addition to confirming plans for a new downtown store — presumably the 4 WTC location that was rumored last week — the company is apparently also poised to open a third New York City store somewhere uptown, and to expand to several major U.S. cities as well as internationally.
The news was related on Twitter via the food historian and writer Francine Segan:
@MyMelange plan is for one@Eataly downtown near site World Trade Center. Second sore uptown— Francine Segan (@FrancineSegan) April 29, 2014

Farinetti also discussed how, despite its mega-grocery-store proportions, each location of Eataly is "unique" and has a theme. For its lower Manhattan outlet, he said, the theme is "peace." But that's not all: Those themes will continue in new Eataly locations planned for Washington, D.C., Philadelphia, and Los Angeles.
While specific lease details and opening information were not disclosed, Farnetti's speech is, to date, anyhow, the most definitive announcement about the new cities. In 2015, he added, Eataly will open its first South American store, perhaps in São Paulo, then will also will kick off expansion to Moscow and London. (That behemoth 20-acre "Fico Eataly World" theme park is also scheduled to open in 2015.)
Joe Bastianich, Lidia Bastianich, and Mario Batali, the company's American expansion partners, last week disclosed that "nothing is set in stone" for Eataly's rumored second location at 4 WTC. Reached this morning by email, a representative indicated that plans are still — at least officially — in development. "We are very excited about Eataly's growth," the spokesperson wrote. "I can confirm that we are interested in opening a second store in New York — however nothing has been set yet.
Correction:My error. Oscar Farinetti, founder @Eataly plans to open 2nd store in #NYC, not 2 more stores. @khcacouris— Francine Segan (@FrancineSegan) May 1, 2014

Related: Eataly Considering Second NYC Location Inside 4 WTC [Updated]
* This post has been updated throughout.