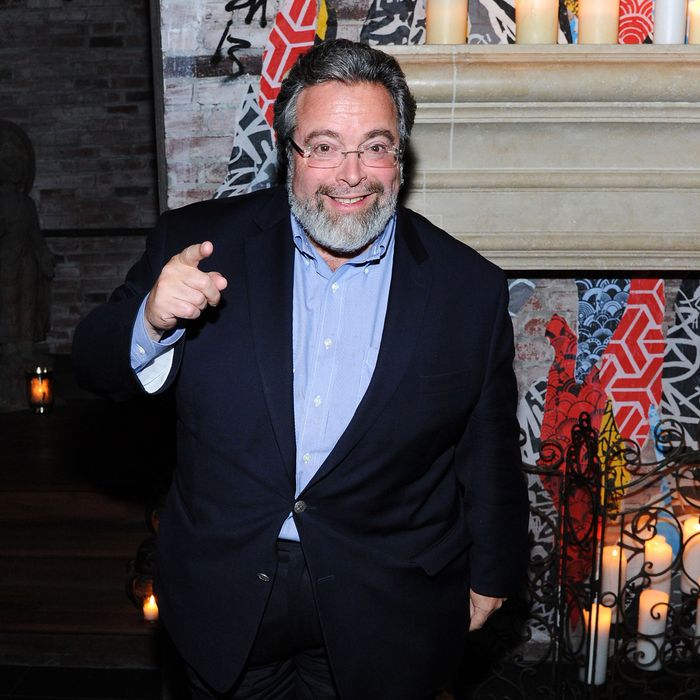 "We're also going to have a schnitzel. It's going to be delicious."
Photo: Ilya S. Savenok/Getty Images
While speaking with Drew Nieporent recently for "21 Questions," we learned that the restaurateur's first job in NYC was as the Quarter Pounder grill man at McDonald's and that, if given the chance, he'd banish Glenn Beck from New York. But while we had him, we also wanted to check in on Bâtard, his upcoming restaurant, which, despite some construction delays, is still on track to open next month in the old Corton space. What to expect? Unfussy food (schnitzel!), a (relatively) gentle price point, and the benefits of being flexible while a new restaurant tries to find itself.
What's your thought process going into this restaurant?
You know, I've opened 38 restaurants in the last 29 years. And my restaurants are all different — that doesn't include the 25 Nobus in the world. So everything I do is usually different. Now, this particular restaurant is located in the premises of my first restaurant, which was Montrachet, which I opened in 1985, then in 2008 was reopened as Corton. And so the space has a history, and I basically made a decision after the Corton experience to try to find a happy medium between what I did at Montrachet for 22 years and what we had done at Corton for five years, which was to create something of very high value foodwise, because that premise has always been known for great food, and that's still our goal.
Montrachet was a three-star restaurant that was in theory casual on the experience of fine-dining. I'd worked in all these expensive French restaurants, and I believe that the focus should be on the food and not the façade. I wanted to do something with Bâtard that's somewhere in the middle, both at a price point, but [also] I love the space, it's a very comfortable space. I'm re-doing the interior so it's a little more user-friendly, and I'd rather be open and accessible to everybody, not just the fine-dining segment of people.
So what can diners expect to pay?
Somewhere between Montrachet, which was a very good value, especially for a three-star restaurant, and Corton, which started off at $79. I'd say somewhere in the neighborhood of $100 for two persons. That's kind of the objective.
What this something you had been thinking about for a while for a different space?
I've built all these projects — it's kind of like having a baby, and you never know what's going to happen. So I can't be really that calculated. And I'm an individualist, I don't like to copy the same stuff as everyone else. And what I've been involved in I've sort of been ahead of the pack, rather than behind the pack. But at the end of the day, the chef is a person and Markus Glocker [formerly of Gordon Ramsay at the London], who is to be our chef, he's from Austria, and he has tremendous experiences both in America and Europe, and this is like a production. The chef is one of the actors, and I'm the director. And so the cool thing is that the script is improvisational. Even though we're going to have a menu, and obviously the recipes and the dishes are going to be pretty consistent, I don't like where everything is so calculated for that stuff.
What can we expect on the beverage front?
I think Montrachet and Corton as well were both known for their wine lists more than the cocktails, but we're not ignoring the cocktails. John [Winterman, formerly of Daniel] has a lot of experience in the front of the house with some very talented beverage people who are going to work there.
You spoke before about approaching the "most brilliant and talented cuisineers in the world" for this project, but it sounds like a few options didn't pan out. How did you find Markus and John?
I think in effect they probably found me. They had been pursuing the idea of opening their own restaurant. So they had a business plan on the street that somebody gave to me, and in essence, their vision statement was very close to what I would have wanted to achieve at Batard. They want the food to be great, and they don't want to be so fussy, and they didn't want it to be too expensive. And that's essentially the headset that we're going to go with.
What sort of things are already set on the menu?
We're working on things like octopus with pastrami spices; we have a pea soup with crispy sweetbreads; because Markus is Austrian, we have this idea of a beet salad with what we call linzer, which are carmelized hazelnuts. And we're gonna do things with rabbit and turbot and lamb, and you know schnitzel is a big thing in Austria, so we're also going to have a schnitzel. It's going to be delicious.
Related: Drew Nieporent Opening Bâtard in Former Corton Space