Here's some terrible news to end the week: After a customer at Dominique Ansel Bakery posted a YouTube video yesterday featuring a mouse scurrying across the floor, guess who showed up this morning? According to a rep for the bakery, the Department of Health arrived this morning with four inspectors and promptly shuttered the business. So, what are cronut-seekers to do?
The rep says the bakery must now exterminate and re-cement the bakery's basement, then they have to await re-inspection. The goal is to be open by mid-day Monday but, as always, it's largely dependent on when the DOH will send an inspector to sign off on the repairs. In the meantime, Ansel and his team will still be onsite every morning to greet would-be cronut-seekers and let them know about the situation.
From the look of Ansel's last official DOH review — which can't be linked to, but can be found here — it seems at least some evidence of mice isn't new for the bakery (as is the case for probably every single restaurant in New York City), but at the time, the inspector gave the bakery an "A" grade: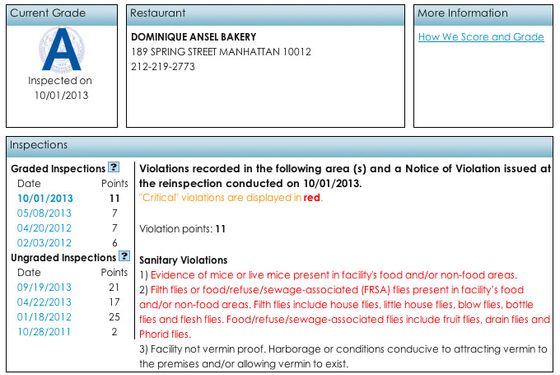 Ansel's latest official DOH report.
So what's actually changed since October? Probably nothing, except the visibility of the mouse in the video, which unfortunately came out at almost the exact same time as this scene of rodents scurrying around a Dunkin' Donuts.
"We know people expect a lot of us," Ansel's rep told us. "We wish if a customer found something they would have just talked to us — we would have taken care of it immediately."
Video: Cronut-Loving Mouse Frolics Inside Dominique Ansel Bakery [Gothamist]
Dominique Ansel Bakery Shuttered by the DOH [Eater NY]
This post has been updated with new information.