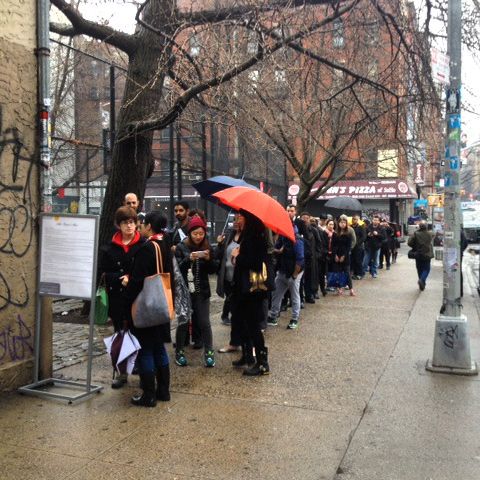 The scene this morning.
Photo: Jen Kirby
Get ready: Dominique Ansel Bakery reopened this morning after its three-day DOH-mandated closure. As expected, a line stretched down the street and around the block, people waiting for today's special Rocky-themed Cronuts. Ansel — whose team tells Grub that the closing cost the bakery more than $40,000 in repair costs and lost business — welcomed everyone as he opened the doors at 8 a.m. sharp.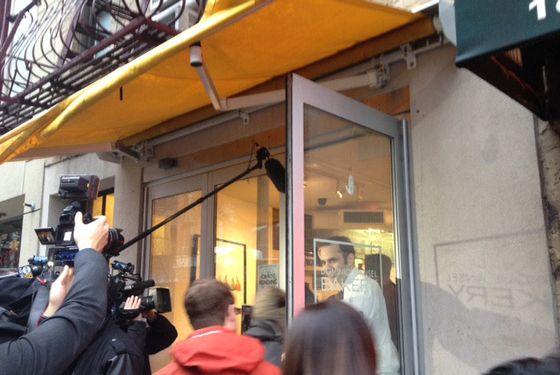 Bonjour!Photo: Jen Kirby
Many people hoped the rainy weather would keep the line shorter than usual — no such luck. The people waiting in line that Grub spoke with also didn't seem to mind the mouse-related controversy. "I feel like there's mice everywhere," said Krista Soriano, who had preordered her Cronuts. "I'm just glad it's open."
I.J. Frame, who traveled from the Bronx this morning, agreed with Soriano's sentiment, adding that after all the media attention and subsequent clean-up, "The kitchen is the most clean" it's ever been.
Earlier: The Comeback: Dominique Ansel Bakery Reopens Tomorrow at 8 a.m. With Special-Edition Cronuts