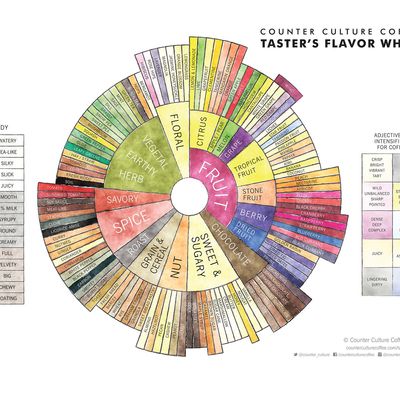 Does anyone really need to describe a cup as tasting like "black tea"?
Photo: Counter Culture
From wine to cheese, lots of people find taste descriptions on food labels pointlessly annoying, but if it's that Yirgacheffe single-origin that's bugging you, blame the Specialty Coffee Association of America's 20-year-old flavor wheel. Critics say it's like a bad thesaurus — either too vague (a "mellow," "mild" sweet?) or too technical ("leguminous," "phenolic") — and so Timothy Hill, the buyer for roaster Counter Culture, has come up with a wheel he thinks is easier to follow.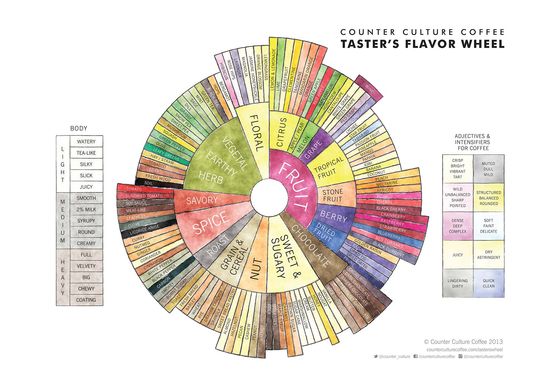 Fruity, nutty, and the reinvented wheel.Photo: Counter Culture

Of course, the SCAA is kind of irked. It argues Hill's wheel creates confusion, the Wall Street Journal reports. Meanwhile, other industry insiders are basically just using this whole controversy to complain about the concept of categorizing flavors. The list of grievances includes the fact that one might infer from Hill's wheel that a coffee "tastes like black tea and bergamot," which, as connoisseurs know, are "totally different flavors."
How About a 'Meat-Like' Cup of Joe? Coffee Buyer Brews Up New Flavor Wheel [WSJ]