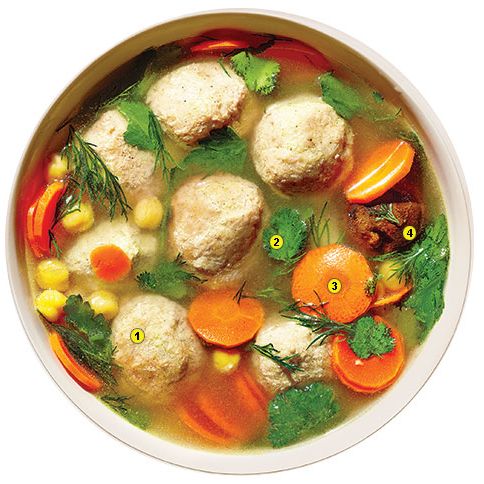 Photo: Bobby Doherty/New York Magazine
Louisa Shafia grew up eating her Ashkenazi Jewish mother's matzo-ball soup, and though her father was born near Tehran, she only came by the Iranian version recently, when researching that country's cuisine for her cookbook The New Persian Kitchen. "I wanted to include Jewish recipes," says Shafia, "but I could only find three." One of them was for gondi, the matzo-less "matzo-ball" soup that Shafia will serve at City Grit's Persian Passover seder. When testing the recipe, Shafia found the chicken-and-chickpea-flour dumplings fluffy and very light—the exotically spiced antithesis of too many matzo balls gone wrong.
1. The dumplings can be made from veal, lamb, and turkey, but Shafia uses ground chicken, which she combines with chickpea flour and seasons with cardamom and turmeric.
2. Fresh herbs like cilantro, parsley, and dill are essential to Iranian cuisine.
3. Shafia says the soup, which contains both carrots and chickpeas, "brought together two disparate parts of my identity, being Jewish and being Persian."
4. Fresh lemon juice and intensely bittersweet dried limes lend the broth a distinctly Persian tart and sour flavor.
On the prix fixe Persian Passover seder menu at City Grit, April 16; 38 Prince St., nr. Mott St.; reserve at citygritnyc.com.
*This article appeared in the April 7, 2014 issue of New York Magazine.