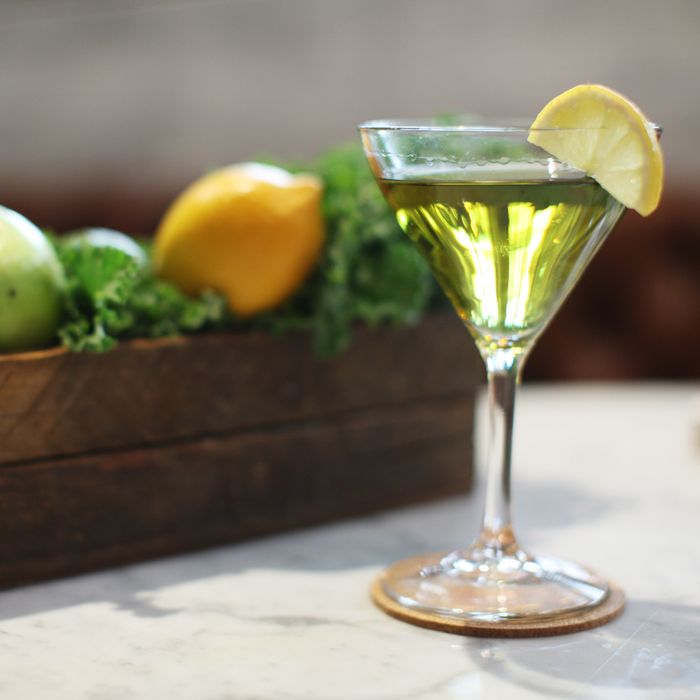 The kale martini.
Photo: Melissa Hom
Last night, Chalk Point Kitchen opened in Soho, featuring locally sourced cuisine in a rustic farmhouse retreat designed by Chien Dao (The Lion, Delicatessen). The team also includes LES nightlife impresario Matt Levine (Sons of Essex) and Michelin-starred chef Joe Isadori, whose menu minds the seasons with an emphasis on sustainable seafood and oysters. (Fun fact: Chalk Point is named after a spot in Lower Manhattan where the Dutch dumped oyster shells.)

Dishes includes Montauk pearl oysters with toasted curry, and Icelandic arctic char with white miso and ruby-red grapefruit. But it's the $13 drinks that echo one of Levine's previous ventures, the now-shuttered Cocktail Bodega. William Bastian wants you to be healthy while getting buzzed: The Kalck Hoek kale martini cuts cucumber, celery, lime, lemon, and kale juices (pressed in-house) with ginger beer and apple vodka. The spicy Bayard Farm Margarita favors lime, lemon, and orange juices, horseradish simple syrup, Cointreau, and tequila (beware of the wasabi garnish), and the Chancellor's Champagne mixes blood-orange juice with Pama pomegranate liquor, Cointreau, and Prosecco. To your health, indeed.
Professional boozehounds may know that particular space by several other names: Sam Mason's Tailor, Julie Reiner's Lani Kai, Kim Stolz and Amanda Leigh Dunn's the Dalloway, and now, Chalk Point Kitchen. Fingers crossed for longevity with Levine's split concept: Opening soon below the farm-to-table restaurant is the cozy, leather-clad Handy Liquor Bar, named for Thomas Handy, creator of the Sazerac. A fireplace, jukebox, and "Marvin Gaye Pandora" playlist will all set the mood in the lounge, and we're told that they're in talks with John Legend for some intimate sets on the baby grand piano.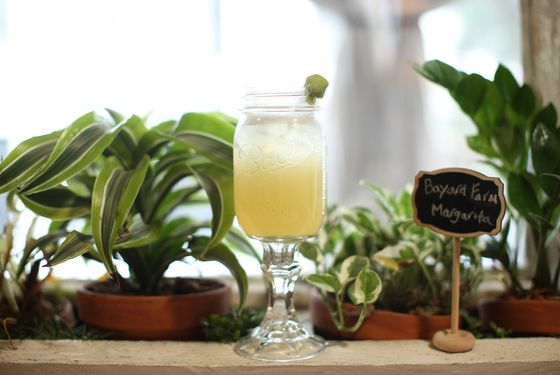 Bayard Farm Margarita. Photo: Melissa Hom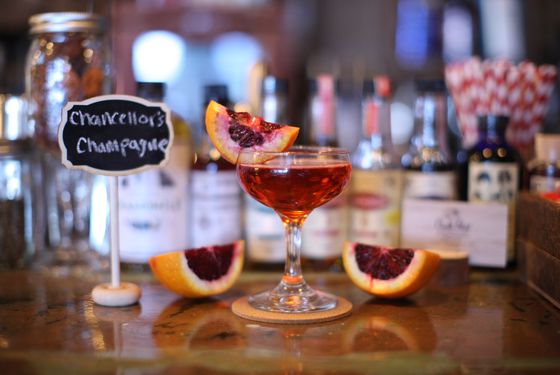 Chancellor's Champagne. Photo: Melissa Hom
Drinks [PDF]
Dinner [PDF]
Chalk Point Kitchen, 527 Broome St., nr. Sullivan St.; 212-390-0327