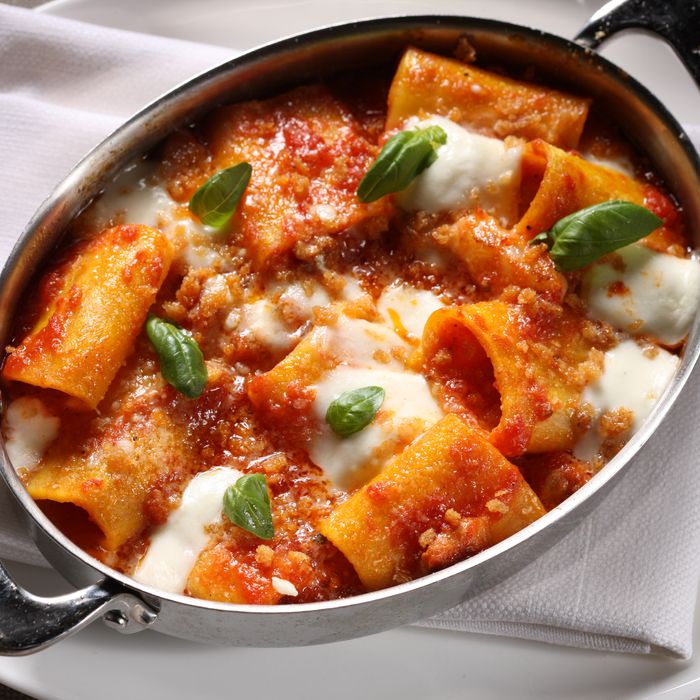 It's hard to hate Michael White's pastas.
Photo: Melissa Hom
This week, Adam Platt awarded two stars to Gato for Bobby Flay's above-average cuisine and surprisingly inventive takes on Mediterranean fare. Elsewhere in the city, Pete Wells dined at Ristorante Morini and Cagen, Ryan Sutton had a bad experience at Saul, and Robert Sietsema enjoyed the mishmash of cuisines at Au Za'atar. All that, and more, straight ahead.

Pete Wells checked in on former Nobu chef Toshio Tomita at his new spot, Cagen, giving the sushi restaurant two stars and heaping praise on its every move. Highlights included the panko-fried ham with Worcestershire sauce and the grape-tomato halves. ("Were they pickles or candied fruit, or both? Either way, I wanted more.") Wells also dropped two stars on Ristorante Morini, but declared that from here on out, he'd be devoting only as much time in his columns to Michael White's restaurants as White conceptually spent on the restaurants themselves. Wells found very few missteps at the Upper East Side spot, except for the price tags on entrées ($35 and up) and a dull roasted chicken.
Robert Sietsema visited Au Za'atar, which he gave two stars for its pita-bread plate (free of charge), the arnabeet mekle (deep-fried cauliflower with parsley), and the lightly spun baba ghannouj. The bright-pink kibbe naya, a beef tartare small plate, "constitutes one of the East Village's best tartares." If you're looking for a delicious bargain, go for the $32 family-style meal.
Ryan Sutton paid Saul, in the depths of the Brooklyn Museum, a visit, where he didn't find much to his liking. He gave the restaurant only one star and took it to town for boring dishes, overly fatty proteins, and exorbitant prices. Squab breast was simultaneously rare and raw, and "its undercooked skin would've been better suited for the jaws of a Rottweiler."
New Village Voice critic Zachary Feldman sampled the fare at North River and declared it worth the trip. Though the coconut-vegan doughnut stuffed with soy-marinated pork belly and pickle slices might seem like a prank, it works. Some dishes are clunkers, like watery glazed turnips, but most of North River's small plates succeed spectacularly. Crunchy pig-ear ribbons come doused in scallions and sesame seeds, and a burger stands out because it "weeps caramelized onion mayonnaise."
Steve Cuozzo wanted to hate Gato, but ended up loving it enough for a three-star smash review of Bobby Flay's downtown hot-spot. "Passion, not preciousness, informs the broadly Mediterranean menu's every corner," Cuozzo writes, paying special attention to Flay's chorizo crépinette, tangerine-sauce-glazed octopus, and slow-scrambled eggs. Desserts like espresso-bread pudding send diners out on a high note, too.
Shauna Lyon (The New Yorker) also reviewed Gato, a restaurant with "amazing food, as though [Flay's] still got something to prove." She praised the menu's variety, taking care to highlight adventurous dishes (seared duck liver with red grapes and black pepper), as well as tasty takes on the familiar (pizza topped with goat cheese and capers). The crab risotto is packed with flavor and comes with Calabrian chili and tarragon, while the only missteps come from admirable overreaches, like fried artichokes with uni and quail egg.
GQ sent Alan Richman to Manhattan's first Sweetgreen outpost, where the critic didn't really see what the fuss what about, with some exceptions. He turned his review into a screed about marketing and spent a good portion outlining his kale hatred, but when he actually dug into the shop's signature salads, Richman enjoyed the Earth Bowl, with warm grains like quinoa and farro atop roasted chicken, arugula, cheddar, grape tomatoes, broccoli, and corn.
Michael Kaminer gave Einat Admony's Bar Bolonat three out of five stars in his Daily News review. He called it "a polite, fine-dining spin on lusty Israeli fusion." Kaminer took issue with portion sizes (like the $6 Jerusalem bagel, tasty but small, and the $8 fried-olive platter), but enjoyed the flavor of appetizers like the Japanese eggplant with sheep's milk yogurt — "a thoughtful layering of tastes and textures that plays up strengths of every component." Plus: The minute steak with freekeh, spring onions, and tahini was "earthy and rewarding."