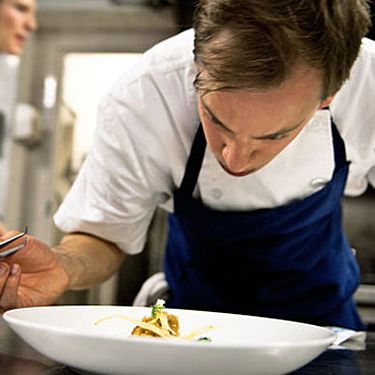 Hilbert will be cooking "farm fresh" vegetables and slow-roasted meats.
Photo: Courtesy of Gwynnett St.
Former Gwynnett St. chef Justin Hilbert, who left his post at the Williamsburg establishment this time last year, is now the executive chef at proprietors Morten Sohlberg and Min Ye's Blenheim, which takes the place of their former Smörgås Chef at 283 West 12th Street. The 45-seat West Village restaurant, which opens May 19, takes its name from Sohlberg and Ye's 150-acre farm in the Catskills, and in addition to serving dishes à la carte, Hilbert will offer a five-course tasting menu that changes daily.
Much of the menu will be cooked with food grown or produced on the farm, such as dairy products, seasonal vegetables, fruits, and even maple syrup. A rep for the restaurant sends along this list of preview dishes in advance of next month's opening:

Fiddlehead Ferns
Goats Butter with Roasted Lemons

Spring Peas in Broth
Flavors of Fennel and Seaweed

Pigs Head
Fermented Rice, Turnips and Radishes

Lettuces
Bitter Herbs, Honey and Grilled Anchovies

Artichokes
Crab Imperial and Arugulas

Trout and Roe
Buttermilk and Borage

Wood Pigeon
Boiled Peanuts and Soured Berries

Spring Onion Bulbs
Raw and Roasted Mushrooms

Guinea Hen
Steamed Lettuces and Hazelnuts

Beefsteak
Asparagus, Morels and Dill Havarti

Turbot in Beurre Blanc
Ham and Ramps

Lamb
Roasted Spinach and Mentholated Yogurt
Hilbert, you may remember, spent time in the kitchen at wd~50, and his food at the former Gwynnett St. drew praise for its own brand of restless creativity, so aside from the "Mentholated" side of yogurt with the lamb, it's a pretty good bet that the classic and bucolic-sounding dishes above will likely have a few modernist edges.
In the front-of-house, Del Posto and Aquavit vet Daniel Filipek will run the wine program, which will focus on biodynamic wineries, and Jonathan Russell of Savoy and Mas (farmhouse) has been brought on as bar manager. His cocktails include the "Hot House Paloma," made with añejo tequila and finished with housemade thyme and grapefruit soda, and something called the "Double Black Bramble," a mix of 100-proof rum, muddled blackberries, anise, and fresh basil.
Blenheim's website is live, and the restaurant is taking reservations.
283 W. 12th. St., nr. W. 4th St., 212-243-7073

Related: Former Gwynnett St. Chef Justin Hilbert Opening West Village Restaurant