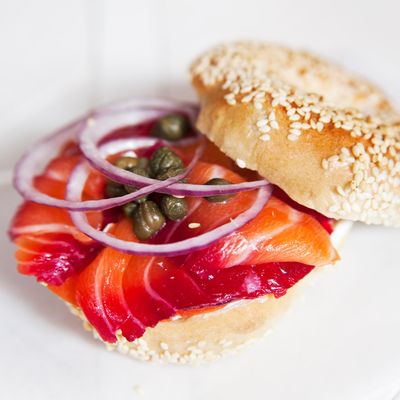 Sesame bagel with homemade cream cheese and beet-cured lox.
Photo: Konstantin Sergeyev
There are many things that Black Seed has that your neighborhood bagel shop most likely doesn't: There's the wood-fired oven, the last step in a process that begins with hand-rolling and poaching. There's the design by hOmE, the Brooklyn firm that built Tørst and Paulie Gee's, and here uses reclaimed sycamore, beveled walnut, and Carrara marble. There's the Stumptown coffee. And then there's the shop's ambition, which, according to co-owner Noah Bernamoff of Mile End Deli, is nothing less than "to capture the best of Montreal and New York bagels — a little sweet, a little salty; dense and chewy, but equally light and airy; heavily seeded but firm and just a little waxy."
These culinary ambassadors of cross-cultural harmony ($1.50 apiece) will come in all the classic varieties, including the essential Everything and Salt, and will be topped with housemade spreads that run the gamut from lox and dill to almond butter.
In case you're wondering, Bernamoff is fine with toasting, but he draws the line at scooping. (In this style of bagel, unlike the puffy, overgrown competition, "There'd be nothing left!") Starting this Wednesday, April 23, Bernamoff and his partner, Matt Kliegman, will be open initially from 7 a.m. to 4 p.m., with the eventual goal of 24-hour-a-day service.* Here's a first look at the shop and the menu.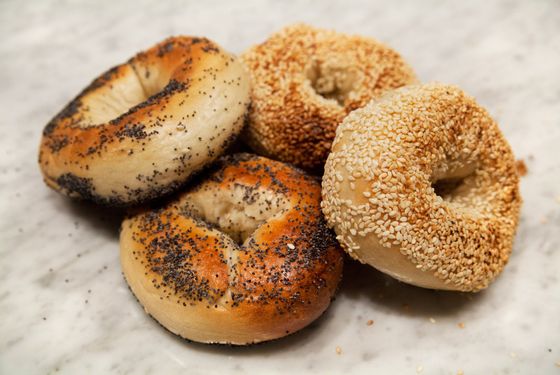 Bagels, fresh out of the oven.Photo: Konstantin Sergeyev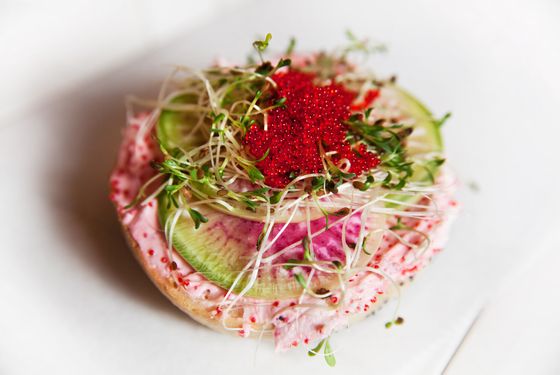 Black-seed bagel with tobiko caviar, cream cheese, watermelon radish, and sprouts.Photo: Konstantin Sergeyev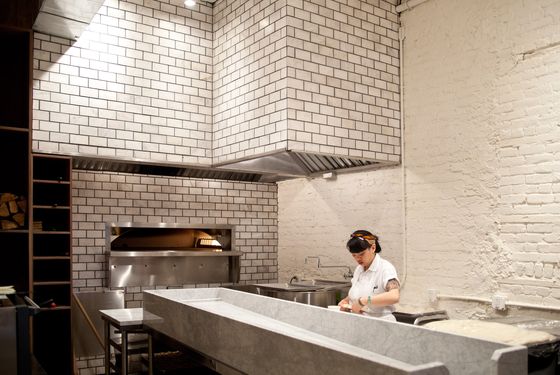 The oven.Photo: Konstantin Sergeyev
Menu [PDF]
170 Elizabeth St., nr. Kenmare St.; 212-730-1950
*This post has been updated to show that the opening date has moved back a day, from Tuesday to Wednesday.