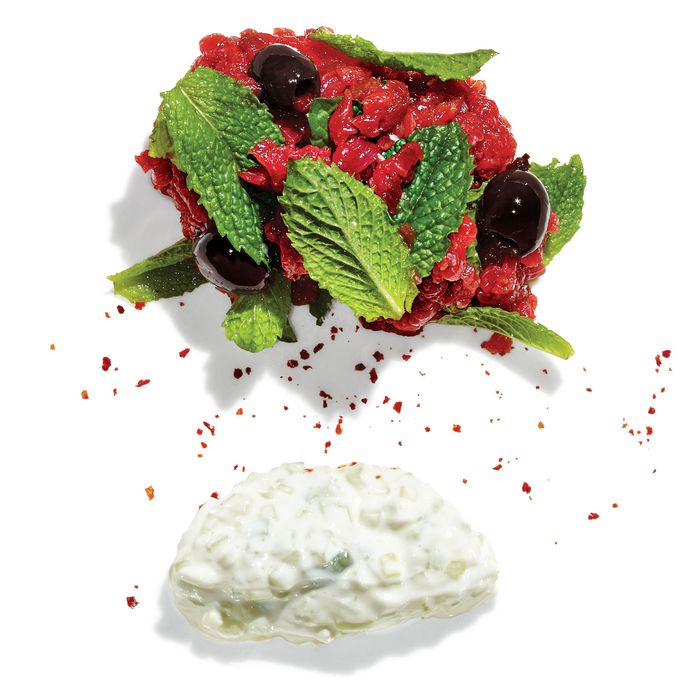 Dover's lamb tartare.
Photo: Bobby Doherty/New York Magazine
A while back, when Hugue Dufour announced upon the opening of his M. Wells Dinette that he would like to introduce New Yorkers to the pleasures of eating horse tartare, the way they do in his native Quebec, he was met with the kind of reaction reserved for serial killers and interloping Red Sox fans. Before an angry mob and the Department of Culinary Correctness showed up at his doorstep with buckets of tar and sacks of feathers, Dufour caved and canceled his horse-meat plans. But one wonders whether the chef was merely ahead of his time. We are, after all, in the midst of a tartare craze, with everything from beef hearts to beetroots being sliced into bite-size pieces and served with toast points. Tartare, of course, is not new; that fine dice of lean raw meat, typically dotted with capers and crowned with a raw egg yolk, thought to have originated in Central Asia but most closely associated with France, has merely been rediscovered and reinvented. You can find classic steak tartares at brasseries like Chez Jef and modern tasting rooms like Contra; lamb tartares at Telepan Local and the Cannibal; a venison tartare at Fedora; and Korean tartares at Danji and Gaonnuri. There are even carrot tartares out there, like the one at Eleven Madison Park, which is ground tableside for maximum effect. Thanks to a confluence of factors—the pendulum swing back toward French bistro cooking, the enduring fascination with mid-century style, the modern primitivist appeal of so-called New Nordic cuisine, the prevalence of more carefully sourced proteins—almost nothing is safe from the cleaver or the grinder. Here's a look at today's tartare, by category.
Lamb
Dover's Lamb Tartare, Cucumber, Yogurt, Grilled Pita
Walker Stern and Joe Ogrodnek had merguez in mind when they devised this appetizer, which mingles hand-chopped lamb saddle with preserved lemon, mint, Sriracha, olive oil, and capers. It's tender and tasty with its cucumber-yogurt garnish, but nearly upstaged by the accompanying char-grilled pita, which is made daily and cooked to order. $14; 412 Court St., at First Pl., Carroll Gardens; 347-987-3545.
Beef
Estela's Beef Tartare With Sunchokes
People are so enthralled with Ignacio Mattos's spectacular tartare—the best we tried—that tartare addicts have been known to order two portions at one sitting. It's a humble-looking mound of uniformly diced grass-fed beef plus crushed sunchoke chips, subtly ceviche-ified with lemon, fish sauce, and pickled elderberries, among other things, that belies a remarkable complexity of flavor and texture. $15; 47 E. Houston St., nr. Mulberry St.; 212-219-7693.
Taco
Empellón Taqueria's Steak-Tartare Taco
There may be no tartare-taco tradition in Mexican cooking, but there is at Alex Stupak's thinking man's taquería. Like a plat du jour at a French bistro, it's a Saturday-night special, the coarsely hand-cut top round moistened with a zingy salsa roja and further enhanced with threads of candied shallot, sea beans, and a drizzle of tarragon crema—a riff on the classic steak with béarnaise. Two tacos for $16 or three for $24; 230 W. 4th St., at W. 10th St.; 212-367-0999.
Seafood
ZZ's Clam Bar's Striped Jack, Ricotta, Caviar
The most extravagant tartare in town is a play of sorts on the classic mid-century cocktail-party dish caviar pie. Instead of chopped egg and cream cheese, though, chef de cuisine Dai Matsuda expertly layers diced shima aji (striped jack) beneath whipped ricotta and a heaping helping of California white-sturgeon caviar. It's rich and indulgent, like something you'd request for your last meal, were you to find yourself on some ­super-­soigné prison's death row. $98; 169 Thompson St., nr. W. Houston St.; 212-254-3000.
Surf and Turf
Skál's Raw Beef, Littleneck Clams, Wild Onions
There exists a school of tartare thought that holds that rough cutting as opposed to fine grinding is the only way to go, and chef Ben Spiegel must be its foremost practitioner. He uses flavorful but chewy grass-fed hanger steak, and instead of binding the chunky meat with raw egg yolk, he substitutes barely cooked littleneck clams that he minces into a fine paste. Then he throws out the standard capers, Dijon mustard, Tabasco, and Worcestershire in favor of fish sauce and pickled ramps. Grilled bread brushed with lamb fat fills in for dainty toast points. $15; 37 Canal St., at Ludlow St.; 212-777-7518.
Fowl
Mountain Bird's Ostrich Tartare
Determined not to offer any four-legged creatures at his new Harlem restaurant, chef Kenichi Tajima experimented with tartares made from quail, guinea hen, and pheasant before hitting the jackpot with ostrich, the flightless bird whose meat resembles lean beef. The French-trained chef chops the meat by hand, as he learned to do at Restaurant du Palais Royal in Paris, and seasons it with ketchup, mayo, Worcestershire sauce, Tabasco, capers, and cornichons. He adds fried shallots for crunch and serves it with toasted brioche. $15; 231 W. 145th St., nr. Adam Clayton Powell Jr. Blvd.; 212-281-5752.
Vegetable
The Copenhagen's Kale-Tartare Smørrebrød
Yes, the tartare trend has intersected the vegivore trend, with beets and carrots leading the way and kale coming on strong. At this Danish café, they chop the ubiquitous leafy green and dress it with crème fraîche, plop it down on a nice chewy slice of the housebaked rugbrød (rye bread), and top it off with diced pear, walnut, and a smattering of sunchoke chips. $7; 13 Laight St., at St. Johns Ln.; 212-925-1313.
*This article appeared in the April 7, 2014 issue of New York Magazine.