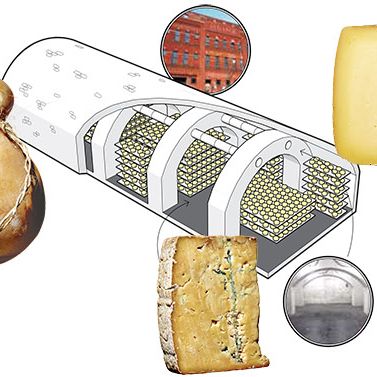 Photo: Bobby Doherty/New York Magazine (Cheeses); Cassandra Rose Tannenbaum (Cave, Building). Illustration by Jason Lee.
The culinary gentrification of Crown Heights has largely been confined to the well-trod ­thoroughfares, spreading east, one artisanal ice-cream cone and third-wave cortado at a time, from Prospect Heights's Vanderbilt Avenue to Washington Avenue and Franklin Avenue, where it's now possible to find such basic necessities of 21st-century gourmet life as Neapolitan pizza, jerk lobster, and buttermilk-fried quail. But tucked away on a quiet quasi-industrial side street, century-old brick façades conceal two of the neighborhood's most interesting new food ventures: a beer-hall outpost of Brooklyn Flea and, right next door, a subterranean cheese cave transformed from a former brewery's old lagering tunnels. Both enterprises are slated to begin operations in late May.
Crown Finish Caves
925 Bergen St., nr. Franklin St.
The three forgotten lagering tunnels below a onetime brewery that Benton Brown and Susan Boyle restored into a green-roofed, solar-powered complex of 30 commercial spaces and six apartments are "the last piece of the puzzle," according to Brown. His notion to age cheese in the cellar began with an immersion course—on cheese-making with Peter Dixon, who helped launch Consider Bardwell and now operates Parish Hill Creamery in Vermont, and cheese-aging with master affineur Hervé Mons in Roanne, France. Then came the arduous task of creating the ideal environment: outfitting Tunnel No. 1 (at right), where the natural temperature hovers in the low 50s, with a poured-concrete floor and stainless-steel drains, then lime-washing the walls to seal the brick while letting it breathe. As soon as the Vermont cows are back out on pasture, Dixon will begin sending young cheeses down to Brooklyn, where up to 22,000 pounds can be stored on wood-plank shelves. For now, Brown and Boyle plan to rent out the other two tunnels to tenants with food-and-drink aspirations: growing mushrooms, lagering beer, or storing wine.
Parish Hill Creamery cheeses are made with raw milk from a neighboring farm, and include the Gorgonzola-style West West Blue, above; the gourd-shaped, caciocavallo-style Suffolk Punch, at left; and the basket-molded, Balkan-style Kashar, at right.
Clauger, an industrial French refrigeration and air-treatment specialist, installed a variable-speed humidity-and-climate-control system 30 feet below Bergen Street. Textile ducts run along the ceiling; conveniently, their removable covers can be tossed into the wash.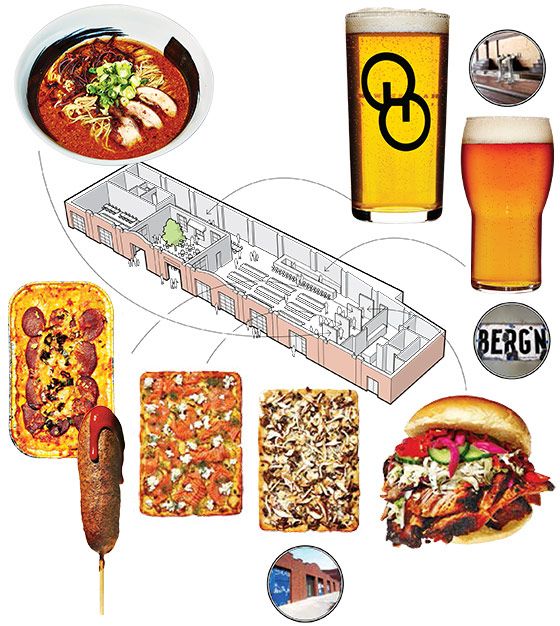 Photo: Bobby Doherty/New York Magazine (Food, Beers). Cassandra Rose Tannenbaum (Beer tap, Sign, Buildings). Illustration by Jason Lee.

Berg'n
899 Bergen St., nr. Franklin Ave.; 718-857-2337
The beer hall and food court, built inside a single-story, 9,000-square-foot former garage, was conceived as bait for prospective tenants of the abutting property, 1000 Dean Street, a conversion of a onetime Studebaker service center into commercial space for Brooklyn's "creative class." Four Brooklyn Flea and Smorgasburg veterans, whose rents are based on revenue, will operate from subway-tiled stations at the eastern edge of the skylit, brick-walled space. Flea co-founder Jonathan Butler orchestrated the 1000 Dean deal, and he and his Flea partner Eric Demby want Berg'n to be more than an evolved corporate cafeteria, attracting locals and food pilgrims from farther afield all day and night for elevated comfort food, craft beer, and coffee and doughnuts. But their primary mission, says Demby, is to be affordable and accessible. "People make fun of us for overcomplicating the food scene," he says. "Not to sound anti-Brooklyn, but we don't want to be precious."
The coffee bar, with a takeout window offering access from the 74-seat courtyard, will serve Brooklyn-­roasted Parlor coffee, plus Dough doughnuts and Blue Marble ice cream.
The 40-foot antique bar will dispense the likes of Bell's Two Hearted Ale and Carroll Gardens-brewed Other Half Motueka Pale Ale, with dedicated tap lines for cider and soft drinks made with Brooklyn Soda Works syrup.
Ramen Burger will expand beyond its eponymous Smorgasburg smash hit (a beef patty served on a ramen "bun") to also dish up Bonkotsu, or beef-infused tonkotsu ramen with beef chashu. Also: new burgers (shredded beef, veggie, and breakfast bacon-egg-and-cheese), plus firm proof, in the form of ramen fries, ramen salad, and ramen churros, that there's very little chef-owner Keizo Shimamoto won't do with the versatile noodle.
Asia Dog exoticizes burgers and franks with toppings that raid the Asian larder (Thai-basil-pork-and-beef chili, say, or Chinese barbecued pork belly with cucumbers and scallions). Also look for a scene-stealing kimchee-­pancake corn dog with gochujang dipping sauce (pictured right) and kimchee mac 'n' cheese with sliced hot dog (above).
Pizza Moto Slice Shop offers its signature round and new-for-Berg'n square Grandma pies in rotating varieties like potato with smoked salmon, ricotta, and capers (pictured below). Also on the menu: salads, bar snacks, and sandwiches, plus a sauce-slicked calzone.
Mighty Quinn's Barbeque, on an expansionist tear of late, will focus on its core menu of smoked meat, including brisket and pulled pork, sold by the serving ("naked" or on a roll) or the pound.
*This article appeared in the April 21, 2014 issue of New York Magazine.