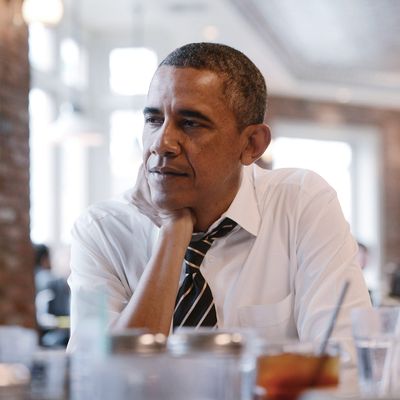 Deep in thought about where to eat next.
Photo: Olivier Douliery-Pool/Getty Images
One of the defining characteristics of the Obama presidency has been the commander in chief's surprisingly excellent taste in restaurants, most recently put on display during this week's visit to Sukiyabashi Jiro, the three-Michelin-star restaurant immortalized in Jiro Dreams of Sushi. Here are 21 times Obama exercised his ability to score seats at some very hot spots.
Where: Dixie Kitchen and Bait Shop, Chicago
When: August 2001
Back when he was a state senator, Obama liked to frequent Dixie Kitchen, a mini-chain of southern restaurants. In a 2001 episode of Check, Please!, he warned, "Those johnnycakes, they'll get you early, and you won't have room for the peach cobbler!"
Where: Sylvia's, Harlem
When: November 2007
Before delivering a speech at the Apollo, then–presidential candidate Obama got dinner with Al Sharpton, who told the Daily News, "A man who likes fried chicken and cornbread can't be all that bad."
Where: Dooky Chase, New Orleans
When: February 2008
Dr. Norman Francis, the president of Xavier University, took the president to Dooky Chase, where legendary owner Leah Chase served him a bowl of gumbo. Obama then got chastised by Chase for putting hot sauce on the gumbo before trying it. Still, it's become a favorite restaurant of his ever since, and he made sure to get takeout from there in October 2009 during a four-hour stopover.
Where: Ben's Chili Bowl, Washington, D.C.
When: January 2009
Obama made his first visit to the chili institution with then-mayor Adrian Fenty, where they ordered the chili half-smoke with mustard, onions, and chili sauce — and washed it all down with iced tea.
Where: Equinox, Washington, D.C.
When: January 2009
On their first night out in D.C., Obama took Michelle to Equinox — not the gym — for her 45th birthday.

Where: Spiaggia, Chicago
When: March 2009
After watching the Bulls tank a game against the Wizards, Obama went to dinner at one of his mainstays. Chef Tony Mantuano flew in for the occasion to present the president with his favorite dish of wood-roasted scallops. Obama took a photo with Mantuano and called him his "favorite chef." The Obamas have spent many special occasions there, including their anniversary in 2008.
Where: Blue Hill, New York
When: May 2009
Obama had a date night with Michelle at Dan Barber's New York restaurant. After trying not to stare, the patrons reportedly erupted into applause when the first couple exited the restaurant.
Where: Il Mulino, New York
When: September 2009
Obama and Bill Clinton caused a huge scene when they sat down for lunch at this pricey Greenwich Village spot.
Where: Restaurant Nora, Washington, D.C.
When: January 2010, November 2013
For Michelle's 46th birthday, the Obamas had dinner at Restaurant Nora, known for its locally sourced and organic produce. He ordered pan-seared Maine lobster and saffron risotto, like a boss.
Where: Topolobampo, Chicago
When: October 2010
According to Rick Bayless, the Obamas have been regular customers for years. "They just like to explore the whole menu. They're our favorite kind of customer because they say, 'What's new on the menu?'"
Where: Red Rooster, New York
When: March 2011
Marcus Samuelsson's Harlem restaurant hosted Obama and a group of 50 guests. Cornbread for all!
Where: Daniel, New York
When: June 2011
Obama took in a whopping $2.5 million from donors at the Upper East Side restaurant, which served a menu of lobster salad, kobe beef, and rock-shrimp spring rolls.
Where: Good Stuff Eatery, Washington, D.C.
When: August 2011
After concluding the debt deal, the Obama motorcade made a pit stop at Top Chef alum Spike Mendelsohn's burger joint. He told Politico, "Michelle eats here all the time, but I don't get out."
Where: Gotham Bar & Grill, New York
When: November 2011
Caroline Kennedy, Jerry Seinfeld, and Susan Sarandon all paid $35,800 per head to eat a menu of dry-aged steak and apple strudel — and schmooze with Obama.
Where: BLT Steak, Washington, D.C.
When: January 2012
The Obamas celebrated Michelle's 48th with an intimate dinner with friends, including Valerie Jarrett and Eric Holder.
Where: ABC Kitchen, New York
When: February 2012
It makes perfect sense that the Obamas would love the greenmarket-driven food here and host a fund-raising gala.
Where: The NoMad, New York
When: July 2012
Hopefully Obama's $40,000-a-head fundraiser at least included Daniel Humm's roast chicken.
Where: Ray's Hell Burgers, Arlington, Virginia
When: June 2013
Where do you take then-Russian president Dmitry Medvedev before the G20 meetings? To this famed burger joint, of course.
Where: Sweet Life Café, Martha's Vineyard
When: August 2013
The first family had dinner at the Sweet Life Café while vacationing in Martha's Vineyard.
Where: Morimoto Waikiki, Honolulu
When: December 2013
After attending a basketball game, Obama took the family out to Morimoto Waikiki, Iron Chef Masaharu Morimoto's eponymous Hawaiian branch.
Where: Sukiyabashi Jiro, Tokyo
When: April 2014
Obama kicked off his Asia swing with Prime Minister Shinzo Abe at the famed Sukiyabashi Jiro, the ten-seat, three-Michelin-star restaurant immortalized in Jiro Dreams of Sushi. According to the AP, the dinner was "unusually casual by Japanese standards." And word on the street is that the president may not have actually finished his meal. Maybe he was just full.