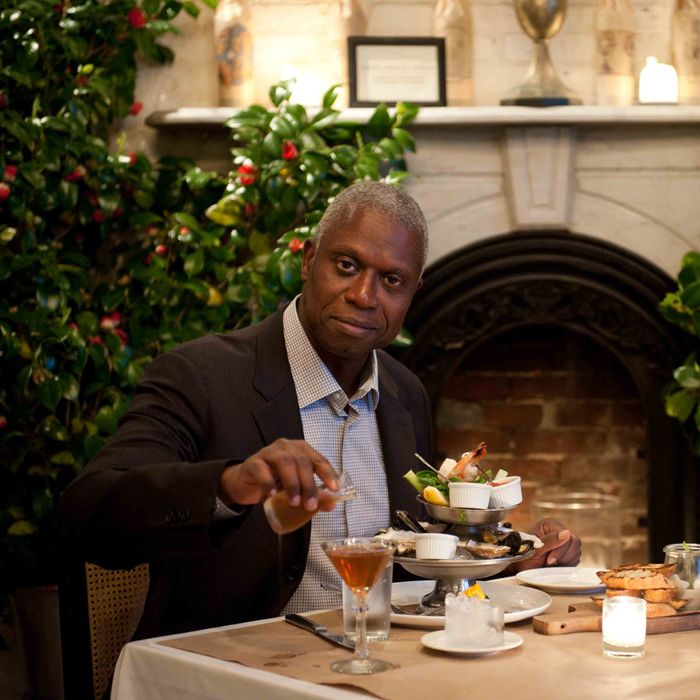 "If you don't eat quick enough, you don't get seconds."
Photo: Liz Clayman
Most actors would use a hiatus from an Golden Globe-winning sitcom for some downtime, but Andre Braugher, who plays Captain Ray Holt on Brooklyn Nine-Nine, is instead working on his first theatrical producing effort. His play, Oni Faida Lampley's semi-autobiographical Tough Titty, premieres on April 23 at the Paradise Factory. Braugher's busy, but this week, he still found time to sit down for dinner at Esca and Saxon + Parole, find a perfect hot and crusty baguette, and eat sushi while driving. Read it all, straight ahead.
Friday, April 11
At 8 a.m., I had black coffee, dropped my youngest son off at school, and then I headed back into the city to the theater. For lunch, my wife recommended Ajisai because you can get in and get out, and the price is right and the food is good. I grabbed a lunch box: tuna sushi and sashimi, a salmon roll, miso soup, and rice. I'm not sure I want to tell anybody this, but I ate it in the car on the 25-minute trip to pick up my son from school. It's an art: eating sushi while you drive. But it's not illegal! So I can do it.
Dinner was at Sosa Borella on Ninth Avenue, recommended by my friend Teagle Bougere, also an actor. We've been regulars for years, and the food is just that good. I ate a quick meal. It's just a fact that I eat really quickly. When I was growing up, I had all these big cousins, and when you have big cousins, you learn how to eat fast. Because if you save the good things, they'll snatch them off your plate. And if you don't eat quick enough, you don't get seconds.
So I usually try to order everything to come together because I eat so quickly. I had the terracotta mussels and the grilled polenta with vegetables, which were delicious. And then the La Numero Cuatro pizza (tomatoes, olives, mushrooms, spinach, mozzarella), which they make right there. I was probably only there about 35 minutes at most.
Later, at home around 10:30 p.m., I had a snack of macaroons and tea while running lines with my wife. I eat from noon to midnight. I've been advised to stop that, but it's just a lifelong habit. I ate the last six macaroons — what can I say?
Saturday, April 12
Breakfast is homemade granola, strawberries, and whole-milk yogurt — with black coffee. Always black coffee. I'm not an aficionado: I go to Starbucks and get the darkest and blackest and richest roast I possibly can, and I put it in my French press and usually wind up drinking the entire pot right then and there. And because caffeine suppresses my appetite, I don't need to eat until noon or 1 p.m.
Lunch was at Westway Diner: an omelette with spinach and onions, home fries, an English muffin, and coffee.
I picked up my wife from the theater and we had dinner at Blossom, which is terrific. They don't bother you there. Some people complain that nobody asks how your meal is going. But that's not my thing. I consider it to be a place where you can actually get some peace and quiet and some work and some eating done.
At 10 p.m., I had two Hershey's bars at home.
Sunday, April 13
I had black coffee with two scrambled eggs — that I made — on wheat toast, and then went into the city for the design run of the play.
If you like craft beers and that sort of stuff, Ninth Avenue Vintner is great. I haven't had a drink in 20 years, so I go there for the great sandwiches.
Subsequently, when I'm over in that part of town, I like to buy the chorizo and spicy sausages. I like the imported cheeses, especially the stuff I've never heard of. Also, the bread is real and crusty. You know how you can go and buy a baguette and it's basically Wonderbread in baguette form? That just drives me crazy. Here, it's real bread. I had a sandwich with Serrano ham, manchego, and figs on a baguette. On the side, you get these whole marinated olives instead of potato chips, and they are delicious.
Dinner was a margherita pizza with pepperoni at Capizzi Pizzeria, a joint right around the corner from the rehearsal space. It feels homey and familiar without being a hole in the wall. And the pizza is terrific. Coming from Chicago, I've got a deep-dish sort of Chicago-snob thing going on. So it's hard for me to find a pizza where I can say, "Yeah, this is pizza."
At 11 p.m., I had leftover chorizo from Vintners with crackers.
Monday, April 14
Black coffee at home, then off to the rehearsal space.
Lunch was a wrap with tuna salad and greens, plus an apple and juice (Beets Me!) at Green Symphony on 43rd Street. And then I had to deal with a flyer emergency. We had 1,500 printed to publicize the show, and they all had typos because of a snafu. So I had to paste stickers on all of them.
Esca is right across the street from the studio where I had to drop the flyers, so I went there for dinner. I had a six-piece crudo tasting menu, you know, so I could find out how the fish are doing. Dandelions and I don't usually get along when they're in my yard, but we sure did with Esca's dandelion salad. And then I had a bruschetta with cannellini beans and mackerel. The food was fantastic, so it put everyone in a good mood.
Tuesday, April 15
Black coffee. I hit the rehearsal space, and then lunch was at Kava Cafe in MiMA, where I had mozzarella, tomato, and basil on a baguette, and a spinach-and-avocado salad.
Then, I went to Saxon + Parole and had this incredible seafood tower with mussels, clams, shrimp, and oysters, and mushroom mousse with toasted-baguette slices. That was my dinner, and then at 10 p.m., I had my Hershey's bar.
Here is the thing about Hershey's: It's not the best chocolate in the world, and I understand that it's made from industrial processes and it's not French and it's not this and it's not that, but it's comfort food. I'm a Hershey's man.
Wednesday, April 16
Black coffee for breakfast. We were all surprised that we had to clear snow off the car this morning, but that is the way it goes. Today I'm driving the Honda Odyssey minivan, because we got into minivans when we had three kids.
For lunch, I walked to a specialty store around the corner from my house called Ashley Marketplace and bought some freshly made linguini with pesto sauce. This handmade stuff is better than Barilla … I cook, but here's the thing: All my cooking is southern cooking. Everything is macaroni and cheese and fried chicken. So consequently, I rarely cook.
This post has been updated to show that Brooklyn Nine-Nine won a Golden Globe, not an Emmy.