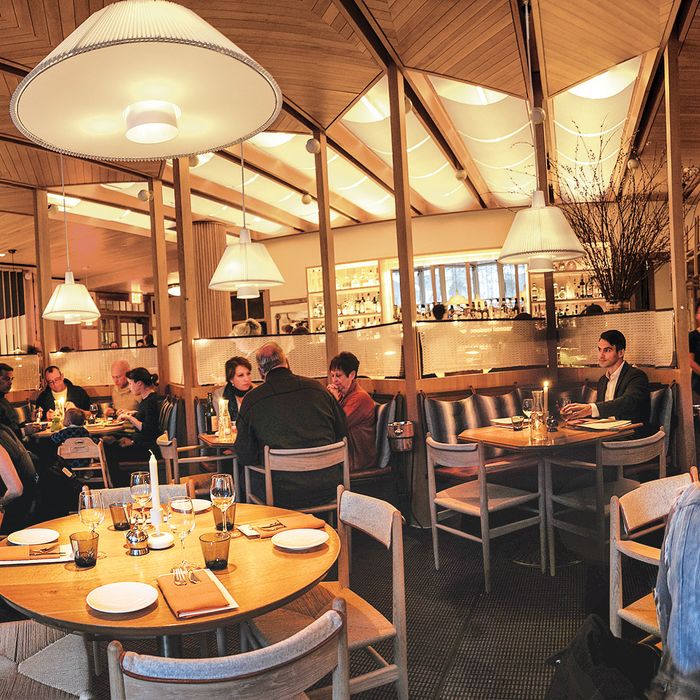 In the world of traditional New York dining, there used to be specific restaurants for people with different ideas of fashion and décor, different tastes in food, and, of course, different-size bank accounts. These days, however, it's possible to enjoy your "barely touched" seafood preparation at the venerable midtown seafood palace Le Bernardin with a bottle of Zoe Amber Ale from the Maine Beer Company (albeit for the extravagant midtown price of $18 per bottle). Wander the city's clamorous, post-gourmet landscape, and you'll find Michelin-approved restaurants serving popcorn treats for dessert (Eleven ­Madison) and modestly priced Chinese restaurants serving $120 bottles of Champagne (Fung Tu). And you'll find ambitious new restaurants that attempt to please all the city's jumbled culinary appetites (for comfort food, for local food, for gourmet technique, for posh) more or less at once.
Narcissa, which opened a few months ago in André Balazs's newly renovated Standard Hotel, on Cooper Square, is one of these restaurants. Instead of a single dining room, there are two, each designed with a specific clientele in mind. One space is appointed with rows of farm-style wooden tables for hotel guests to sit at and an open kitchen bordered by a wraparound chef counter. The other is a louder, clubby, ski-lodge-style restaurant-barroom, where you might spy Liv Tyler furtively nibbling trendy ­creations like the already-famous house carrot fries. You can enjoy a nice selection of craft ales, or a $430 bottle of Coche-Dury ­Meursault Blanc from the old vines of Burgundy. The menu, which is the same in both rooms, features an antic ­creation called carrots Wellington for modern vegivores, a bone-in rib eye for old-fashioned carnivores, and an elevated country chicken flavored with winter truffles.
The architect of these eclectic treats is the talented chef John Fraser, who operates a smaller, more rarefied restaurant called Dovetail on the Upper West Side. Most of the dishes have their charms, although it helps in the early going if you have an appetite for vegetables. In ­addition to the slightly disappointing carrot fries (they're cooked strips of carrot covered in oily tempura batter), our first wave of appetizers included Brussels-sprouts leaves tossed with shreds of ham and Manchego, among other things, and some rotisserie-crisped beets garnished nicely with slivers of apple and a creamy, yogurt-thick bed of horseradish sauce. There are rotisserie-grilled sweet potatoes too (with a sidecar of tofu aïoli, whatever that is), although if you're wise, you'll save your calories for the gnocchi, which Fraser plates with Swiss chard and a chopping of sweet chestnuts.
The food is served in fashionably tiny bowls and plates, but if you look closely, the recipes are much more sophisticated than they appear. The baked oysters are drizzled with an addictive substance called truffle-bonito butter, which tastes only faintly of truffles and leaves a pleasing slick of richness down the back of your mouth. Instead of the usual arborio rice, the risotto is made with barley, which the kitchen folds with fat clam bellies, leeks, and a touch of crème fraîche dissolved in clam broth. The goopy poached farm egg isn't much different from the thousands of other haute farm eggs being peddled at restaurants around town, but the grilled short-rib appetizer is worth the price of admission (it's crusted with pastrami spices and splashed with buttermilk), and so, it pains me to admit, is the carrots Wellington, which is tightly bound in a buttery pastry crust and drizzled with spoonfuls of lemony gremolata.
The other entrées at Narcissa aren't quite as ingenious as this New Age ­Wellington, but I didn't encounter one that wasn't perfectly executed. The tender, faintly gamy duck breast I ordered one evening was rosy pink inside and lacquered on its crunchy exterior with a scrim of honey speckled with cumin seeds. The lamb loin is handled with similarly expert care (with lamb belly on the side and a rubbing of mustard and herb-laced bread crumbs), and so is the truffled baby chicken, served atop an appetizing mash of apples, sautéed carrots, and frizzled nickels of pork and chicken sausage. For my money, the best seafood item on the menu is the roasted hake (with baby artichokes and an olive tapenade for a very modest $22), but the dish the red-cheeked beefeaters at my table couldn't stop raving about was the delicious slow-roasted rib eye, which is cut from the bone in rich, fatty slices and tender enough to eat with a spoon.
Balazs is a master conjurer of downtown scene restaurants, but if you wish to focus on the admirable qualities of Fraser's cooking, I suggest you book a table in the kitchen dining room instead of the more hectic, crowded lounge. In addition to diverse (though not inexpensive) wines for almost every taste, the bar offers an impressive range of sherries (I counted 19) and a nice selection of the kind of bitter amaro digestifs (e.g., Cardamaro, Cynar, Fernet Branca) so beloved by trendsetting barkeeps out in Bushwick. The expedient, mostly premade, comfort-oriented desserts seem to have been designed with a similar eye. They range from a soothing citrus "salad" (which is more of a sundae, made with tapioca pudding, orange granita, and candied ­citrus) to a deconstructed carrot cake, which is touched with ­parsnips, among other radical ­vegetal ingredients, and looks like it's been blown up with a small charge of explosives on the plate.

Narcissa
21 Cooper Sq., nr. East 5th St.; 212-228-3344; narcissarestaurant.com
Hours: Dinner Sunday through Thursday 5:30 to 11:30 p.m., Friday and Saturday until 12:30 a.m.
Prices: Appetizers, $10 to $16; entrées, $20 to $48.
Ideal Meal: Baked oysters or short ribs, chicken, rib eye or carrots Wellington, citrus-fruit salad.
Note: The bar-lounge dining area will feature a garden patio for alfresco dining when the weather warms up.
Scratchpad: One star for the eclectic, vegetally themed menu, and another for the cooking technique.
*This article appeared in the April 7, 2014 issue of New York Magazine.
Related: How Narcissa Pastry Chef Deborah Racicot Created Her Citrus Fruit Salad