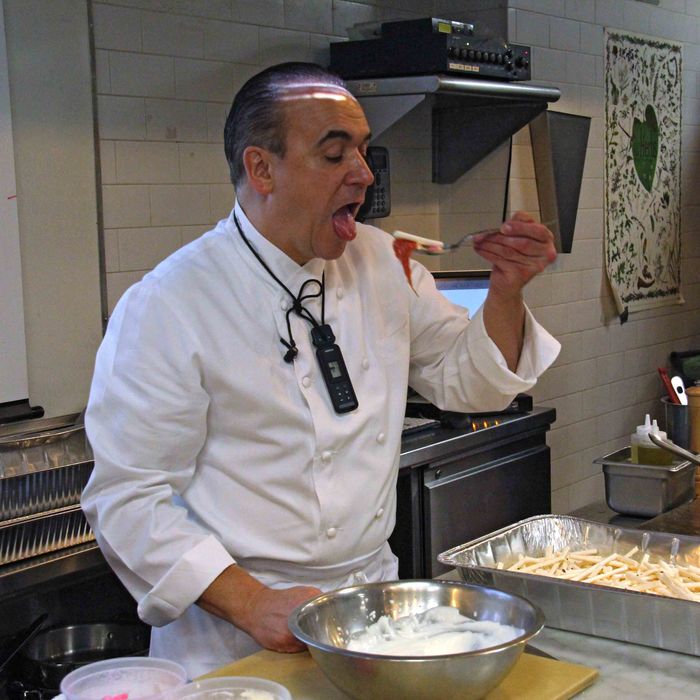 Jean-Georges says his new restaurant will be called ABC Vegetable.
Photo: Brennan Carley
This weekend, over 150 guests met up with world-class chefs at the International Culinary Center for the sixth annual New York Culinary Experience. The event featured instructors such as Andy Ricker, Jacques Torres, David Burke, Paris's Daniel Rose (of Spring), and Jean-Georges Vongerichten. Here are a dozen of the best things we learned during the two-day event, from the benefits of blowtorched fish to the name of Vongerichten's next ABC restaurant.
1. Even chefs are okay with store-bought hummus: Although Bar Bolonat's Einat Admony makes her own hummus from scratch, she admits she'll grab a pack of Sabra from time to time. "It's a good option for those that don't have access to fresh ingredients," she says, "and it also has a longer shelf life." Her hummus lasts only three days.
2. The best restaurant critics don't worry about chefs' feelings: "If it weighs on your mind too much, you really can't do this job," said former Times critic Ruth Reichl. But even she admits a takedown of an under-the-radar restaurant isn't worth it: "You don't bring out the big guns to kill small flies."
3. All home cooks should have a blowtorch in their kitchen: At least that's what chef Daniel Rose — of Spring, in Paris — thinks. "The ones they sell in appliance stores are too small," Rose instructed, brandishing a gigantic blowtorch. He used the flamethrower to brulée sugar-coated skins of fresh mackerel, a process that resulted in an aroma "like when the ocean smells sweet at the end of the day." He also joked that everyone should buy a liquid nitrogen machine as well before dipping a thyme leaf into the nitrogen to demonstrate the substance's power.
4. Einat Admony has a killer use for leftover lemons: After she uses up the skins on preserved lemons, she uses the leftover pulp for yogurt. "Just scoop out the lemon's inside and toss it into a blender with some yogurt," she pointed out. "It's incredible."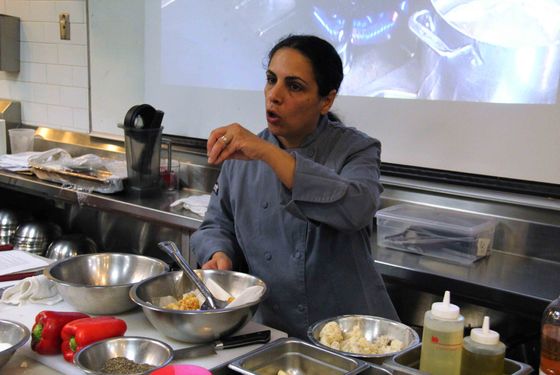 Einat Admony, taking a break from Bar Bolonat after ten straight days in the kitchen.Photo: Brennan Carley
5. Restaurant reviews ain't what they used to be: Critics feel the pressure to weigh in on restaurants earlier and earlier these days, but that wasn't always the case. Reichl told the crowd that when she reviewed Michael's for the Los Angeles Times, it took her a year to report and write the story.
6. Jean-Georges Vongerichten has a name for his third ABC restaurant: It's called ABC Vegetable and should be open in a few months. The focus, is of course, raw food and vegan cuisine. "The fish and meat lovers can go to ABC Kitchen and ABC Cocina," he said. "This is for a different crowd."
7. When Lidia Bastianich was young, she conned her way into working for Christopher Walken's family's bakery in Astoria: "I told them I was 16 when I clearly wasn't," she said with a chuckle, adding, "But it got me my first job and Chris and I still hang out!"
8. Tertulia's Seamus Mullen doesn't peel his root vegetables: "All of the nutrients go in through that outer layer, so you're tossing aside the healthiest part of the vegetable," he said.
9. Great restaurants take time to mature: "For a new restaurant, you have to give yourself a year for things to fall into place," Lidia Bastianich said of her restaurant empire. "It's about finding your groove."
10. Seamus Mullen thinks sugar is why we're so fat: His class incorporated healthy fats like avocado and scallops and avoided sugar. Another tip: To avoid some of that unhealthy sweetness, Mullen advised cooking with vinegar instead of wine.
11. David Waltuck's new restaurant, Élan, will emphasize seafood: During a Saturday evening dinner at the Bouley Test Kitchen, the chef said his menu would be be largely "French-inspired and seafood-centric." As part of the meal, Waltuck served a meaty sea bass with red wine sauce and potato-sage chips. On Sunday, he demoed upcoming Élan dishes, like guacamole with sea urchin and seared tea-smoked salmon.
12. Spice is still big: Many of the chefs tried their best to one-up each other with tongue-burning dishes. Admony heaped ground pink peppercorns, jalapeños, and homemade harissa onto her seared fish; Vongerichten warned guests to wash their hands after slicing the miniature Thai green chili peppers they used for his spring mushroom tea; and Mullen tossed ring after ring of sliced Serrano chili peppers into his monkfish curry.