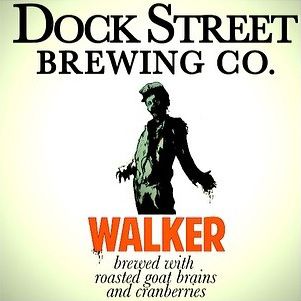 As Ommegang's hard-to-find Game of Thrones beers prove, a brewery partnering with a hit television series qualifies as a no-brainer — unless brains are going into the beer, of course. Dock Street Brewing in Philadelphia has released an American pale stout in honor of Sunday's season finale of Walking Dead, and it's made of wheat, oats, organic cranberry, barley, and smoked goat brains. Seriously.
According to the company's website, the beer has a "sinister, bloody hue" and the brains "provide the beer with intriguing, subtle smoke notes." Dock Street might be onto something: Right Brain Brewing in Michigan has a pig-head porter, and it took home a Great American Beer Fest gold medal in 2011.
The beer will be released on March 30, with to-go growlers available for those who want to sip brains in solitude at home.
Walking Dead Beer: Dock Street Brewery Makes Beer with Goat Brains for the AMC Show's Finale [Thrillist]