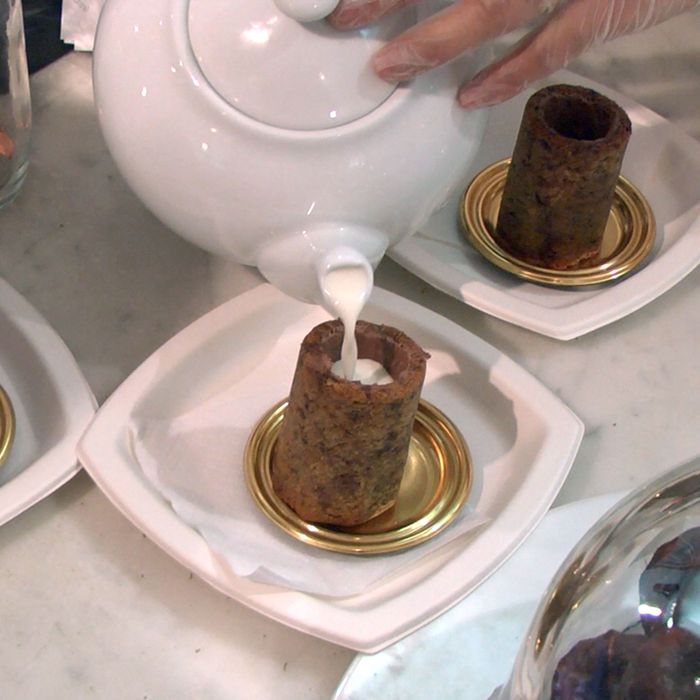 This is what it's all about.
Photo: Abraham Riesman
It was inevitable that a line would form outside Dominique Ansel Bakery this afternoon and stretch around the block, just as it does every morning before Ansel opens the doors and sells his daily ration of Cronuts. But today's afternoon line, as you no doubt know, wasn't for Cronuts: It was for milk-and-cookie shots, Ansel's latest pastry lust object, which would be sold for the first time in New York at 3 p.m. sharp. I'll be honest: The idea of waiting in line for a damn chocolate-chip cookie does not thrill me. There are so many great cookies in New York — and many to be found in Soho, in fact. Birdbath Bakery has an outpost around the corner on Prince Street, and McNally Jackson carries my personal favorite, Ovenly's salted-chocolate-chip cookie. But I was on a mission to report from the front lines.
My friend Hannah and New York's videographer Abraham Riesman joined me. She insisted that our planned arrival time of 1:45 p.m. — one hour and fifteen minutes before on-sale time — would be too late. But when we got there — at 1:51 — the line wasn't so bad.
The three kids at the very front of the line — Ryan, Tina, and Meena — told me that they had arrived at noon. They said that they killed time by eating other pastries, naturally. Surprisingly, only one of them had ever tried a Cronut. Ryan got to hold the fake baguette, which Ansel employs to help manage the line and prevent people from cutting.
Twenty minutes into the wait, I started to get hungry. But then, something magical happened: Two young girls in line behind me offered me a bite of their DKA, one of Ansel's greatest hits. And then, Ansel came out and passed around free, freshly baked madeleines. The man can do no wrong.
As it turns out, the girls behind me didn't even know what they were waiting in line for: They stopped by the bakery because they were in the neighborhood, and figured if there was such a long line (and tons of cameramen), something delicious had to come at the end.
Two men at the front of the line identified themselves as "professional line sitters." They run a business called S.O.L.D Inc., and would make $65 off delivering cookie shots to people who clearly have too much money. Then something weird happened: I realized that I knew one of them! I had interviewed him over the phone for a prior story about the Cronut craze. Even weirder: He remembered me, too. Reunited, at last.
My long-lost best friend, Robert from S.O.L.D., shared that he was upset because someone in front of him cut the line. I got feisty and confronted the kid. Ansel needs to hire policemen, clearly. The alleged line-jumper said that he was here at noon with Ryan, Tina, and Meena, but then he took a break to visit a bookstore. "I can show you the tweet that proves I was here!" he said, suspiciously.
Ansel's retail manager, Anthony, came outside a few times to lay down the ground rules. He announced that we could only order two cookie shots per person, and that there were a very limited number of to-go eight-packs available. He also said that the cookie shots aren't normally served warm, and that they're still testing this preparation. When I asked Anthony for his name and more information, he yelled, "Email our press person!" and ran away immediately. God forbid he reveal some top-secret cookie-shot business. (Also, shout-out to Amy, the aforesaid "press person.")
2:45 p.m. Bored. But then: A puppy!
Turns out two girls toward the back of the line were visiting from Texas, and they had unsuccessfully waited in line for the Cronut this morning. I asked if they were worried they'd get turned away again because they were, again, at the end. They looked panicked. I felt awful and fled the scene.
The home stretch, at which point the line reached around the block:
Time to open the doors. Even though we were the second group let into the bakery, we still didn't get to enter until 3:30 p.m. — 30 minutes after the shots went on sale. With all the cameras and cheering, it felt like a grand procession. I hadn't felt this special arriving anywhere since the grand entrance at my Bat Mitzvah. This was the big moment.
Hannah, Abraham, and I ordered our two shots each for a grand total of six. Ansel bopped around the bakery, smiling and asking everyone how they were doing. He's a classy guy.
A little less than two hours after we started this adventure, we ordered cookies. Ansel's staff poured the milk out of a teapot, because of course they did.
We sat down at a table inside the bakery with our shots. Very civilized. My first impression was that the cookie was not hot. What the hell? But I quickly realized that I didn't care. The cookie is soft and delicious, and somehow still sturdy enough to support the vanilla-infused milk. It's a perfect cookie.
The best part of the shot is the very bottom, where the milk soaks the cookie and makes it extra soft and gooey. It was great — but I probably wouldn't stand in line for two hours again. Then again, when I came back to the office, another Grub editor told me that I still had chocolate all over my face.
Earlier: Dominique Ansel Cookie Shots Officially Go on Sale in New York This Friday