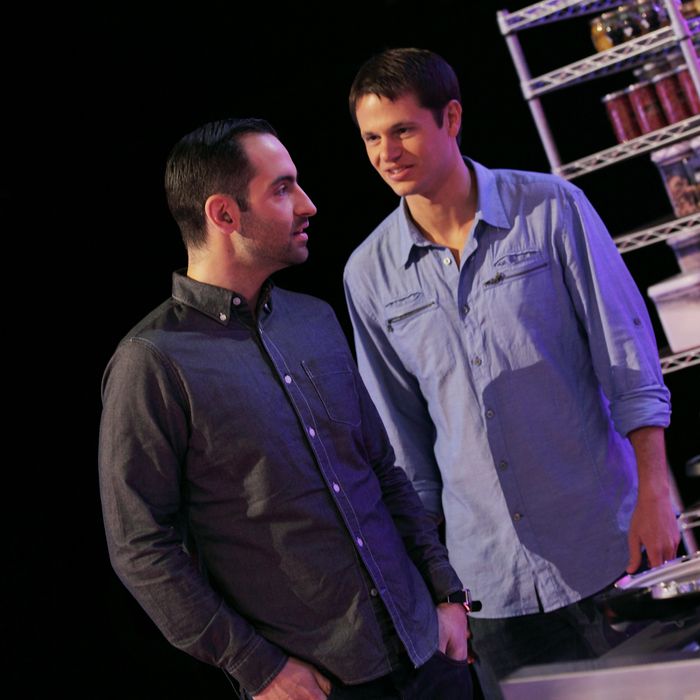 These guys have lots of plans.
Photo: Sasha Shemirani/ABC
We already knew that Rich Torrisi, Jeff Zalaznick, and Mario Carbone's Major Food Group is teaming up with entrepreneur Sean MacPherson on the F&B; side of the long-delayed Hotel Ludlow, and now, thanks to a sprawling New York Times profile, we learn a few details of the project, which is a departure from the Italian-American experience the chefs have made central to their burgeoning empire. Dirty French, which opens this summer, is positioned to be a "roughed-up Gallic bistro" serving dishes like a kaleidoscopic-looking lamb carpaccio with apricot, and whole roasted chicken hindquarters served plain with the feet still attached.
"This is an explosive year. All the things that we've been working toward are coming to fruition," Zalaznick says. To that end, the partners are not only opening Dirty French, but will also open their long-in-the-works High Line restaurant, and a few more locations of their casual restaurant, Parm, which Major Food Group is working to operate as what the Times calls a "Shake Shack-style franchise." In addition to locations already in progress in Williamsburg and Brookfield Place, the paper reports yet another is headed to a space across from Barclays Center.
Torrisi and Carbone's High Line restaurant is set to serve a menu of regional Italian and American coastal food, and beyond all of this, the partners have brought on former Roberta's head baker Melissa Weller to restore the New York bagel to its former glory for yet another project.
The sudden growth spurt also means change: The partners tell the Times that Torrisi Italian Specialties will close next year for renovations, but will emerge with a gleaming new kitchen.

The Red Sauce Juggernaut [NYT]
Related: Parks and Rigatoni: Torrisi Team to Open New High Line Restaurant