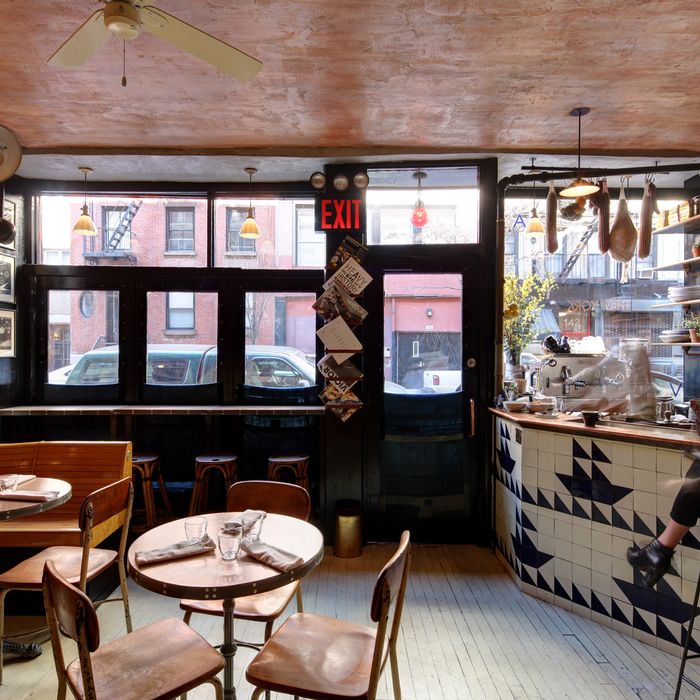 Elstein's friend used plaster paint on the walls.
Photo: Melissa Hom
Navy — a seafood-centric, all-day Soho restaurant that opened in the old Jean Claude space at the end of February — is a small, oddly shaped spot that can only seat 40 diners. That's what makes the design all the more impressive: "It's the kind of place that you can come to five times and still see something you haven't seen before," says Akiva Elstein, who partnered with co-owner Matt Abramcyk to design the space. (These guys are also behind Smith & Mills in Tribeca.) "You can really discover stuff if you look up." There's something cool in every nook and cranny in Navy — flags from U.S. Navy warships, French linen fabric on the walls, khaki tents from World War II, and leather straps wrapped around wine bottles. We sat down with Elstein to discuss his inspirations, his affinity for eBay, and his favorite antique stores.
Beyond the clear nautical theme, what inspired the design of this space?
For Navy, I had a real fascination with old military design, like the tents and the colors and the fabrics from the 1930s and 40s, mostly around World War II. I wanted to design a place that had fabrics all over the wall — instead of wallpaper — which creates this warmth and depth. I had been collecting these fabrics for years, and I had the idea in my head, so I started cutting them up and put them all over the wall. The whole idea was the theme of maritime and seafood.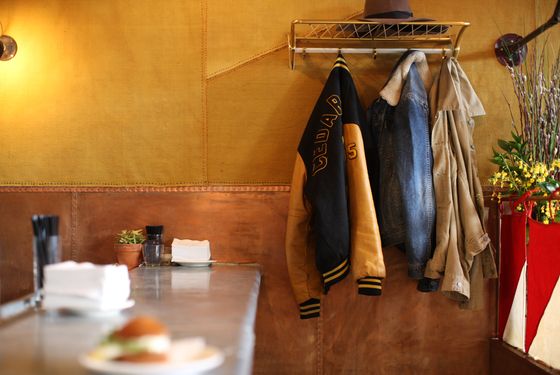 The restaurant attracts a stylish crowd.Photo: Melissa Hom
And the all-day, pastries-to-seafood concept makes it feel very French, too.
I'm from New Jersey, but I'm pretty much a Francophile, with a love of French culture and design. I've traveled thoroughly throughout France, and I'm very much influenced by Baohaus design and constructivism.
Are there any places in New York that affected your outlook on design?
There's this place in Brooklyn called Moto that I think has an amazing design. It influenced me heavily at Smith & Mills. I think they were the first to start that industrial-chic design like 12 years ago.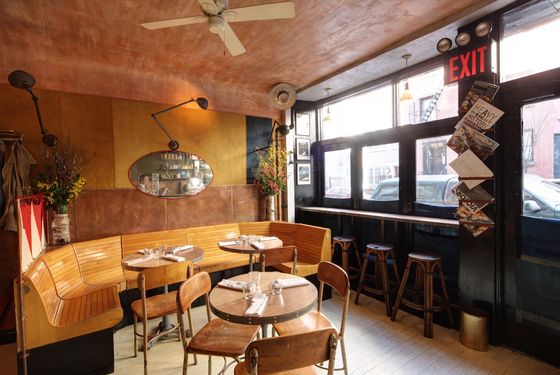 "We found the benches at Brimfield. They're from a bowling alley, and we cut them up and fit them into the space."Photo: Melissa Hom
Why did you decide on this actual space? It's a funny shape, so that must have been a challenge.
There was a space next door to Smith & Mills that we were going to take, and that would've been a seafood concept like this. Then the building went up for sale and we didn't get the space. That was two years ago, so we kept looking for spaces, and a couple of deals fell through.
It is a funny-shaped space. In New York, when you're looking at spaces for restaurants, it's really hard to find good spaces, and you just make it work and do what you can because it's so limiting downtown. I only want to have places below 14th Street, really. I love this block. I used to live on Thompson for five years, and it's so neighborhood-y. And I like the fact that these doors open out, and that the space looks great in the daytime, but you can also make it really sexy at night. Some spaces are nice in the day and not so sexy at night, or the opposite. I think this has the balance of the two.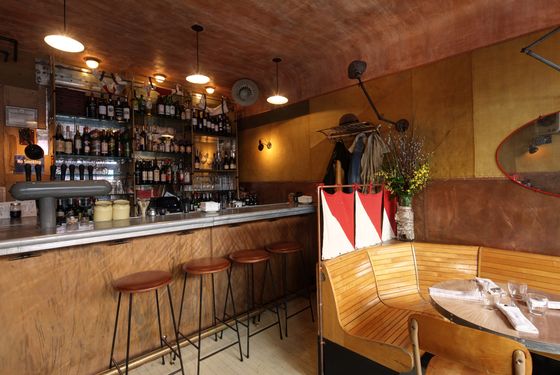 The bar, for booze.Photo: Melissa Hom
How do you transition the restaurant from day to night? I noticed that in the evening, the windows get covered up.
Yeah, we have this indigo from Japan — beautiful old indigo from around the '20s or the '30s. I found someone who sells it in Japan and I started buying it. We take the panels down during the day and put them back up at night. There's a coffee station during the day with some pastries in the display case, and then at night, it becomes a raw bar. I always wanted to have a separate raw bar, like at Balthazar. In terms of the design and feel of it, I like the movement and the action. You can sit at the bar and watch your food being made. And for this concept, we wanted two separate bars.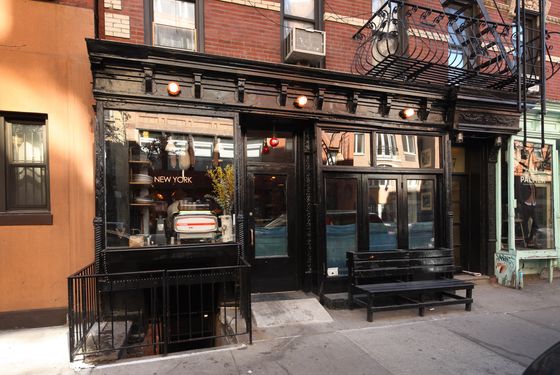 Come nighttime, those blue panels get pulled over the windows.Photo: Melissa Hom
Where do you source most of your furniture from?
The fabrics came from antique markets and eBay. A lot of these gold ones are old French linens. They're mixed in with the military fabrics: duffel bags, tents, and all that stuff. All these panels are old tents from World War II that we cut up, and some of the green you see on the walls are just old duffel bags and tents as well. And that's distressed copper below the fabric.
They are also old signal flags from U.S. Navy warships from World War II. I bought all of them on eBay. You have to see the bathroom walls: They are lined with them all. I made them like wallpaper with all signal flags — all different colors and shapes.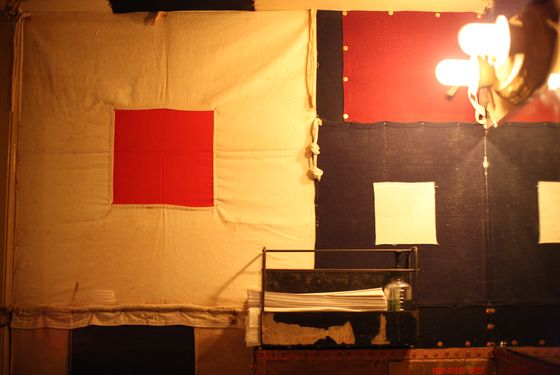 Flags on flags on flags.Photo: Melissa Hom
How about the lamps?
I found them in an antique shop in Brooklyn, and I thought they were beautiful. I love the arms of them; they're fierce. I had them restored because they weren't working when I found them. The black scissor lights are actual Christian Dell Bauhaus lights. We had them at Smith & Mills, but I didn't like the way they looked on the walls.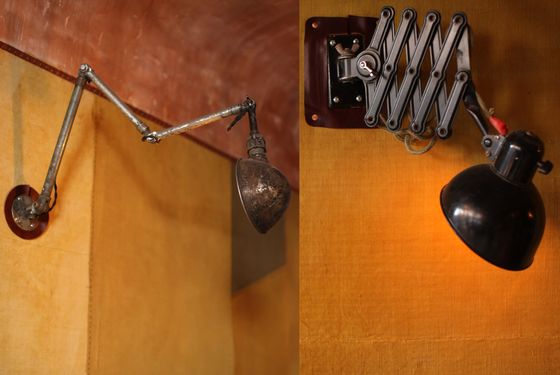 The ultimate antique finds.Photo: Melissa Hom
Where specifically do you like to go antique shopping?
There's a place in Greenpoint called Luddite that I really love. And Amsterdam Modern out in California. You can go on their website and order 20 chairs or whatever.
I can imagine that you're not working with a ton of space in the kitchen. What were some of the design challenges there?
Our chef, Camille [Becerra], had a really cool way of designing the kitchen. She made it into an island configuration, so everybody works facing each other in the middle around a big table. She didn't want everyone to have their backs to each other. It's an old French way of doing it. So that was a challenge to get that in order because it's really tight with space. On any given night, there are four people back there, plus somebody at the raw bar. When it's busy, for a small space, we can really bang it out!
What was the most costly element, design-wise?
After the kitchen, the raw bar area. That shelving unit was custom-made. It's beautiful copper and bronze. That piece is like ten grand, and the bar top is another ten grand. All the tiling was probably another eight grand. So a lot went into that. But I think it's the jewel of the place. It pulls people in from the street because they see the meats and the fish, and the coffee machine becomes a focal point of the place. You can't take your eyes off it once you're in here.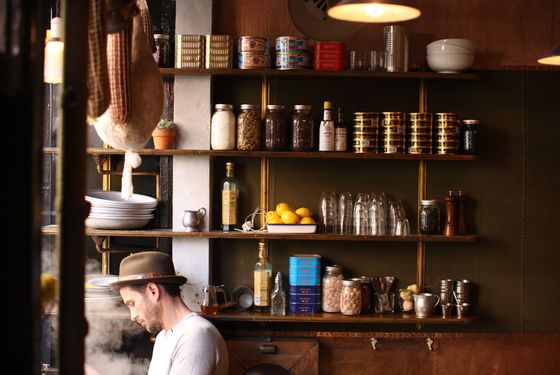 The restaurant introduced breakfast and lunch service yesterday.Photo: Melissa Hom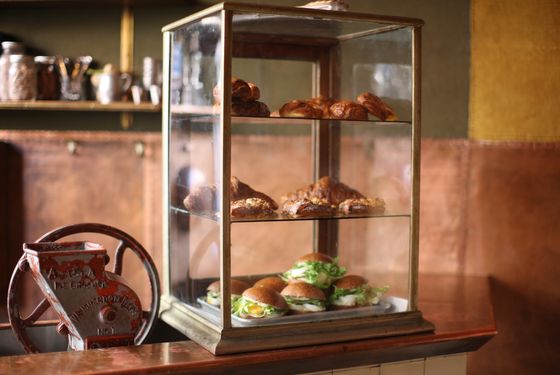 Navy will soon make pastries in-house, but for now, they come from Bien Cuit.Photo: Melissa Hom
It seems like there's no bad seat here, even though it's so small. How'd you manage that?
We can seat about 40, plus the bar and the window ledge, where there are six seats. We cram it in! I'm big on the flow. But it's a little tight, and we're thinking of taking one table out to make it a little more comfortable. This is my favorite area [the banquette on the right side] of the whole restaurant … Smith & Mills is like half the size of this. There are only 20 seats.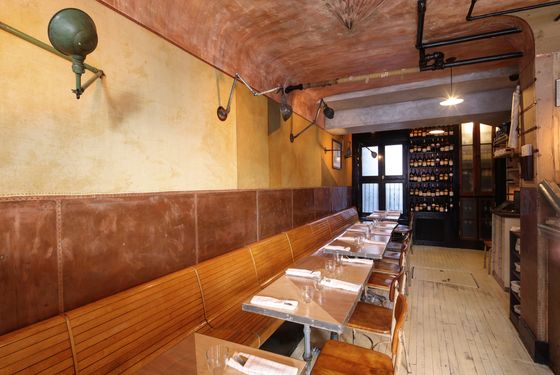 In the back, there are wine bottles adorned with leather straps. "Almost Ralph Lauren-like," says Elstein.Photo: Melissa Hom
You should get rid of the table in the center of the room, so you can have late-night dance parties.
[Laughs] we've done that … I want it to feel bustling. I think the light in here at night really makes people look good. By 11 or 12 o'clock, we do definitely make it pretty dark, after the dinner rush ends. The bar is open until 2 a.m., and we serve food until 12.
Have you finalized the design, or will you constantly be adding things?
I'll constantly be adding. Well, it's mostly set, but there's still a lot of work to do with the raw bar. Once you open and the place takes on a life of its own, things have to change to flow with that.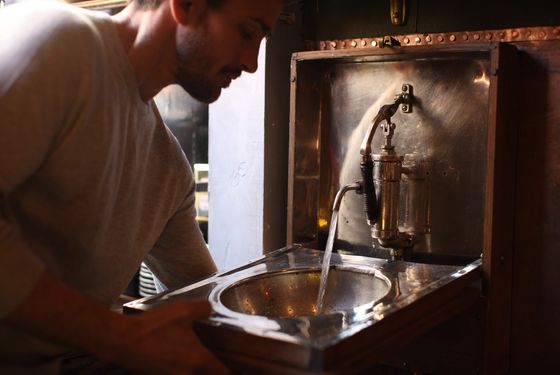 There are two antique train sinks at Navy — both purchased on eBay. This one's at the front bar.Photo: Melissa Hom