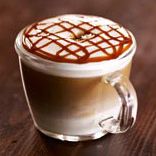 Rob Ford likes it.
Photo: Starbucks Canada
The all-powerful coffee chain, which has been on something of a latte-flavor tear recently, has rolled out a few more macchiatos geared toward our neighbors to the north. The Maple Macchiato pays tribute to the country that produces 80 percent of the world's syrup supply: Instead of squeeze-bottle caramel drizzled over steamed milk, this one gets an upgrade with the addition of some fancy-sounding "Quebec maple syrup drizzle from the Beauce-Appalache region."

We already had our chance with the Maple Macchiato, it should be noted, and blew it: The drink was available in some U.S. stores until sometime in 2012, when it joined Orange Mocha Frappuccinos in the espresso drink afterlife. Unlike the "seasonal" Pumpkin Spice Latte, this national-pride-stirring drink will be a permanent menu item, because one thing Canadians know is that there's never a wrong season for maple syrup. Americans, meanwhile, may perhaps by consoled by swapping their blandish Hazelnut Macchiatos for the blander-sounding Vanilla Macchiato, which was introduced earlier this month.
Timeline Photos [Starbucks Canada/Facebook]