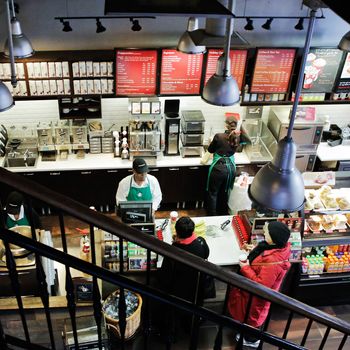 Get the kids, it's chocolate fondue night.
Photo: Drew Angerer/Getty Images
The coffee giant's quest to be all things to all people continues apace: First Starbucks announced that Oprah's finally gotten her own namesake Teavana chai, and now it says it's going to be serving beer and wine to match its savory food menu at more stores in the near future. Bloomberg reports the rollout's expanding to include "thousands of stores" in the next several years, but realistically, there no word on how big this thing will get or, more importantly, what kind of beer and wine will be poured.
Chief executive Howard Schultz says the food menu, which has been in select markets for a few years, plays well in urban areas. It includes late '90s favorites like chocolate fondue and truffle macaroni-and-cheese, which look alright in official photos until you realize that maybe you don't need your 11,000-unit-strong friendly neighborhood coffee chain making your hot-chocolate dip, or sourcing genuine black truffles. Also, does the world really need another artichoke-and-goat-cheese flatbread, even if it does come with a not half bad Chardonnay?
Starbucks to Bring Alcohol Sales to Thousands of Stores [Bloomberg via Denver Post]