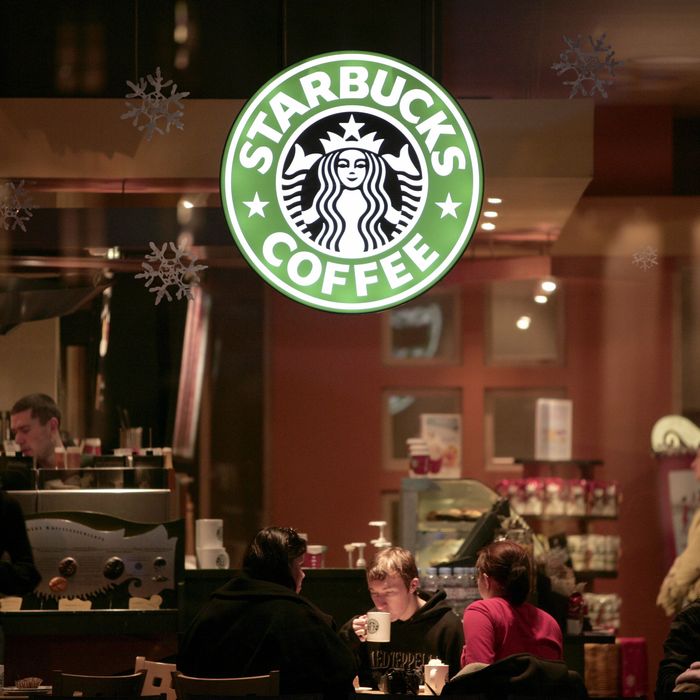 Maybe, just maybe, if they launched unlimited soup, salad, and breadsticks.
Photo: Ulrich Baumgarten
Yesterday, Starbucks Chief Operating Officer Troy Alstead told Bloomberg that the chain is embarking on a plan to significantly expand its beer- and wine-fueled "Starbucks Evenings" menu format to "thousands of stores" during the next few years. Options such as by-the-glass wine, pints of beer, and mini-bottles of prosecco are currently available at around 40 of 11,000 total Starbucks around the country, typically becoming available around 4 p.m. to accompany a "tapas-style" menu of things like bacon-wrapped dates and flatbread topped with chicken and "roasted tomatoes."
The plan has a lot going for it, and it's a major shift. The company is immersed in an attempt to almost double its market value to $100 billion, and shareholders are psyched to see what the rollout of higher-profit items like beer and wine can do for the bottom line. Consumers have also become increasingly dependent on the coffee chain's mobile app, and will no doubt be thrilled by a greater range of loyalty-program perks.
But changing the fundamental mode of business by a double-digit percentage at all stores likely means that the food-supply system at Starbucks will undergo a near-complete overhaul. Moreover, it demands that the culture of Starbucks itself must change. Here are some reasons why that transition may not be smooth.
1. The food will always be better elsewhere. Yeah, it reeks of food snobbery to dismiss the wee little cup of spiced pepitas that arrives nested atop some Starbucks Malbec or a moat-like pool of melted chocolate flanked with out-of-season berries and some not-right-out-of-the-oven Starbucks madeleines on the side, but that doesn't change the fact it'll be food that comes out of an actual kitchen, with real equipment, which stands a better chance of attracting repeat customers. The trucked-in, commissary-kitchen nature of the menu at Starbucks is already one of its weakest links — just consider the caustic backlash to its Boulange menu, which was supposed to offer a more genuine, bakery-like experience. A pint of craft beer won't help change a lackluster pastry.
2. 500-foot and 200-foot rules. Granted, Manhattan's 200-something Starbucks stores represent a very small fraction of its 11,000 units nationwide, but here, in the zoned-out city (and state), certain liquor licenses are rarely issued to establishments within 200 feet of schools and places of worship. Also, it would be incumbent upon Starbucks to make the case that its beer-and-wine licenses are necessary wherever the chain is situated within 500 feet of three or more establishments that already have licenses, which is pretty much everywhere in Manhattan. Of course, other cities and municipalities have similar rules.
3. The alternating coffee-by-day, wine-by-night defines regular cafés. But the M.O. may not fly if the chain's conversion is only a partial one. The fundamental appeal of most fast-food and fast-casual restaurant chains comes down to either a kind of appealing homogeneity — a Big Mac and Coke is a Big Mac and Coke everywhere — or regional exclusivity — In-N-Out Burger will legendarily never expand beyond certain West Coast regions far from its distribution centers. So it has to be all or nothing for Starbucks: Customers don't want to keep track of which locations serve wine and which don't. They'll expect it from all of them, and the chain is unlikely to get by from the same kind of cachet that comes with In-N-Out's limited availability.
4. Drunk people. Starbucks has made wonderful advancements in terms of improving the ease with which customers place orders, and now they can even tip with the mobile app. More than 14 percent of all Starbucks transactions are now made via its app, and that's all about expanding the idea of customer service while keeping the business efficient and employees to a minimum. In a sense, Starbucks has positioned itself to deal more broadly with a greater range of food and drink options, but the issue is still that drinking leads to drunk people who cannot be dispersed by an app. As of now it's unlikely that the barista who's primarily used to pulling shots and blending smoothies will be compelled to get in the middle of a couple who've had one too many Starbucks Riojas.
5. Pumpkin-spice lattes are an anomaly. Despite the odds, Starbucks has had incredible success positioning itself as a seasonal business: The red holiday cups come out at a particular time, along with the gingerbread and peppermint drinks. Day One of Pumpkin-spice latte season is now something of an unofficial national holiday. Pumpkin-flavored beer, however, will always just be awful, no matter how cool the cups are.
Related: Starbucks Rolling Out Dinnertime Beer and Wine Menus Nationwide