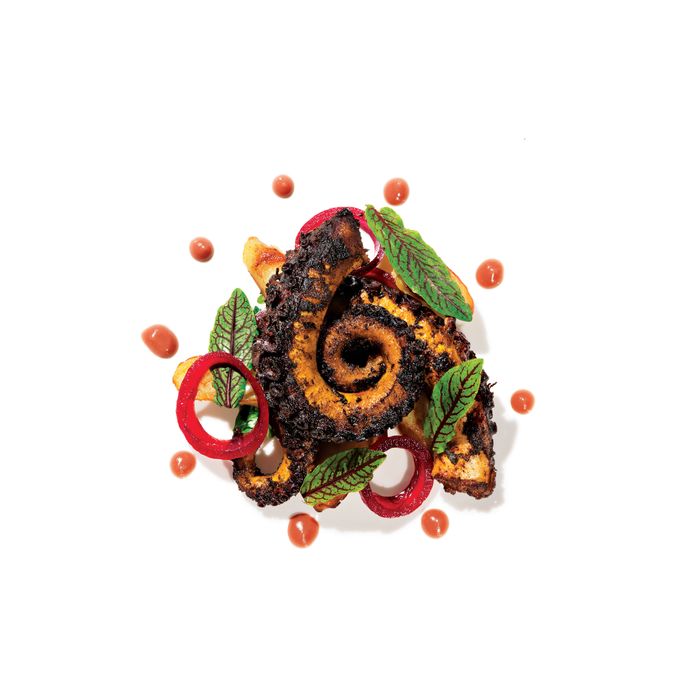 Barchetta's octopus.
Photo: Bobby Doherty/New York Magazine
Openings
Bar Bolonat
611 Hudson St., at 12th St.; 212-390-1545; March
Taïm and Balaboosta chef Einat Admony's take on modern Israeli cuisine mingles Sephardic and Ashkenazi influences along with her own eclectic appetites (she happens to be a Thai-food fanatic). Expect sesame-seeded "Jerusalem bagels" inspired by the ones vendors sell at the Old City's Western Wall, shrimp in Yemenite curry, and mint-tea gelato.
Black Seed
170 Elizabeth St., nr. Kenmare St.; no phone yet; April
The main attraction at this 11-seat shop from Mile End's Noah Bernamoff and the Smile's Matt Kliegman is hand-rolled, kettle-boiled, wood-fired bagels. This has got to be good news for aficionados of the all-but-extinct dense-and-chewy style of Jewish dough ball affectionately known as a cement doughnut.
Tessa
349 Amsterdam Ave., nr. 77th St.; 212-390-1974; April
Cedric Tovar has covered a broad swath of culinary territory since arriving here from Paris, heading kitchens from Town to Rosemary's. Now he's landed at this rustic-industrial Upper West Side spot, where his Mediterranean menu includes dishes like grilled rouget and razor clam escabèche.
Meat Hook Sandwich
495 Lorimer St., nr. Grand St., Williamsburg; no phone yet; April
One school of thought has it that the art of the sandwich is all about the bread. But meat is the star of the Meat Hook butcher shop's 12-seat spin­off, located a few blocks south of the mother ship. On the menu: a Cubano made with lard-poached carnitas; an Italian stuffed with housemade olive loaf, pepperoni, mortadella, and Fra'Mani salami; and what must be the world's first grass-fed-beef gyro.
Barchetta
461 W. 23rd St., nr. Tenth Ave.; 212-255-7400; April
Fisherman-chef Dave Pasternack describes his first non-Batali-Bastianich-affil­iated project as a slightly stripped-down Esca. That means a vaguely nautical no-tablecloths look for the renovated Bistro La Promenade space owned by new partner John Meadow. The menu follows suit with whole-roasted local sea bass, octopus with smoked paprika made in-house
from Greenmarket chiles, and fusilli with Atlantic surf clams.
Cafe El Presidente
30 W. 24th St., nr. Sixth Ave.; no phone yet; April
The coolest thing about this new taqueria-tortilleria-coffee-bar complex from Fonda Nolita's Dario Wolos is the series of visiting ce­lebrity "taqueros." On the docket: a cochinita master from Mérida, a tamale savant from Chiapas, and the queen of quesadillas from Mexico City.
Ramen Lab
70 Kenmare St., nr. Mott St.; no phone yet; April
Sun Noodle's R&D; division relocates to Nolita, where the 16-seat nook will be part ramenya, part ramen institute, and wholly dedicated to spreading the noodle-soup gospel.
El Vez
259 Vesey St., nr. North End Ave.; 212-233-2500; April
In selecting a space for an outpost of his Philly restaurant, Stephen Starr shrewdly picked a neighborhood not yet colonized by Dos Caminos or Rosa Mexicano. Soon, Battery Park City too will be well fortified with chips and dips, tacos and enchiladas, and everything else you can wash down with a margarita.
Tavern on the Green
Central Park and W. 67th St.; 212-877-TOTG; April
Can a couple of guys from Philly make us appreciate one of New York's most notorious tourist traps? With a seasonal and sustainable menu from Katy Sparks, whom they were able to lure out of consultancy-retirement, a park-friendly "Green to Go" takeout window, and bike and stroller racks, they just might. And they have 20 years to pull it off.
Arepa Lady
77-02AA Roosevelt Ave., Jackson Heights; 347-813-4418; April
The mother of all street food, Maria Piedad Cano, comes indoors (though she¹s keeping her seasonal outdoor cart) with the help of her son Alejandro Osorio, his siblings, and a daughter-in-law. The bricks-and-mortar move means you can now get your arepa de choclo stuffed not just with cheese but also chicken, vegetables, or shredded beef. Fourteen seats, a bunch of juices, and a pending beer-and-wine license, too.
Bacchanal
146 Bowery, at Broome St.; 646-355-1840; May
Peter Poulakakos's latest move is into the Bowery's lighting district, where he'll showcase the cooking of former Veritas whiz and all-around chef's chef Scott Bryan. His menu runs the gamut from hand-carved jamón ibérico to hamachi crudo. There's fresh pasta, too, and a skirt steak with black-bean-chipotle tinga.
Bâtard
239 W. Broadway, nr. White St.; 212-219-2777; May
Twenty-nine years in one spot is not enough for Drew Nieporent. The restaurateur transforms what was recently Corton and before that Montrachet into Bâtard. Austrian-born chef Markus Glocker is in the kitchen brainstorming things like octopus with pastrami spices and rye croutons. Nieporent wants the vibe more relaxed, less fussy, and very comfortable. Glen Coben is the redesign man.
Ample Hills Creamery
305 Nevins St., at Union St., Gowanus; no phone yet; May
The Salted Crack Caramel specialist branches out with this 3,600-square-foot scoop shop and production facility, formerly the home of an ironworks factory. That's room enough for a private-party space, an outdoor deck, and a fourfold increase in ice-cream output—plus 24 flavors, bumped up from 16.
The Pavilion
Union Sq. Park; no phone yet; May
It's safe to say there will be veggies at this Simon Oren-run seasonal restaurant beneath the neoclassical arch and colonnade at Union Square Park. It is, after all, surrounded by the city's biggest Greenmarket. Not that former March chef Wayne Nish won't supplement all that fresh produce with housemade charcuterie, a raw bar, and even borekas—Oren sent him to Istanbul and Israel to research the pastry packets, and Nish came back a convert.
Tijuana Picnic
151 Essex St., nr. Stanton St.; no phone yet; May
Mexico meets Southeast Asia at this new spot from the owners of Acme and Indochine. Galangal-marinated-chicken tacos and roasted pork neck with Thai-spiced chimichurri make sense when you consider that chef Alex Lopez was born in Mexico City and has cooked at Kittichai.
Berg'n
899 Bergen St., nr. Franklin, Crown Heights; 718-857-BEER; May
At this beer hall and food court from the operators of Smorgasburg and Brooklyn Flea, Brooklyn Brewery's Garrett Oliver is curating the suds selection and the food is courtesy of Flea vendors Asia Dog, Ramen Burger, Pizza Moto, and Mighty Quinn's Barbeque. There's a coffee bar, too, plus Dough doughnuts and Blue Marble ice cream.
Bar Primi
325 Bowery, at 2nd St.; no phone yet; June
Now that Andrew Carmellini has achieved his culinary triumvirate of Italian, American, and French restaurants (Locanda Verde, the Dutch, and Lafayette), he and his partners start the cycle all over again with this "casual pasta shop" in the Noho corner space that previously housed Peels.
Cosme
35 E. 21st St., nr. Park Ave. S.; no phone yet; June
Enrique Olvera of Mexico City's Pujol restaurant, whom you might consider a cross between Rene Redzepi and Diana Kennedy, brings his inspired innovations on traditional Mexican cooking to Gramercy. Look for a dual-concept restaurant and lonchería (snack bar or café), plus the superstar chef himself. Olvera is moving to New York to open the restaurant, according to a rep; this is no mere consulting gig for him.
No word yet, though, on the Pujol signature: charred baby corn slicked with mayo flavored with ground coffee and pulverized ants.
The Expansion:
A Pushcart's Progress
Russ & Daughters Cafe invites you to take a seat, not a number.
A funny thing happened as the appetizing shop Russ & Daughters approached its 100th birthday. Jewish food became newly relevant, cross-culturally compelling, dare we say … hip? But long before the arrivals of Mile End Deli and Kutsher's Tribeca, before everything-bagel spice permeated the upper echelons of haute cuisine, and before the New Nordic invasion sparked a renewed taste for preserved fish and rye bread, there was Joel Russ, the Eastern European immigrant who sold herring from a pushcart on Orchard Street. His descendants, Niki Russ Federman and Josh Russ Tupper, are expanding the brand for the first time in its history, with the 65-seat Russ & Daughters Cafe mere footsteps from where it began in 1914. Their primary motivation? To finally give their customers a place to sit. "We get calls daily asking for reservations," says Federman. In this regard, the back-to-back double-storefront space in a building that housed, at various times, shmatte stores and the Allen Street Synagogue, is a vast improvement on the shop's sidewalk benches, offering not only actual tables and chairs but a luncheonette-style counter and waiter service. The chrome-and-enamel décor will be instantly familiar to loyal patrons, as will the menu of plated riffs on the shop's specialties. So there will be the Pastrami Russ, pastrami-cured salmon with sauerkraut and Muenster cheese on a pretzel roll; smoked fish, both on platters and cooked with eggs; soups like smoked-whitefish chowder with espelette pepper and matzo crumbs; and to drink, egg creams and shrubs. But the full liquor license also enables the partners to offer vodka alongside caviar and has challenged them to determine by extensive trial and error which wines pair best with smoked salmon and herring (grower Champagnes seem to do nicely). Ultimately, though, the duo want the café to retain the democratic spirit of the shop. "Whether you're buying a piece of babka or a half-kilo of caviar, it's important to maintain that haimishness," says Federman. 127 Orchard St., nr. Delancey St.; 212-475-4880; April.
Trendlet:
The French Restaurant Boom, Part II
A few years ago, opening a French restaurant in this town might have seemed like an antiquated gesture if not a lunatic business decision, like unveiling a haberdashery that specializes in top hats, sword canes, and spats. Then came Lafayette, Montmartre, and Le Philosophe, to name but a few. The craze for Gallic gastronomy continues unabated this spring.
Compagnie des Vins Surnaturels
249 Centre St., nr. Broome St.; no phone yet; April
The Experimental Group shifts from cocktails to wines—mostly French—and small plates cobbled together by Alain Ducasse alum Armand Arnal.
*
Cherche Midi
282 Bowery, at E. Houston St.; no phone yet; April
Can an Englishman return to his French roots? If the Englishman is Keith McNally, the man behind Balthazar and Pastis, then why not? He turns his Pulino's pizzeria into a bistro, moving Shane McBride over from Balthazar to boil the bouillabaisse.
Racines NY
94 Chambers St., nr. Church St.; no phone yet; April
At this outpost of a Parisian neo-bistro brand, glasses of natural, organic, and biodynamic wine start at $8 or $9, Marseillaise chef Frédéric Duca will be braising the lamb shoulder and poaching the pears, and there will be, according to partner David Lillie of Chambers Street Wines, no loud music.
élan
43 E. 20th St., nr. Broadway, no phone yet; May
With this redo of the old Veritas space, David Waltuck wants to recapture the more relaxed and spontaneous neighborhood spirit of his original Soho Chanterelle. Ideally, he says, élan will be a place to drop in at the bar or dining counter for snacks or a glass of wine, or to settle in for something more elaborate.
Chez Jef
241 Bowery, nr. Stanton St.; 212-388-0052
It's out with the Reubens and in with the moules marinières at the old Bowery Diner, where Mathieu Palombino is already serving a limited, trial-run menu. By May, he hopes to renovate the room and turn it into a full-fledged brasserie.
*This article has been corrected to show that Jesús Nuñez is no longer associated with Compagnie des Vins Surnaturels and that Bacchanal will be opening in May, not March.
*This article appeared in the March 24, 2014 issue of New York Magazine.