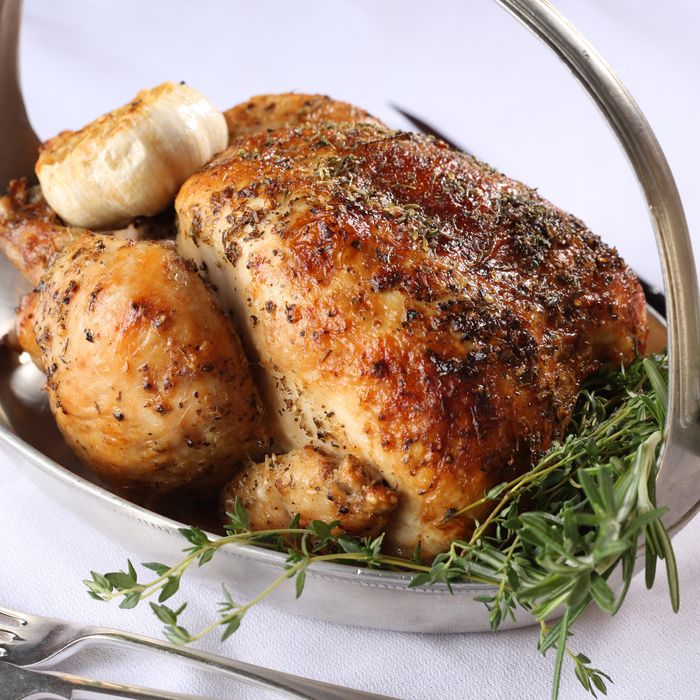 A+ chicken.
Photo: Melissa Hom
Adam Platt did not file a review this week — but he did lament the current state of dessert. Meanwhile, Pete Wells ate roast chicken at Rôtisserie Georgette (and found the desserts there to be quite satisfying), Amelia Lester loved the bread service at Contra, and Daniel S. Meyer enjoyed bowls of smoked-uni bucatini at All'onda. Read it all, straight ahead.
Pete Wells headed uptown to scope out the roast chicken at Rôtisserie Georgette, noting that the kitchen "plays standards from the French songbook and plays them well." The "close to ideal" white meat and "tender" dark meat on the classic herbes-de-Provence-rubbed chicken make it a must-order dish. Other standouts: the dorade ("breaks into beautiful white lemon-scented chunks"), rotisserie duck à l'orange, fat-basted rotisserie potatoes ("almost required"), creamed spinach with garam masala, and "fiery-hot" Brussels sprouts. While the tarte tatin is inconsistent night-to-night, the pot de crème and soufflé "hit the bull's-eye." Two stars.
Amelia Lester of The New Yorker filed a review on the affordable tasting menu at Contra. The bread service, which features a "warm, dense" loaf of French bread served with butter "whipped into peaks" and topped with onion salt, is more than worth the add-on charge. Other additions, such as the "odd" cheese course featuring a pine-nut nougat "so salty it verged on inedible," are not. Some of the "unexpected elements" on the menu "work beautifully": smoked boudin with guinea hen, steak tartare with XO sauce, and radishes with sea scallops. Overall, Contra is sometimes "too clever," but "sometimes it's thrilling."
Joshua David Stein awarded the chef's counter Little Elm (at the Elm) two stars. The eight-course tasting menu features some hits, like the konbu-cured black bass with dashi glee ("briny yet slightly puckering") and the "expertly grilled" Scottish venison with pickled red currants. There are some misses: foie gras with black trumpet ("essentially a big black luxury death star"), lobster with a "vagrant chunk" of grilled chicken, and an XO terrine with a square of red-pepper glee that "added nothing." Ultimately, the meal left him "full but unsatisfied."
Daniel S. Meyer filed a review on the Japanese-meets-Venetian food at All'onda and awarded it three out of five possible stars. There are "occasional bursts of brilliance:" a "lyrical" hamachi crudo, "creamy" fried sweetbreads with "fluttering" bonito flakes, and "stunner" pastas like "toothsome" smoked-uni bucatini and a lumache topped with a "gamey" ragù. But the kitchen "stumbles" when it comes to dishes like skate with "irredeemably chewy flesh" and a "desert dry" guinea hen with kombu butter. For dessert, he says, order the olive-oil cake.
Steve Cuozzo made his way to Margaux at the Marlton Hotel and found the "Euro bistro food" to be "lacking." Squid-ink bucatini with lobster is "over-thought" and "limp," the fluke crudo is "flavorless," and the back room is "stark, loud, and cold." Not all is amiss on the "quasi-Mediterranean" menu: the "juicy" rotisserie chicken is quite affordable, the curry cassoulet is "satisfying," and dishes of arctic char and poached cod are "fine." Overall, though, the menu just isn't all that memorable. One-and-a-half stars.
Michael Kaminer headed to Queens to dine at the Astor Room, a basement eatery at the legendary moviemaking center, and found that it "boasts smart, well-turned and tasty dishes."The starters are "stellar," especially the oysters Astor topped with a "zingy" mango mignonette and the "greaseless" fried calamari. Other hits: "elegant" short-rib stroganoff, a perfectly cooked burger, and a "crisp-skinned" fillet of sea bass. Three stars.