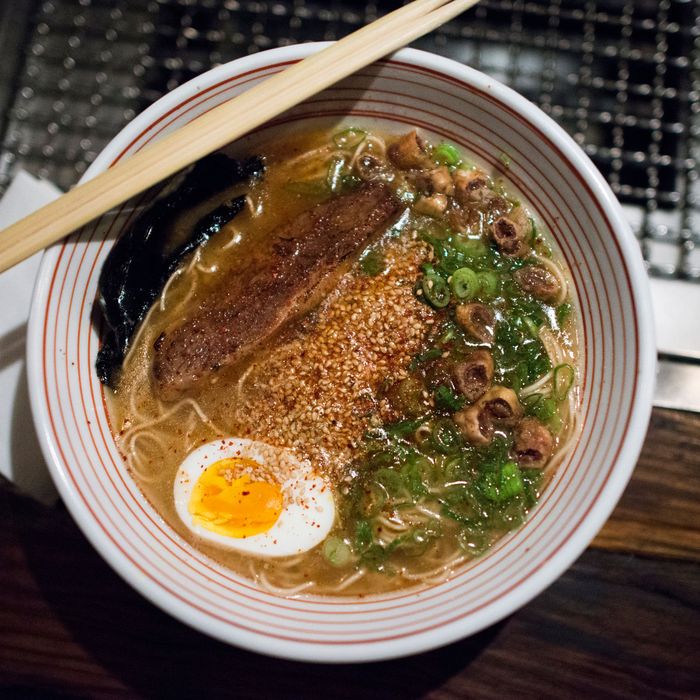 Wells liked Takashi's late-night ramen.
Photo: Michael Talalaev
There were no new reviews from New York this week, but Pete Wells tried an incredible amount of ramen across the city, Joshua David Stein feasted on rotisserie-crisped beets at Narcissa, and Michael Kaminer enjoyed the majority of the menu at Margaux inside the Marlton Hotel. Read it all, straight ahead.
Pete Wells eschewed writing a formal restaurant review in favor of ramen hunting across the city. He was impressed by Mu Ramen, in Long Island City; Ivan Ramen Slurp Shop; Ramen Sanshiro, the late-night beef ramen at Takashi; and the Korean take found at Hanjan. Wells is also a fan of the brothless mazemen at Chuko and Yuji Ramen, as well as with the vegetarian Thai-yellow-curry-like broth at Kajitsu.
Joshua David Stein found much to like at Narcissa, John Fraser's new restaurant inside the Standard East Village. While the vegetable-forward restaurant doesn't "push the envelope," the rotisserie-crisped beets are "deeply textured bulbs of flavor whose sweetness is offset by a creamy horseradish sauce," and they easily "beat meat." Cabbage is cooked until melted onto a plate of baked oysters, and other hits include the short ribs ("best thing on the menu that once had a face"), crispy duck breast, and steamed black bass.
Amelia Lester of The New Yorker filed a review on Foragers City Table in Chelsea, an offshoot of the gourmet grocery store that "specializes in juice cleanses." Most ingredients are sourced locally, and it makes for plenty of must-orders: "clean" and "grassy" deviled eggs, a farm salad with "springy" sunflower sprouts, lamb Bolognese prepared with a tomato sauce, and a king-crab salad "driven by mayonnaise but not monopolized by it." Coffee ice cream mellowed out with "salty chunks" of brownies is a great way to end a meal.
Steve Cuozzo checked out the "Venetian-focused menu with Japanese inflections" at All'onda, and found most dishes to be "very good" and several of them to be great. Some hits: "endearingly toothsome" square-cut spaghetti with Manila clams, peekytoe-crab garganelli, squid-ink-coated monkfish, short rib for two ("the must have dish"), and a "liquor-soaked" affogato. Unfortunately, the "Japanese edge" feels like "one of those attention-grabbing shticks to get the blogs buzzing pre-opening." Case in point: While the squid-ink arancini are good, the uni on top "tastes as silly as it looks." Two stars.
Michael Kaminer made his way to the Marlton Hotel to check out Margaux, and found the "Mediterranean-accented cooking" to be quite "accomplished." The restaurant "delivers a string of near-home runs," like lamb meatballs served with subtle saffron yogurt, a cauliflower custard that is "satisfying and ethereal at the same time," diver scallops that are "meaty, plump, and sweet," and a plate of "carefully composed" lamb chops. Desserts, like "buttery" quince crostata with feta ice cream, are also a strong point. Four stars.
Ryan Sutton filed the first of two pieces exploring the relationship between fine dining and female chefs. This one discusses how the most exciting tasting menus are made by "too few" female chefs.