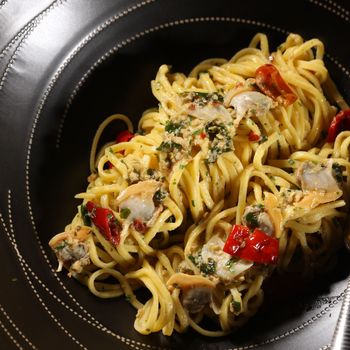 Wells is a fan.
Photo: Melissa Hom
Adam Platt filed reviews on both Fung Tu and Empire Diner this week, awarding the restaurants two and one stars, respectively. Meanwhile, Pete Wells dined at All'onda and The New Yorker's Hannah Goldfield tried the carrot fries at Narcissa. Read it all, straight ahead.

Pete Wells dropped by All'onda in Union Square, which he awarded two stars. He commended the restaurant's warm and welcoming décor and particularly like the black-truffle risotto ("slick with Parmesan and butter"), bucatini with cold-smoked sea urchin, and the short rib for two. Ultimately, besides bemoaning the occasionally spotty service and lackluster desserts (except the crunchy olive-oil cake), he found the restaurant worth revisiting "once a month or so for a short-rib reunion."
Alan Richman went to the now-closed Williamsburg restaurant Aska this week, and turned his experience at the new Norse restaurant into a diatribe against "egotarian cuisine." He calls out Trois Mec and Alma in Los Angeles, Odd Duck in Austin, Luksus in Brooklyn, and Fish & Game in Hudson, New York: "The food is intellectual, yet at the same time often thoughtless."
The New Yorker's Hannah Goldfield filed a review of Narcissa, though she suggests renaming the restaurant Carrot in honor of the way chef John Fraser treats the vegetable. "Fraser kneels at the altar of the beet, too," she adds, noting the root vegetable's charred husks and tender interiors. In the end, Goldfield noticed that the meal successfully toed the line between virtue and indulgence, singling out the "Seussian" cream-cheese-frosted carrot cake and the Dungeness-crab salad with chopped hazelnut, blood orange, and basil.
Daniel S. Meyer writes that Amanda Freitag is doing solid work at Empire Diner, giving the Chelsea newcomer three out of five stars. Though he is quick to note that Empire "ain't a mom-and-pop truck stop," Meyer loves the fact that the greasy spoon is now reinventing diner classics like buttermilk pancakes, buffalo wings (with skate instead of chicken), and a juicy burger. He recommends the everything-bagel-spiced gravlax, with a whimsical inclusion of burrata and roe instead of the traditional cream cheese.
Steve Cuozzo enjoyed his night at Kingside, but not enough to justify the restaurant's prices. His one-and-a-half-star review of the modern American spot mentions his incredulity at a lone octopus tentacle with beans that cost $20. The restaurant's design, location, and boozy cocktails are alluring, but entrees that cost upwards of $30 "generate sticker shock." Cuozzo advises Kingside to focus on its consistency, citing unevenly cooked fish and tough braised pork shank as things chef Marc Murphy could improve upon.
The Daily News's Stan Sagner awarded four stars to Skal. The Lower East Side restaurant serves food that makes diners think, but always appeals to the stomach as well, Sagner says, mentioning the milk-poached cod croquettes that "shame most every fish cake in town." Other standouts included German Butterball potatoes and a seasonal lavender-cured pumpkin. A clunky radicchio salad falls flat because of a "funky puddle of powerful Taleggio," but the Elysian Fields lamb ribs, topped with roasted rutabaga and buttermilk, made Sagner want to lick his plate.