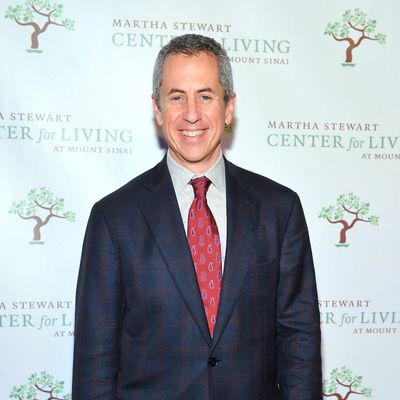 If you don't silence your phone, Danny will make you.
Photo: Cindy Ord/Getty Images
The restaurateur's growing catering and special operations division has consulted on and developed the menu* for AMC Theatres' entirely new concept Red Kitchen, a fast-casual operation that's just opened at a solitary location in Aurora, Colorado, of all places. Moviegoers use a tablet to order beer, wine, and everything from Carolina-style barbecue platters to chicken-and-artichoke paninis, which are delivered seatside, while a push-button built into the plush reclining seat calls the server back to the guest. A rep for the movie-theater chain tells Grub Street that while Red Kitchen currently exists only as a standalone concessionaire inside the mall-based AMC Southlands 16, plans are in place to "expand the concept to other locations down the road."
The surprisingly expansive two-page menu covers pizzas, hot dogs, corn dogs, paninis, and salads. Red Kitchen's pickle-and-pepper-topped "Windy City Dog" seems reminiscent of the Shack-cago Dog at Shake Shack. There's also a New York street-style hot dog, and one made with chicken sausage that's topped with chutney. It's not branded as such, but Red Kitchen's BBQ pulled-pork platter resembles a similar item at Union Square Hospitality Group's Blue Smoke. No Shackburgers in sight, at least not yet. Maybe someday?
The movie-theater company says it is evaluating possible sites to expand Red Kitchen. While there aren't any announced plans to bring the concept to New York, in-seat movie-theater dining and drinking is, for some, the next evolutionary step of dinner-and-a-movie date night. Alamo Drafthouse may have scrapped its Upper West Side plans, but the Austin-based chain is coming to Downtown Brooklyn, and another operator called IPic is reportedly planning a 505-seat, full-service theater in South Street Seaport.

AMC Red Kitchen [Official Site via Denver Post]
*This post has been corrected to clarfiy that the Red Kitchen Red concept belongs to AMC Theatres. Union Square Events consulted on the menu.