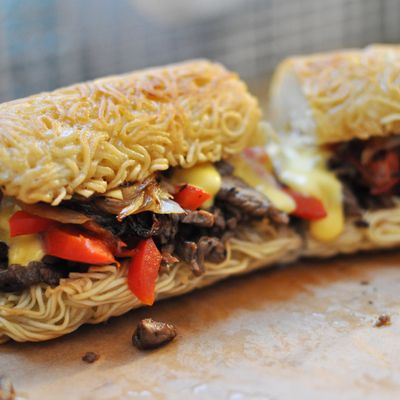 Introducing the Ramen Philly Cheesesteak, on a seven-inch bun.
Photo: Hugh Merwin
For all the talk of noodle-based ingenuity like ramen burgers and ramen tacos, it seems curious that nobody — as far as Grub can tell — has made a ramen hero. It's time to change that.
When we set out to make a hoagie roll from two blocks of instant ramen, it wasn't entirely clear how it would play out. Turns out it's pretty easy, provided you're willing to commit to the sheer nerdery of it all (and the hour or so of active prep time, plus the overnight refrigeration, this project requires).
You'll need a few ingredients and some tools:
• Two packages of instant ramen (we used Koreno)
• Japanese potato starch
• One egg
• Salt
• A baguette pan, like this one
• Plastic wrap
• Nonstick baking spray

Now then, here's how to proceed (feel free to tweak the recipe accordingly once you're ready to attempt a six-foot sub version).
1. Boil the noodles from two packages of instant ramen in lightly salted water; cook for three-quarters of the time recommended on the ramen packaging. (i.e., if the instructions say four minutes total, stop at three.) Drain the noodles into a colander and then spread them on a wide plate or tray, letting them cool at room temperature. Save the seasoning packets for something else.
2. Beat a large egg in a large bowl with two teaspoons of Japanese potato starch and one tablespoon of cold water. Add the noodles and mix thoroughly. This will make a standard six- to seven-inch hoagie roll.
3. Using tongs, twirl the noodles in the bowl in a circular motion, as you might with spaghetti, and deposit them onto a 20-inch wide sheet of plastic wrap, twisting your wrist as if you were turning the dial on a combination safe — you basically want to make sure you've properly entangled your noodles. While trying to eliminate as much air as possible, roll the noodles up even more into a cylindrical sausage shape (think sushi-style!), twisting the ends of the plastic wrap on either end to tighten.
4. Press the noodles down gently into the baguette pan.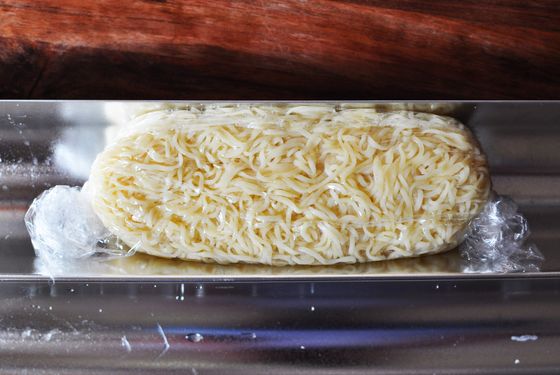 The potato starch helps the ramen hoagie "loaf" set in place.Photo: Grub Street

5. Use something heavy, such as a bottle of wine, to weigh the noodles down. Chill the pan in the fridge for a few hours, or overnight.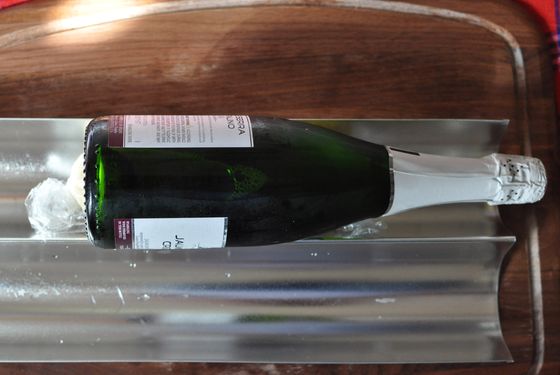 Bonus: You have Champagne to sip with your ramen hoagie roll.Photo: Grub Street

6. Preheat oven to 425 degrees. Reserve the ramen "roll" in the fridge, for now. Give your baguette pan a good coating of nonstick baking spray and plop it in the oven.
7. Take the noodles out of the fridge and remove the plastic wrap. Carefully slice the loaf lengthwise, using a very sharp knife. The trick to getting a clean cut is committing to the ramen hoagie — the recipe from here on out is a test of faith, not unlike the last half-hour of Indiana Jones and the Last Crusade — moving the knife through the noodles in one fluid cut. Lumbering through the compacted noodles with a back-and-forth knife-sawing motion will get ugly fast.
8. You should have one rounded half and one vaguely flat half. Place each half in the baguette pan, then bake in the oven until the noodles begin to crisp and brown, around 20 minutes.
9. While the ramen roll bakes, figure out what kind of sandwich you're going to make. (For the one seen here, we went with Bobby Flay's cheesesteak recipe, which seems to be both somewhat inauthentic but also extremely popular.)
10. When you think the ramen roll is ready, break off one of the stray outer noodles. If it's crispy through and through, you're ready to go. Pile it up with your sandwich fillings as you would any other bun and enjoy.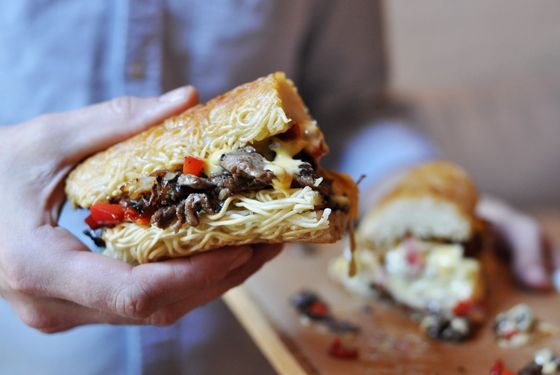 The baking crisps the noodles enough so that they retain their shape.Photo: Grub Street

For the record, Bobby Flay's cheesesteak recipe is surprisingly delicious.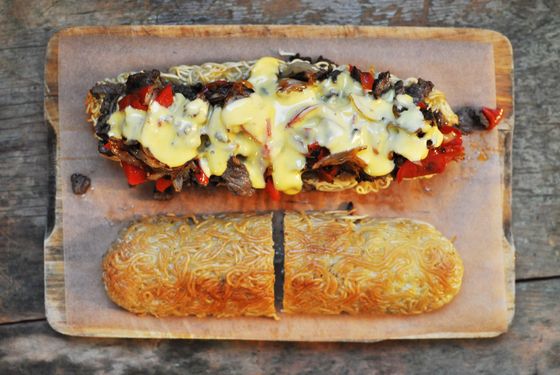 It's not Geno's, but at least it's not Hot Pockets.Photo: Grub Street