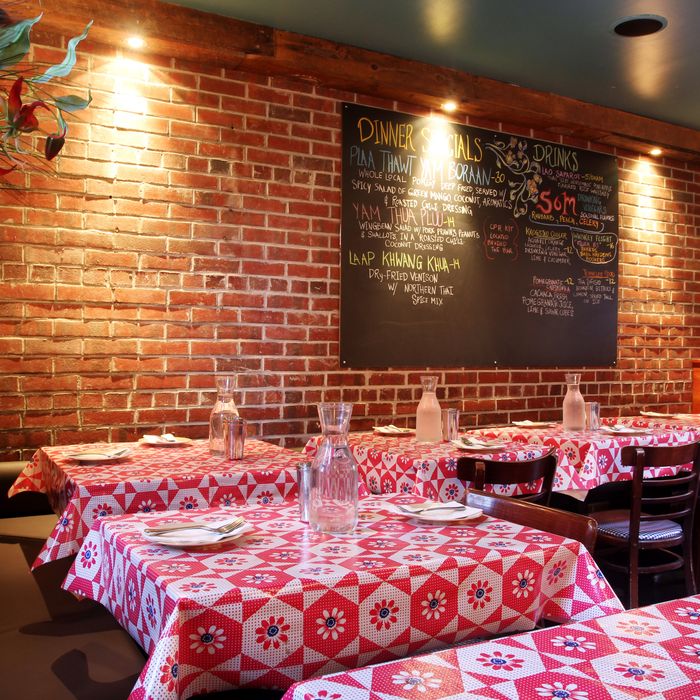 Just waiting on that reinspection.
Photo: Melissa Hom
Andy Ricker's Columbia Street flagship was closed by the Department of Health on Friday over what Pok Pok Ny's website states were issues stemming from its two charcoal-burning grills, which are kept outdoors and under cover. The city's inspection data currently lists the restaurant at an ungraded 50 points for three critical violations, one of which is an "improperly constructed or located" surface where food is prepared, stored, or both.
The agency has notoriously difficult rules for outdoor cooking areas — Grub once witnessed an exchange between an official and a bread vendor over whether or not a display box that was open on one side for access but had a plate glass "roof" across the top could still qualify as "covered" in the event of rain. In any event, Ricker says he isn't sure when the agency will return, but it will be at some point today and Pok Pok Ny "should be back in business tonight." He adds, "We are doing everything they asked us to do to comply."
Diners who are looking to brave low temperatures to get khao soi can check the restaurant's website in the meantime, or check in with its handy wait-time cam for updates.
Update: Per the Pok Pok Twitter account, the restaurant will reopen at 6:30.