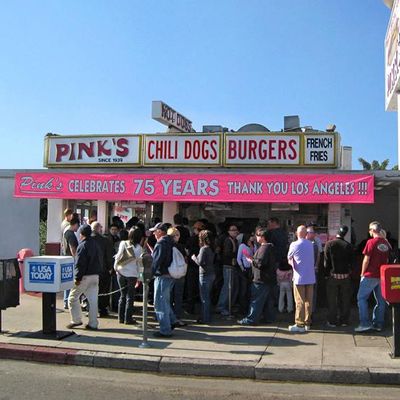 Bristol, Connecticut is only 100 miles outside of Manhattan.
Photo: Pink's/Facebook
Hollywood restaurant Pink's — known for its chili dogs, as well as its bacon-chili-cheese dogs with chopped tomatoes, as well as its mozzarella-topped Giada de Laurentiis hot dog — is opening a vendor stand within Bristol, Connecticut's Lake Compounce amusement park, where it joins (of course) kiosks and restaurants like Fried Bats, the Croc Pot Cafeteria, and the Funnel Cake Factory.
Pink's, which turns 74 years old this year, is known for very long lines and an endless parade of random celebrity appearances (James Earl Jones! Kim Kardashian! Orson Welles!). It operates mini-outposts elsewhere in California and Vegas, but this is its first East Coast location. In Connecticut, Pink's will even be serving its trademark vegan dogs, and if none of the above is sufficiently compelling, just remember that the famed hot-dog shack is where Bruce Willis proposed to Demi Moore, and that there's also a behemoth "Brando Dog" blanketed with chili, onions, and mustard on the menu.
See you May 17.