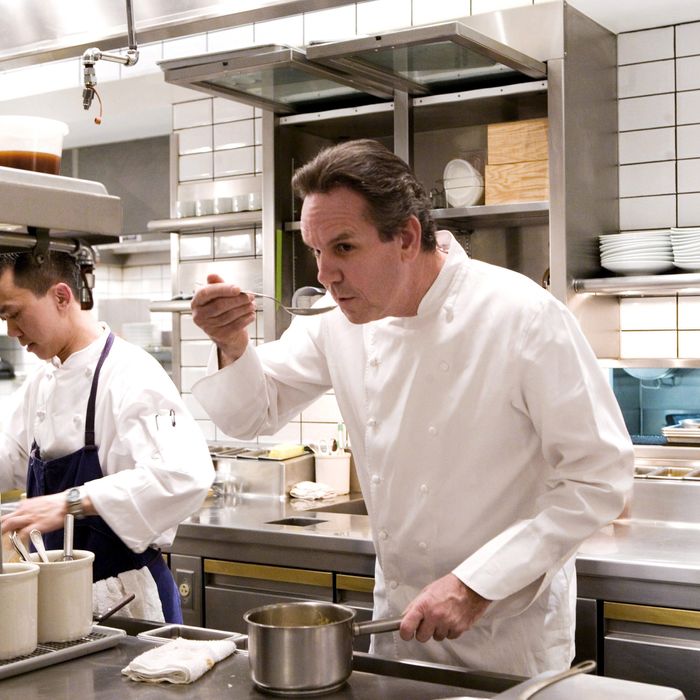 Thomas Keller, working the sauce station at Per Se.
Photo: Maurice ROUGEMONT/Gamma-Rapho via Getty Images
This week, word spread that Per Se, Thomas Keller's ultra-high-end restaurant, received an excruciating 42 points during its most recent health inspection. It currently has a "grade pending" while the staff addresses the issues and Keller awaits a hearing on the grade. The media loved this story: NBC ran with "Exclusive NYC Restaurant, Per Se, Gets Enough Health Violations for "C" Grade." The Guardian went with the less-accurate "Michelin-starred restaurant Per Se earns 'C' grade from health inspectors." These headlines, and the many others like them, all imply the same thing: Fancy-Ass Restaurant Is Dirty As Hell. But the reality is that as a medium, the confusion between letter grades and violations points has less to do with any immediate threat to diners and more to do with the the health department's inscrutable rules. And the agency's online reports are so opaque that they don't offer diners, or restaurants, any useful information.
Let's start with the obvious: Per Se is not a "dirty" restaurant. The culture in any high-end, brigade-style kitchen is not only fundamentally one of cleanliness, but one of mutual policing. When a one cook peels a carrot, his chef de partie is going to make sure that carrot's being peeled over a bowl to catch the shavings, because no one wants to incur the wrath of a sous chef. But it's not just about hierarchy: If a bit of paper towel falls on the floor from a cook's station, it might be the dishwasher tapping him on the shoulder to make sure it gets picked up. Everything is labeled, everything is sanitized. The kitchen gets a deep clean on a nightly basis; the plancha is literally sanded down to its original luster. This is how it works: Sloppy kitchen employees stand out, and the rest of the staff will have no problem letting them know they don't belong.
So how did Per Se receive enough inspection points to warrant such a terrible grade? The report — which cannot be linked to directly — doesn't offer a very clear picture: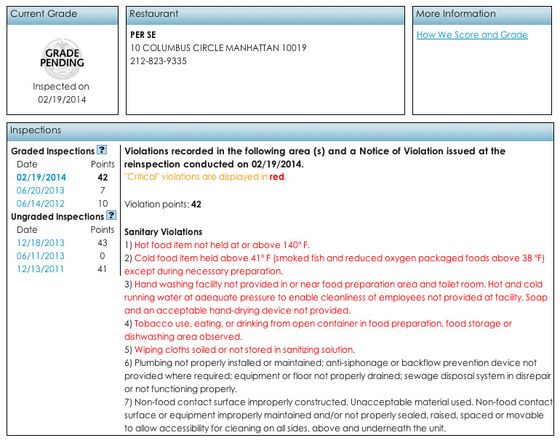 The February 19 inspection was actually a follow-up to an earlier inspection in December. Here's the list of violations from that report:

It's difficult to glean any real information from either of those write-ups, or to identify what's really "wrong" in Per Se's kitchen. Someone was eating or smoking or drinking or possibly chewing tobacco somewhere in the kitchen? Was it the presence of a drink, or a drink without a lid, that was the issue? Were the kitchen towels soiled, or were they just not being stored in sanitizing solution? What's more: Will people paying $500 apiece for dinner care that there's apparently a plumbing issue with one of the sinks, or that a "non-food contact surface" was "improperly constructed"?
Per Se isn't the only famous restaurant to deal with seemingly arbitrary health-department rules recently. Di Fara Pizza in Brooklyn was also inspected last month, and accrued a walloping 42 points. The violation that accrued the most points: "Toilet facility not provided for employees or for patrons when required."
That doesn't sound too happy at all, until you think about what it really means. Restaurants with fewer than 20 seats are not required to provide a public restroom. But Di Fara can get crowded, so the owners bought extra seats to use when it's really jammed. And so, the solution to Di Fara's no-toilet violation isn't to install a toilet; it's to get rid of some of its chairs, which they plan to do.
But anyone who shows up at Di Fara won't see that. All they see is a letter, or "Grade Pending," which could mean anything. Because Di Fara has had its share of more serious food-safety-related violations, a "Grade Pending" sign seems ominous.
For a restaurant like Per Se, responding to these kinds of issues is time-consuming, but for a small restaurant like Di Fara, it poses an actual risk to the well-being of the business itself. It is of course important to have a system in place to make sure our city's restaurants are clean. But the health department owes both diners and restaurateurs a clearer, more transparent system that actually provides useful information to the people it impacts most.