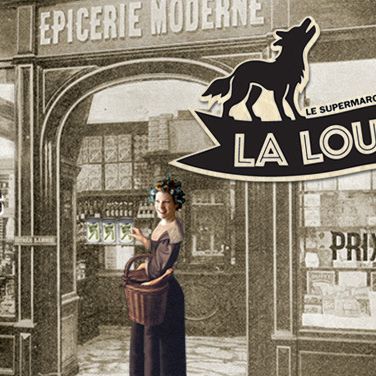 The store's promotional artwork certainly looks French.
Photo: Courtesy of La Louve
It's easy for New Yorkers to joke about the Park Slope Food Coop: the internal politics, the severity of a rule-obsessed staff, the wealthy members who send their nannies to cover their shifts. But strip away the stereotypes and the core model — a quality-focused store that cuts costs by asking members to work a few hours per month — is appealing to anyone interested in a more communal way of living. That, at least, is the belief of Tom Boothe and Brian Horihan, two Americans living in Paris, who are working hard to bring the concept to one of the world's most food-mad cities.
One might imagine that the collectively minded French already have food coops, but none require their members to volunteer their time the way the Park Slope model does. The closest they come is projects like a countrywide CSA program called La Ruche Qui Dit Oui — "The beehive that says yes" — which lets urban residents preorder goods to pick up directly from farmers.
The plan for the Paris coop has generated plenty of interest in the French press, and a recent story in Le Monde reports the founders are reluctant to do more stories because each one creates an influx of applications that's difficult to keep up with.
Boothe, a filmmaker who also teaches wine classes, thinks the coop could help to bridge class divides: In his view, Paris's culinary wonderland is is concentrated in higher-income areas. "It's easy for food to be taken over by rich people," he says. "Food becomes this lifestyle thing, and that's not vital." That's why he plans to open his version of the coop in a 13,000-square-foot location in Paris's 18th arrondissement, an area with a heavy immigrant population that has proven resistant to gentrification. "The neighborhood is a little bit poor and bohemian," Boothe says. "We had opportunities to put it in more branché neighborhoods," he says, using a word that roughly translates to hip, but Boothe points out that putting the coop in an underserved area helps get high-quality food to the people for whom it will matter more. He calls it a "solution." The name for this project: La Louve, she-wolf in French, alluding to the goal of running a store that nourishes and nurtures.
The market itself isn't scheduled to open until June of 2015, but so far, response has been largely positive. Boothe and Horihan secured over 40,000 euros in backing from a successful crowd-funding campaign (via a French Kickstarter — très Brooklyn), as well as additional funding from the city of Paris. The association they've established to help lay the groundwork for the store — les Amis de La Louve — currently has 600 members. There's even a lab, situated in the Goutte d'Or neighborhood, that serves as a kind of focus group to identify what kinds of foods people will buy when La Louve opens (current best sellers are wine, flour, and coffee).
The question, at least according to some locals, is which neighborhood residents will take to the coop idea. Germain Lignon, a doctor nearing retirement who grew up in the 18th, points to the economic divide, noting that some residents live in low-income government housing, while a younger working class — teachers, engineers — lives there because of its affordability: "It's not in the psychology of people in the neighborhood," he says, pointing out that people struggling with lower finances might not be amenable to simply volunteering their time. Martin Richet, a marketing professional who contributed to La Louve's crowd-sourcing campaign, agrees that the challenge will be to get immigrants — primarily Arab, African, and Serb in northern Paris — onboard: "It's not the same values as bobo Parisiens." Others think even native Parisians will be reluctant to embrace the market. Nadia Belalia, a half-French designer who has spent 25 years in New York (and two as a member of the Park Slope Coop), puts it this way: "French people are such râleurs" — complainers — "that I'd love to be there to see the result."
Clotilde Dusoulier, the successful French writer behind Chocolate & Zucchini, is more hopeful. She finds the idea of "gaining access to producers and ingredients impossible to find otherwise" through La Louve very appealing. But, again, success will ultimately come down to serving the community: If you're selling French ingredients to people who cook things from Mali," she says, "it can be organic all you like — but selling vegetables that they're not cooking is not helpful."
"Boothe concedes that all of the pre-opening interest doesn't necessarily guarantee a successful project. "The idea is very seductive," he says. "We still have to see if people like the reality of working and shopping."