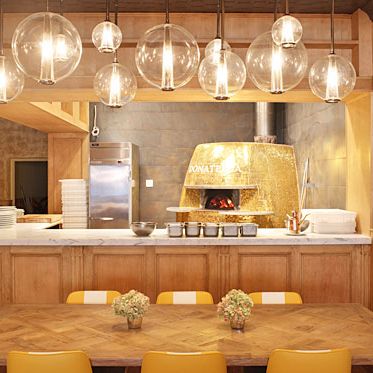 The incoming restaurant may have a different look, but that oven is staying put.
Photo: Melissa Hom
Restaurateur and author Nick Mautone is teaming with his cousin Mark Fiorentino, former chef boulanger at Daniel, as well as Brad Thompson (Miss Lily's, Lever House, Daniel) to take over the space that most recently housed Donatella at 184 Eighth Avenue. Donatella Arpaia will stay on as a partner.

It's not quite clear if it will stay gold — as in, its exterior color — but Donatella's immense wood-burning oven will most definitely remain central to the incoming restaurant, where it will be used to prepare meat, fish, and vegetables, as well as bread and pizza.
Because of Fiorentino and Thompson's overlapping connections, and Mautone and Fiorentino's kinship, the project is something of a family reunion. "Our grandfather had a factory in Yonkers that made mozzarella," Mautone says, "and Mark and I both worked there."
The restaurateur tells Grub Street the kitchen plans to whole-roast baby lamb and pork shoulder, and roasted meats like lamb belly may be used to garnish the wood-fired pizzas. The project does not yet have a name, but Mautone says that he and his partners plan to open April 15.