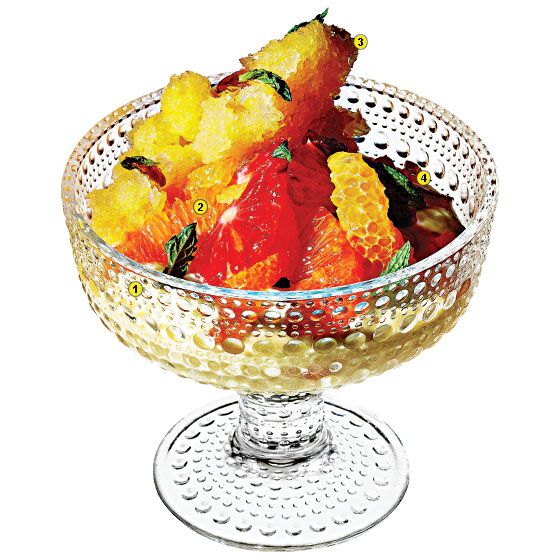 Photo: Bobby Doherty/New York Magazine
When pastry chef Deborah Racicot started developing her dessert menu at Narcissa, she began testing fruit salads, and knew that working with what's in season would prove far superior to the obligatory medley. Her boss, chef John Fraser, suggested citrus, and Racicot countered with tapioca, which, she says, "gives it dimension and unctuousness." It also makes for a superlight dessert that satisfies the sweet tooth.
1. "I was introduced to bergamot juice at Gotham Bar and Grill," says Racicot, who uses it to make a whipped-cream-lightened curd and to flavor the tapioca pearls that she folds into it.
2. Racicot combines five citrus varieties in her "tasting of oranges": cara cara, navel, blood, clementine, and satsuma.
3. Although the dessert might conjure California, the orange-blossom-granita garnish is a Turkish-inspired flourish.
4. An extra bit of sweetness comes from candied orange peel and rose-petal jam.
On the menu at Narcissa: $9; 21 Cooper Sq., at E. 5th St.; 212-228-3344
*This article appeared in the March 24, 2014 issue of New York Magazine.