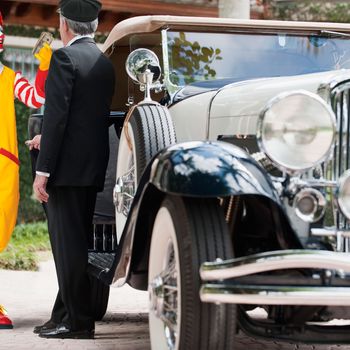 McMoneybags
Photo: Rick Gomez/Corbis (Chauffeur)
Omnipresent fast-food protests helped get a $10.10 minimum-wage proposal into the president's State of the Union, and now union organizers are turning to the wage theft alleged in last week's class-action lawsuit against McDonald's to expand awareness. The first rallies happened nationwide yesterday, in cities including New York, Los Angeles, Boston, Miami, and Detroit — the idea being, as often as possible, to stage them in front of the restaurants named in the lawsuit. CBS New York reports about 50 protesters chanted inside a McDonald's near the Empire State Building, eventually drawing public advocate Letitia James, who stood next to a crazed Ronald McDonald figure and told the crowd she plans to introduce legislation that would establish a wage-theft hotline.
The normally even-more-reticent McDonald's simply issued a statement that its restaurants remained open "today — and every day — thanks to the teams of dedicated employees serving our customers."
Meanwhile, workers have already scored one big victory: Across town, at the same time as the protests, Attorney General Eric Schneiderman announced one New York franchisee, Richard Cisneros, who owns seven Manhattan locations, had agreed to settle for $500,000.
Fast-Food Protests Shift Focus to "Wage Theft" [AP]
Fast Food Advocates Rally Against "Wage Theft" As New York Attorney General Eric Schneiderman Announces McDonald's Settlement [CBS New York]