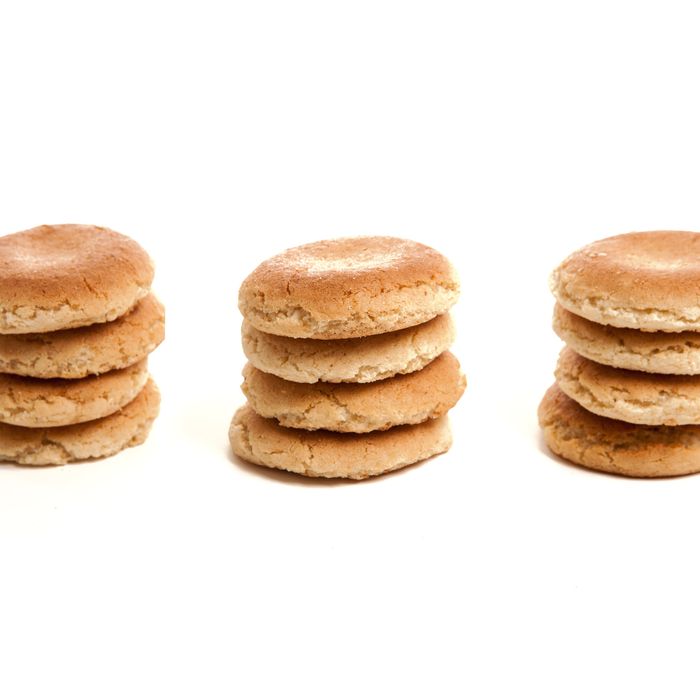 The Basque macaron predates the pastel-sandwich style by about three centuries.
Now that American cookie connoisseurs have finally learned to distinguish their macaroons (Jewish; dense coconut lumps; sold in tins at Passover) from their macarons (French; gossamer almond-flour-and-ganache sandwich cookies; sold at practically every patisserie in town), yet another variation has arrived to confound us. The Basque macaron, the signature sweet of Maison Adam in the southwestern French seaside resort town of Saint-Jean-de-Luz, has landed on Eighth Street in Greenwich Village, at the brand-new shop Léna, which is poised to launch a David-versus-Goliath offensive against Maison Ladurée, the Paris-based behemoth determined to corner the international macaron market.
It is no wonder that Maison Adam markets its "véritables macarons" as the true, original ones. After all, they precede Ladurée's by three centuries, and can be traced back to the 1660 royal wedding of Louis XIV and Maria Theresa of Spain. And their closely guarded recipe remains the same to this day: just almond flour, egg white, and sugar, baked into rustic rounds that are sold as single biscuits, not pastel-hued sandwich cookies — a form which is, incidentally, a relatively recent development in macaron lore. Unlike the signature confections of Ladurée, which has been on an expansionist tear since the Parisian brand was bought in 1993 by Groupe Holder (the parent company whose subsidiary, Château Blanc, has also supplied macarons to French McDonald's and Starbucks), Maison Adam macarons are rarely if ever spotted outside of the Pays Basque where they originated.
The exclusive New York distributor of this hot new old cookie is Pierre Gaona, a burly Saint-Jean-de-Luz native and former professional rugby player who looks like he could fell an ox in a single blow. Gaona wound up in the macaron racket after sustaining a career-ending ankle injury on the field. (Isn't that always the way?) He imports the cookies, as well as chocolate and apricot-walnut "Basque brownies" (his American-friendly name for gâteaux Basques) from Maison Adam, but "finishes" them in the shop, with a top-secret technique he refuses to reveal.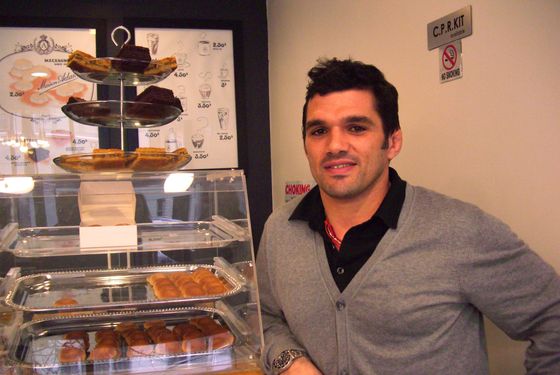 Pierre Gaona, just another former rugby player turned macaron-bakery owner.Photo: Rob Patronite
His partner in this venture is his countryman Kamel Saci, bread baker at Il Buco Alimentari e Vineria, and fellow former athlete (the two met in judo school 20 years ago). But Gaona, who named the shop for his daughter, is more than an ambassador for his hometown's historical treat. "My two passions are sport and coffee," he says. In advance of his opening, Gaona trained with French national champion barista Ludovic Loizon, and makes his own espresso blend, or "wedding," as he prefers to call it, of beans from Brazil and Papua New Guinea.
So how does the Basque variety compare to the Jeanny-come-lately sandwich-style macaron parisien? An early tasting revealed the newcomer to be simultaneously crisp and tender, its pure almond essence unsullied by supplemental flavors and fragrances, with a balanced sweetness that pairs as well with Champagne as it does with coffee. Its plain, unvarnished appearance could work in its favor, too, attracting sweet-toothed rugged he-man types who might desire a box for poker night or a Super Bowl party, but feel out of place on line at Ladurée. (Gaona's also appealing to the hipster contingent: The manlier macaron shop's patron saint could be Serge Gainsbourg, who appears in bed with Jane Birkin in a poster Gaona commissioned as décor.) Gaona is only making 300 macarons a day to start, but he hopes to have five locations within five years — not to mention the satisfaction that comes with reclaiming a bit of macaron history for the home team.
Léna, 1 W. 8th St., nr. Fifth Ave.