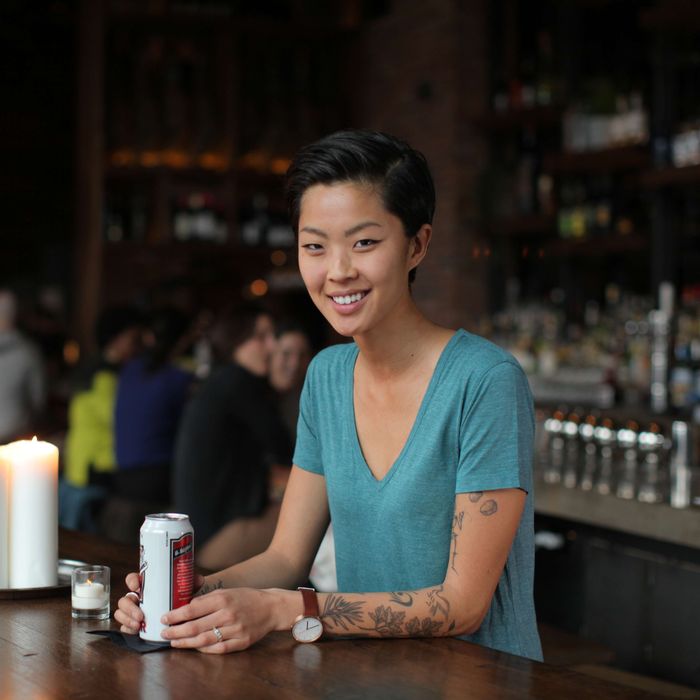 "I did a shot of bourbon and a shot of Fernet, and I shot-gunned a High Life tall boy, and then it got a little foggy."
Photo: Melissa Hom
Since winning Top Chef in 2012, Kristen Kish worked as the chef de cuisine of Menton, Barbara Lynch's fine-dining restaurant in Boston. But as of this past Saturday, she's a free agent, and now she almost feels ready to open her own place. "My reason for leaving the restaurant was that I wanted time to explore," Kish says. "I want something of my own, and in order to figure that out, I needed to branch off and put the time into it." If her diet is any indication, her dream restaurant might be a mash-up of Korean food, sandwiches overflowing with mayonnaise, Kraft singles, and beer slushies. Read it all, straight ahead.
Friday, March 7
At 2 a.m., I ate Chinese food as soon as I got off from work. It was some shitty little delivery place that delivers at that hour, which is fairly typical of what I eat when I get done with work. I ate crab ragoon and some tofu thing.
I always start my day with a double espresso. Without it, I cannot start doing anything. Saturday was my last day at Menton, and the tradition is whoever's last day it is makes family meal, and it's usually something from their childhood. A friend went to the Korean market for me and picked up a bunch of Korean goods so I could start prepping. He brought me back this little snack of sushi with barbecue beef. I plowed through eight pieces of that in a matter of 15 minutes, and I was definitely standing up.
There's typically not a lot of food until family meal: I'm just snacking on pastry scraps or tasting sauce. Family meal is always at 4 p.m. Today, it was a pork sausage and pasta with garlic bread and a salad. I'm actually very unhealthy, and I always realize, come four o'clock, that I haven't had any water.
My pre-service ritual, around 6 p.m., is to drink a shot of espresso, a mini ginger ale, and water throughout the rest of service. After work, I ate cold leftover pasta, bread rolls, and butter. I ate it out of a pint container with a massive spoon — on the larger side, so I could shovel it into my face. And I had a lemonade! At the end of the night, I don't want to pound a bunch of drinks, unless it was a hard service. This was not, so I asked for a housemade lemonade, which I drank with a plastic straw.
Saturday, March 8
Our espresso machine was down at the restaurant, so I was forced to drink regular coffee from Starbucks. I took a shot of it like you would espresso.
This was my last family meal, and I made Korean bi bimbob for everyone with barbecue beef, a fried egg, sushi rice, and a shit-ton of condiments. Growing up, my grandmother used to always make Toll House chocolate-chip cookies, so I asked our pastry chef if she could replicate the recipe. I ate two. Keeping with the theme, my other grandmother used to make snickerdoodle cookies, and I thought they'd be so good in ice-cream sandwich form. So our pastry chef made that with vanilla ice cream, and I ate one of those, too, of course.
At the end of service, I ate a croissant, the leftover bread rolls, and some butter. I did a shot of bourbon and a shot of Fernet, and I shot-gunned a High Life tall boy, and then it got a little foggy. We were all celebrating. There were tears: I don't know if it was because of the alcohol or my emotions. I'll go with the alcohol.
Sunday, March 9
I made coffee in my apartment. My grandmother always used to have these sun-kissed fruit gummies, and I can never find them anywhere. But my girlfriend found them on Amazon and ordered them for me. Now I have this massive bag, and if they're out, then I will eat them. The bag was on my coffee table as I drank coffee, so, naturally.
My girlfriend makes the best eggs: normal scrambled eggs, but using beautiful farm eggs. We had those eggs with shitty Kraft cheese, an ass-ton of butter, and Sriracha. And then she made monkey bread out of Pillsbury biscuits with cinnamon, sugar, and probably eight tons of butter. They essentially fry themselves in the casserole dish. Delicious. We also had pickles and beautiful Niman Ranch bacon. And, of course, you have to celebrate Sunday brunch with Champagne.
I ate more fruit gummies right before we got on the train to New York, which I guess is considered dessert, as butter-soaked monkey bread wasn't enough. And I had some Chex Mix.
Pok Pok Ny is one of my favorite places. I adore it. When you go out to dinner, you usually don't remember a lot. At Pok Pok, I remember everything that I eat: whole fish, green papaya salad, duck-parts salad, glass noodles, mustard greens, sticky rice, shrimp crackers, boiled peanuts with lemongrass, and roasted pork neck. Amazing.
As we were waiting for our table, we went to their sister bar, Whiskey Soda Lounge. I had a tamarind whiskey sour, which I'd never had before. At the restaurant, they sent us this brand of bourbon called Powers. We did a shot at the beginning of the meal and one at the end. And in between, more whiskey sours.
Monday, March 10
I started with Starbucks espresso and a coconut water because I was feeling the alcohol from the night before. I downed the shot, chugged the coconut water, and felt like a million bucks. Then, I had another double espresso. One of those kinds of days!
I went to the Food & Wine offices, and in the test kitchen, they had burgers, so of course I ate one. It was cold and it had been sitting there for a while, but it was still delicious. Then, I had a High Life beer of some kind at a bar around the corner from the office.
My girlfriend and I went grocery shopping that night. She's much healthier than I am, so her stuff was hummus and fresh vegetables. And my basket was thick bread, packaged salami, Kraft singles, mayonnaise, ranch dressing, spicy chips, and butter pickles. As a snack, I bought Frito twists in the Honey BBQ flavor and ate them while we were grocery shopping.
We went back to her apartment — she lives in New York — and I made my sandwich. I ate the massive sandwich — the equivalent of four sandwiches — in three minutes. I'm quite dirty, if you couldn't tell by now.
Tuesday, March 11
I had a double espresso in the morning, and then I had do an interview at Lady M near Bryant Park, where I had another single espresso.
I was bringing lunch to a couple of friends at the Food & Wine office. I didn't know what everyone wanted, so I got four massive sandwiches at Maison Kayser. Only one person took one kind, so I decided that I'd taste-test all of the rest. I ate a few bites of the three remaining sandwiches — probably one whole total. I will say that all of them needed about a cup of mayonnaise. I love mayonnaise. My favorite thing is when sandwiches are folded and all the mayonnaise slips to one corner, and that very last bite is full of mayonnaise.
Danny Bowien was in the test kitchen, and he brought a bunch of burritos with him. He chose the lamb burrito for me, and I had a bite. It was delicious. Then, I was with Padma Lakshmi, and we picked up her daughter from school and took her to the park. On the walk home, we stopped at Il Laboratorio del Gelato. We shared celery sorbet and basil gelato.
I went to Experimental Cocktail Club for an event showcasing Montenegro amaro. There were eight different bartenders making cocktails, and I taste-tested all of them.
Then, I went to dinner at Uncle Boons. Oh my God. Amazing. I went there with a group of friends and we ordered a bunch of stuff: noodle-coconut curry, crab-fried rice, pork riblets in caramelized fish sauce, jasmine-rise sausage, rotisserie cabbage — and the two that really stood out for me — grilled blowfish tails and the spicy chicken salad with banana blossoms. It's so intensely spicy, but amazingly delicious. During dinner, I had a beer slushie.
We met some of our restaurant friends at Mission Cantina. Danny served us Fernet and cola out of a six pan with a massive ladle. That was perfect after eating so much food. The Fernet made me feel a lot better.
Wednesday, March 12
I woke up and I got coffee and sat outside. It was beautiful! Once my girlfriend went to work, I stopped at a tiny diner near her apartment — the name escapes me — and I got a sausage, egg, and cheese on croissant, and a boat-load of breakfast potatoes. I brought that home, and poured ranch dressing and Sriracha all over the potatoes. After that, I took a nap. I was in a food coma.
Later, I sat at the bar at Toro for dinner. I know Jamie [Bissonnette] from Boston: The Toro there is by my old apartment, and I'd go on a semi-regular basis. I eat something different every time, but I always get the corn. I also ordered the mackerel crudo, braised pork, grilled octopus, octopus-head stew, squid in ink, uni toast, and Japanese whisky.