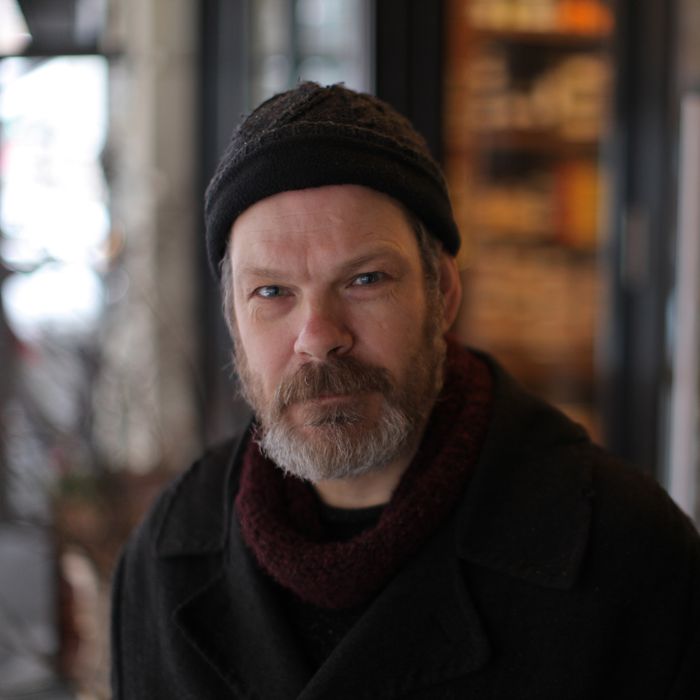 Jos Vulto, outside Bedford Cheese Shop.
Photo: Melissa Hom
Jos Vulto is a paragon of urban cheesemaking. "Extraordinaire" is how Matt Spiegler — a cheese hobbyist who runs the blog Cheese Notes — describes him, gushing over the way Vulto learned to make cheese in his apartment, aging the curds under the Metropolitan Ave sidewalk in East Williamsburg and mastering the craft in just a few years. But Vulto never set out to be a cheesemaker, and his success has come in a way he never planned.
"Some people are just born to do certain things," says Paul Wetzel, who oversees Gramercy Tavern's cheese and charcuterie program. After one taste of Vulto's Ouleout, a creamy, semi-stinky washed-rind cow's milk cheese, Wetzel convinced Vulto's distributor to secure enough wheels so he could feature it on the Gramercy menu. For the last five months, the Ouleout has been placed next to a coveted Italian Taleggio and a prize-winning aged goat cheese from central Vermont. Wetzel says Vulto's cheese is better than, and outsells, both. "It just has this incredible balance that you only find among the best cheesemakers," Wetzel says. "It's got funky earth, but doesn't go too far, and hits the sweet spot. You can just eat it and eat it and devour the wheel."
"Yeah, it's great to get all the accolades," Vulto tells me, taking this success in stride. "It's great to get all the attention and be on the menu and Gramercy Tavern and all that." He pauses for a moment. "But Miranda isn't here to see any of it."
Miranda is Miranda Banks, whom Vulto eventually married. When they first met in the early 1990s, Vulto didn't plan to make cheese: He moved from Holland to Brooklyn 20 years ago because he had secured an artists' residency at PS1 to craft sculptures and abstract installations from metal and other objects. While there, he met Banks, a native of England who worked at PS1's offices. "She was very happy," he recalls about their first encounters. "Very happy and smart and cute." The couple had cheese in common — an early date involved a tasting of Morbier, which can smell like rotten garbage yet has a mild, creamy, pleasing taste.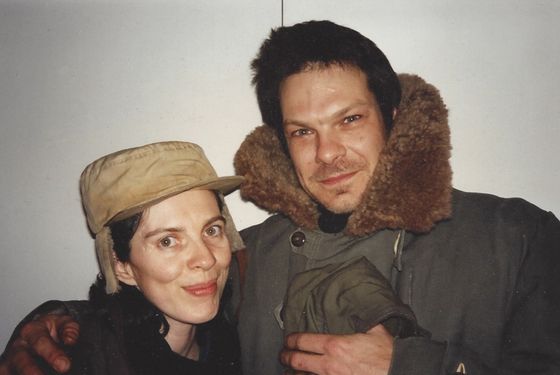 Vulto and Banks.Photo: Paul Ermer
Growing up in Holland, Vulto had access to some of the richest dairy products in the world. After he moved to New York, he so loathed pasteurized supermarket milk that he secured a bootleg connection for raw milk from upstate farmers. It was that raw milk — and Vulto's eventual marriage to Banks, who encouraged his dreams — that started him down his cheesemaking path. When some of the milk soured in the fridge, Vulto says the stink of the curds inspired him. "I smelled it in the fridge and I thought to myself, Hmmmmmm." But his first batches, which he tried to age in his fridge, were disasters.
"Very rudimentary," he says of those early wheels. "I had no idea what I was doing. The conditions weren't very good for aging. There was no humidity." The result: dry, tasteless hunks. But edible hunks. So he kept on making new batches, reading up on techniques and honing his creations. Soon, he had another breakthrough: To store and age the cheese, Vulto used a crawl space in the floor of his Williamsburg studio, which opened up under the sidewalk — too small for a person but the conditions were just right for aging cheese. The cheese got better, and eventually Vulto approached Charlotte Kamin, the owner of Bedford Cheese Shop, to ask about selling his cheese to her.
"He was just this guy fucking around in his apartment," Kamin says. "He'd bring in these gnarled up things and we'd pass it around, and he'd say, 'What do you think?'" Kamin thought the cheese still needed work. So Vulto traveled to Vermont to meet with Peter Dixon, a so-called cheese whisperer, to learn more. Vulto eventually upgraded the quality of his milk and chose one style to master: washed-rind cheese, known for a pungent smell, assertive character, and supple texture. For the uninitiated, washed-rind is just what it sounds like: A cheesemaker bathes the outside of the cheese as it ages, contributing flavor and aroma in the process. For washing, Vulto has used beer, booze, and other solutions. "It's a cheese you have to pamper," Vulto says.
As his cheesemaking operation grew, Vulto's sidewalk crawl space wasn't big enough. He and Miranda bought a home in the Catskills, where their son could be in the country and Vulto could build a creamery and aging cave. It was a massive project: Drainage, heating, vats — everything had to be designed and aligned with the state health code. Vulto pushed on, but soon Miranda got sick. It started with a stomachache that turned out to be a tumor. Miranda had developed the mass on her colon; it was so big that it was pushing up into her stomach. Tests showed the tumor was cancerous and had spread to her liver.
Miranda underwent chemotherapy and radiation while Vulto finished building the creamery. But none of the treatments worked. After Miranda's passing, in the winter of 2012, Vulto halted production. "The house was very quiet," he says. "We had to figure out how to get a regular mode of life going without Miranda around." He waited for the spring to make his cheese again. "Spring is new life," he says. "Spring is rebirth."
Since then, Vulto has started production of a second cheese, this one washed with absinthe from a New York distillery. The name: Miranda. (Critics, including New York's, are fans.) "She always wanted me to name a cheese after her," Vulto says. "She would have loved this cheese. It's just like her … It's a very humble cheese."
Related: From Adelegger to Zimbro: 50 Runny, Yummy, Crumbly Cheeses to Eat Now