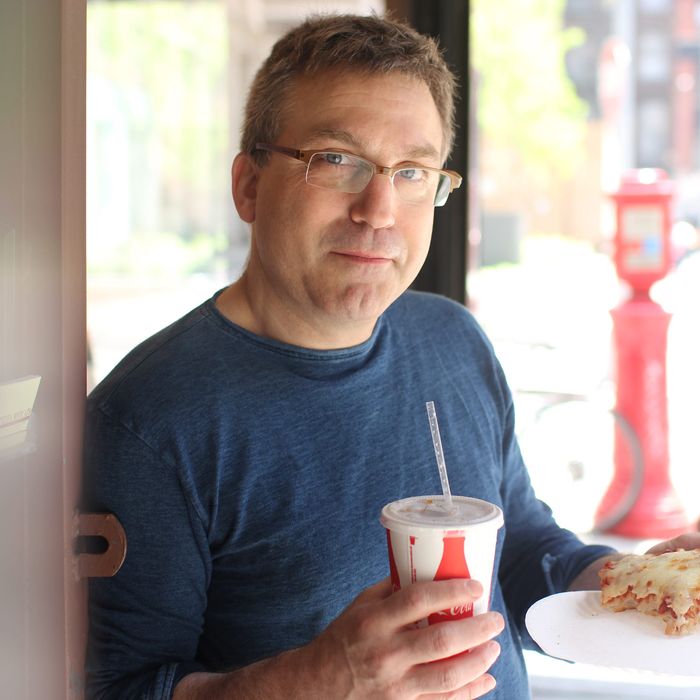 Orkin says his second New York opening "could be next week, or next month."
Photo: Melissa Hom
This week, the Underground Gourmet's Spring Preview came through with news on scores of new restaurants, including everything from a newfangled ice cream parlor to a sandwich counter where grass-fed gyros will be served. On top of all that excitement is the news that the long-awaited Ivan Ramen New York, the first Stateside outpost of Ivan Orkin's tremendously successful Tokyo ramen-ya, is also (finally) opening this spring. There've been, as you may have guessed, some delays for the shop, which was announced first in 2012, but it's not like the chef has been slouching: He's opened Slurp Shop in Gotham West Market, which picked up honors from GQ and New York, not to mention some great reviews elsewhere. Grub Street talked with Orkin about crazy delays, the rules of slurping, and what to expect, exactly, from Ivan Ramen New York.
So, things are bustling at your Slurp Shop inside Gotham West Market, but when's your Lower East Side ramen restaurant opening?
It could be next week, or next month. We're just waiting on ConEd to turn on the gas and for a few other details to come together. I have a basic staff, but can't hire cooks and waiters until I know that legally we can open.
You were worried about delays in the past.
Japan's just really fast, and New York's not. Going in, I had all this optimism about how I knew kind of what I wanted to do and I thought it would be really easy to do it. Everybody who I spoke to told me I was wrong. And of course, I stubbornly chose not to believe it and, well, you know New York. I've heard stories about a lot of cities around the country that can also be very challenging.
If I have an opportunity to open another shop someday, I'll be realistic about timing. I learned a lot, it's been an awesome education. Along with the parts that are really frustrating and miserable, I've actually met some fabulous, really nice, honest, wonderful people that I work with now. And in a way, some of the bumps I went through are worth it because I met these great people that I love working with, so it's all a process, right?
Makes sense.
But yes, we're really close. And because we've had so much time, we've really tried to use it to our advantage and make a beautiful restaurant. We're hoping to be a great service to our neighbors and open a place for all the people in our area to come and grab a bowl or hang out, you know, it's going to be a really nice, big menu. There's going to be sake, beer, and wine, we have a beverage program in place, and we have a gorgeous garden.
Was the garden part of the space when it was Ed's Lobster Bar Annex?
Yes, and we've redone it. There's now a gorgeous mosaic in the backyard, and we really cleaned it up back there. It's going to be lovely.
And it's a ramen-centric mosaic?
It's a massive ramen bowl exploding with all the ingredients that are coming out of it: chicken and noodles, the Kewpie mayonnaise mascot, the bulldog from the tonkatsu sauce brand. We actually have three, four separate sort of art installations that are all really cool. We wanted it to be a restaurant, and I think people will be really happy. Right now the only thing I'm more confident of is that I'm more disappointed than anybody else that it's taken this long.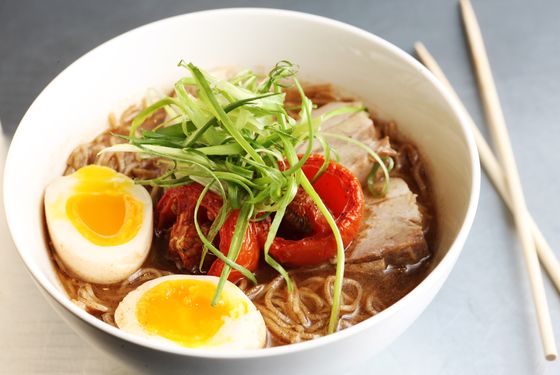 Orkin's classic shio with "double soup," seen here with roasted tomatoes, rye noodles, and pork chashu. Photo: Melissa Hom


You've been busy at Gotham West, too, and doing events around the country.
I've been trying to use my time really carefully. The Slurp Shop has turned out to be a major blessing in disguise because we got to really show people that we're serious and, you know, try to make some great food in a fun, stylish setting. The people who come visit Gotham West seem to really enjoy it. I'm also really happy that they like my food, but I'm also really happy that they seem to like the whole market, and they seem to sort of get how fun it can be that they don't necessarily have to have shoyu ramen and then the mazemen, they can eat amazing tapas, then move onto an amazing meat platter, or some amazing burgers and fries. Everything is all right there; it's really cool. People just seem to have a really fun time. And now it's not going to be such miserable schlep in the freezing cold much longer, it's becoming a very pleasant walk to get over there.
Some of our earlier conversations centered on this sort of golden, unwritten noodle rule that you absolutely have to slurp your bowl of ramen while it's piping hot, and how that's sort of a new thing for Americans.
Yeah, like I said, gosh, you have to be so careful when you talk, because, well, I have lots to say. I tell people how I think slurping should be done, and then there's always one guy that has to say, "I think it's horrible that you tell me how I have to eat my ramen." I would never tell anybody how they have to do anything, you know, I'm 30 years into this whole thing, and of course I think slurping ramen is more fun, that's all. You don't have to. You can eat it however you want, you can, you know, whatever. But when it's hot, slurping it up seems to be the best.
So maybe you're relaxing your stance on ramen slowpokes after all.
Seeing that some Japanese people eat bowls that way — it's certainly not many — sure. Downtown, in any case, we're going to have a bunch of completely new noodle dishes and all kinds of stuff — the idea is that we're making ramen for everyone in a great restaurant setting. Does all of it have to be slurped up right away? Whatever, as long as its definitely fun for the customer.
Related: The Underground Gourmet's Spring Restaurant Preview